January 18, 2023
Birthday Gift Ideas for Mum for under £25 | Noble Isle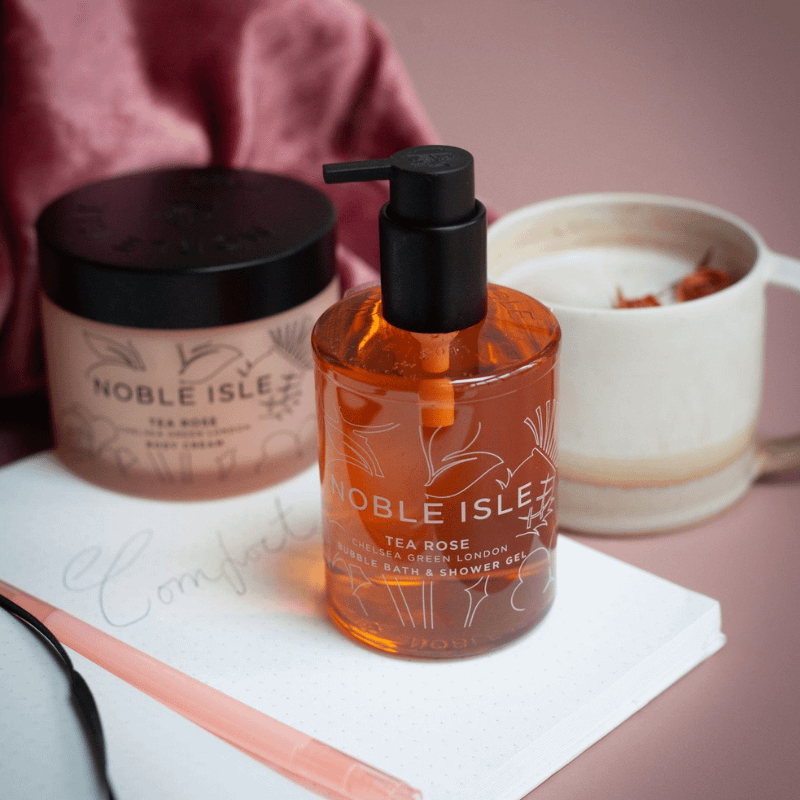 Birthday Gifts for Mum under £25. Do you want to show your mum, or mother figure, how much they mean to you? Perhaps you want to find the perfect present for your mother-in-law, a pampering treat for a mum-to-be or show a friend that you think she's a wonderful mum. Whether it's her birthday, Mother's Day, a Christmas gift or a special something to say thank you or show how much you care, we've put together an edit of gift ideas for mums that are all under £25. All of our gifts are sustainably made and wrapped, vegan, cruelty-free and scented with real perfume.
Luxury Bath & Shower Gel Trio
Send her the message that "you're doing great, now take a break," with this indulgent and pampering trio of three of our best-selling, vegan and cruelty-free Bath & Shower Gels. Our Fresh & Clean Bath & Shower Gel Trio comes beautifully packaged in a recyclable black buckram box with a grosgrain ribbon tie. The fragrances were hand-picked by our Founder Katy Simpson who says: "Personally, I find the 75ml Luxury Bath & Shower Gels the ideal size for a week-long holiday. The set contains three of my favourite fragrances, which cover different fragrance families, so you have a variety of aromas depending on your mood, all in one box for your holiday or trip." The set contains, luxury travel-sizes of bittersweet Rhubarb Rhubarb!, indulgent Tea Rose and dreamy Willow Song.
Rhubarb Rhubarb! Hand Care Trio
The simple act of caring for our hands can create a powerful moment to stop and reset. Treat your mum to our Rhubarb Rhubarb! Hand Care Trio. These 75ml travel-sizes are perfectly proportioned to pop in your bag, keep by your bedside or in your desk drawer, so they are always on hand. Our luxurious and non-drying Luxury Hand Wash, Hand Lotion and Hand Sanitiser contain a natural extract of Rhubarb from Yorkshire's celebrated Rhubarb Triangle. Loaded with natural antioxidants, Rhubarb is known for its natural cleansing properties.
Refillable Glass Hand Wash Bottle
An indulgent bathroom upgrade for eco conscious mums. Our Glass Hand Wash Bottles can be refilled time and time again. Choose from the mellow fruity scent of Golden Harvest Hand Wash, the best-selling bittersweet scent of Rhubarb Rhubarb! or the warm and inviting scent of Whisky and Water. As well as being sustainably made, using local natural extracts in our Cheshire factory, our Hand Washes are also SLS, paraben and gluten-free, vegan and cruelty-free.
Bespoke Gift Set from £14
Why not use the Bespoke Gift service on our website to create a truly personalised gift for your mum. The Quartet offers you the chance to choose four 30ml Bath & Shower Gel fragrances that you think she'll love for under £15 or take a look at The Trio where you can select three 75ml products to create a unique gift for her.
Why not treat her to one of our indulgent 250ml bottles of Luxury Hand Lotion? Our generous bottles of Hand Lotion go a long way and look elegant and chic displayed by the sink or basin, on the dressing table, by the bed or on her desk. Our Hand Lotions are intensely soothing and quickly absorbed. Each Hand Lotion is enriched with hand-picked natural extracts from the British Isles. Choose from seven fine fragrances including The Greenhouse, with a nutrient-rich extract of Sungold Tomatoes from Gravetye Manor in East Sussex.
Orchard & Hedgerow Soap Set
We've seen a big increase in popularity of Soap bars and hard Soaps. Paper-wrapped Soaps look effortlessly chic displayed in the bathroom and can be placed in your linen drawer or cupboard to impart a fresh, subtle scent. Our beautifully gift-wrapped Orchard & Hedgerow Soap Set contains five soaps, in two different sizes, fragranced with Summer Rising and Perry Pear. As you hopefully would come to expect from Noble Isle, our Soap Set is vegan, sustainably made and packaged here in the UK.
Luxury Vegan Bath & Shower Gel
Give her the excuse to wind down and take a long, soothing soak in the tub by gifting her one of our popular, Vegan, Luxury Bath & Shower Gels. Each of our ten fragrances of Bath & Shower gel are scented with fine fragrance, with a defined top, heart and base note which gradually reveal layers of opulent scent. Tea Rose Luxury Bubble Bath & Shower Gel is a modern take on a time-honored Rose fragrance. This indulgent Bubble Bath & Shower Gel contains extracts of Black Tea and English Rose. Black Tea has been traditionally applied for its soothing and protective properties, owing to its richness of tannins and polyphenols. Rose oil helps to lock in the skin's moisture and promote smooth skin.
Gifts for the Mum Who Has Everything
If you are looking for the perfect gift for a mum who is tricky to buy for, get it right by treating her to a Noble Isle e-Gift Voucher so that she can buy whatever makes her happy right there and then.