September 22, 2022
First Look: Our New Sustainable 300ml Glass Bottle Range with Refillable Hand Wash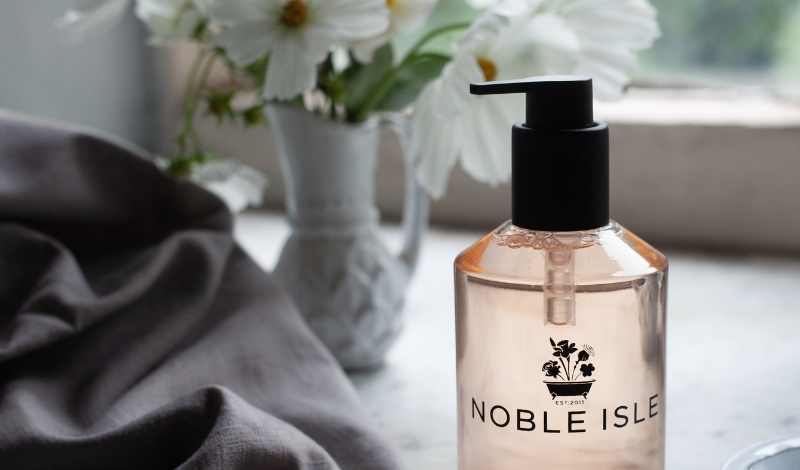 Today marks the launch of our new, sustainable 300ml glass bottle range with 1-litre refills, in best-selling luxury Hand Washes to minimise plastic usage within your home, office, and living spaces.
At Noble Isle, we understand the importance of improving the way we operate and manufacture to protect the future of our planet. We all know the detriment of plastic consumption in our world, and that small changes in our lives can benefit the environment around us, saving the beauty of our shared planet by reducing single-use and virgin plastics.
Our new glass bottle range includes long-lasting 300ml glass bottles in our recognisable and distinguished British Whisky keg design, exclusive to Noble Isle. While our established product range includes these same iconic bottles made from 50% recycled plastic, and entirely recyclable after use, the launch of our glass bottle range allows us to continue our commitment to sustainability and waste reduction as an eco-conscious producer, while retaining our endeavour to add pleasure and style to something as simple as washing your hands.
The new 1-litre luxury Hand Wash Refills and our Hand Sanitiser Refill aspire to provide our valued customers to be more green-conscious in their homes, and while shopping with us online and in our selected stockists. Our most popular and singular fine fragrance scents are now available in refills, with more refillable bath and body products to become available in the future. Additionally, all of our new glass bottles come prefilled with Vegan Hand Wash in best-selling scents.
Our signature Whisky & Water fine fragrance is available in a refill Hand Wash, as well as the irreverent Golden Harvest, and the notable bittersweet scented Rhubarb Rhubarb!, both in a Hand Wash and Hand Sanitiser.
Being a sustainable business is close at heart to our Founder & Director, Katy Simpson,
"I love creating beautiful, luxurious products however, we must all take responsibility and consideration into the sustainability of each product we produce.
Over the last 3 years, we have made big green changes for a small brand – in 2019 we changed all of our base formulations to be sustainable, in 2020 we removed plastic from our hotel accessories, and in 2022 we introduced 50% recycled plastic and this month we launch glass bottles with refills, plus glass jars. All of our products are made in the UK using British extracts, which helps our carbon footprint.
Sustainability has never been so important as it is today, and we are all accountable to progress forward to make improvements to protect the future of our planet."
View the new range of glass hand wash bottles and refillable hand wash for a more sustainable home without compromising on quality.