November 12, 2022
Sustainable & Vegan Gift Sets | Noble Isle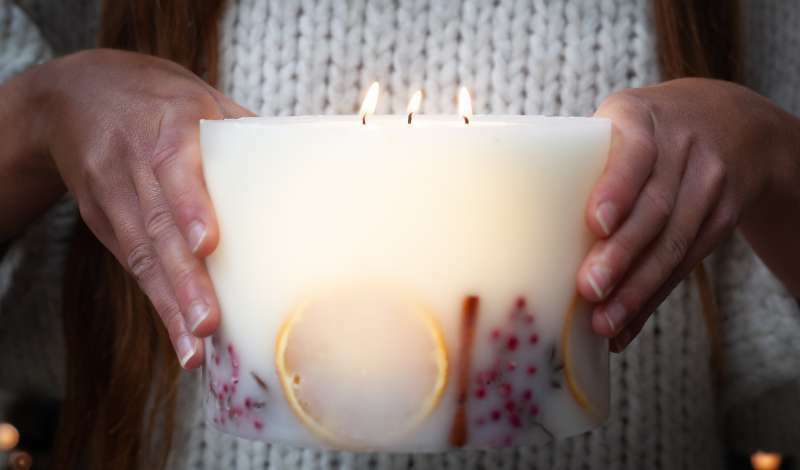 Give the gift of luxury to your loved ones this Christmas season with Noble Isle's complete collection of sustainable and vegan gift sets. Here at Noble Isle, gift-giving is what we do best, and this festive season, we have created a selection of lavishly wrapped Bath, Body, & Home Gift Sets for your special friend, family member or coworker to enjoy. Whether it's our richly aromatic Shower Gels or our evocatively scented Candles, we think this Christmas is the perfect time to treat others with our beautiful selection of fragrances.
Noble Isle is a cruelty free brand; our products are entirely vegan, sustainable and made in England, meaning you won't have to compromise luxurious gift-giving with your personal ethics. With the festive season upon us once again, explore Noble Isle's complete collection of vegan and cruelty-free gift ideas for that special someone.
Bringing the art of perfumery to the Bath & Body world. With each collection you'll embark on a journey of discovery experiencing the natural beauty of the British Isles through fragrance. Designed to evoke poignant nostalgia and re-live moments of happiness with every scent.
For the perfect Luxury Stocking Filler, explore our complete range of travel-sized Gift Sets. Our sumptuous Bath &  Body products come in twelve perfect British fragrances from fresh, aromatic Rhubarb! Rhubarb! to the rich and woody Whisky &  Water.
Each of our 75ml products are made in the UK using a vegan, sustainable, cruelty-free formula and have been selectively hand-picked by our Founder, Katy Simpson. These travel-sized Stocking Fillers come packaged in an awe-inspiring gift box with a gorgeous double layer of ribbon for the perfect finishing touch.
These selected scents can also be used for Secret Santa party favours for that special Christmas party, especially if you're unsure which fragrance they would like. However, if you do know what scent your loved one prefers, why not gift them a Little Treasure Gift Box, which includes a 75ml Luxury Travel-Sized product of your choice? Its precious ornament design doubles as a delightful addition to hang on your Christmas Tree.
Our Sustainable Christmas Gift Sets are sure to lift your holiday spirits with  scented luxury. Here at Noble Isle, we care strongly about the future of the planet, and we work hard to improve how we operate and manufacture our products. We believe that it is important to protect the environment without exception, including Christmas! Whether it's for her or for him, we have a host of sustainable gifts for you to treat your loved ones this festive season.
All of our packaging is recyclable, and we use Clean Conscience charity to repurpose any hotel amenity stock that is not needed. All of our extracts are 100% natural, sourced and made in the UK.
The Noble Isle Sustainable Christmas Gift Sets include a selection of evocatively scented Bath & Shower Gels, including our popular range of perfumes, such as our Golden Harvest Luxury Refillable Hand Wash and Rhubarb! Rhubarb! Luxury Refillable Hand Wash.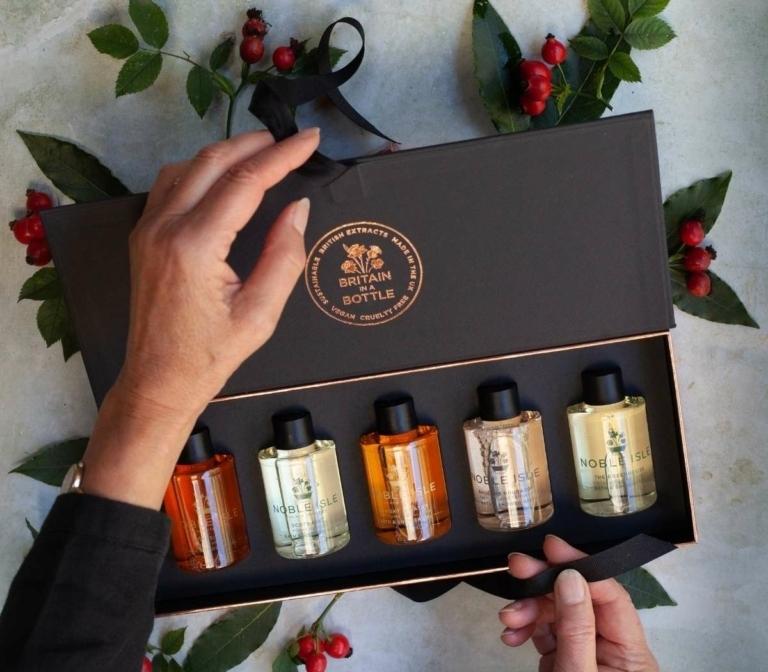 This Christmas, we want to offer vegan products that are suitable for the whole family. Our vegan and cruelty-free Christmas Gift Sets have been carefully selected to benefit both your skin and the environment. We are always trying to become more environmentally friendly, and we are always on the search for new ways to implement sustainable habits into our manufacturing process. This is why every item that we create is entirely cruelty-free and does not include any animal products.
Whether you're fully dedicated to the vegan lifestyle or not, we have curated an entire gift collection around our favourite products. Our The Greenhouse Hand Wash and Hand  Lotion Set inspires refreshing notes and green aromas, while our Luxury Fireside Bath & Shower Gel and  Candle Duo gives a warm, woody fragrance blending winter spices into your home.
Whether you choose to be vegan or not, you'll be able to enjoy all of our products that are suitable for all skin types and it's a great way to be kind to yourself and the environment.
Not sure what fragrance to treat your loved ones to? Our Personalised Bespoke Christmas Gift Sets will let you lovingly curate your gift for friends and family this festive season! Choose from a selection of our evocatively scented Shower Gels, Candles and Hand Washes to create a beautiful gift set tailored to that special someone.
As a small token of love, our Spiced Soiree and our Floral Festivities Christmas Gift Set will allow you to select a combination of any two 75ml Bath & Body products. For the avid traveler, the Fragrant Jubilee Christmas Gift Set offers any five products of your liking and is displayed in a stunning black and rose gold gift box.
Whether you're looking for a cruelty-free, vegan or sustainable gift for someone special, you'll be sure to find it at Noble Isle. Each of our products is crafted with care, so you can feel good about using them and gifting them!
Whether you're a dedicated vegan or not, our Noble Isle products are a wonderful way for you to be kind to yourself and the environment. Whatever your preferences are, choose cruelty-free products this season. Noble Isle has a selection of Christmas Gift Sets to have the whole family feeling extra merry, and scented, this holiday season!