February 16, 2015
AN INTERVIEW WITH KATY SIMPSON – NOBLE ISLE'S FOUNDER & DIRECTOR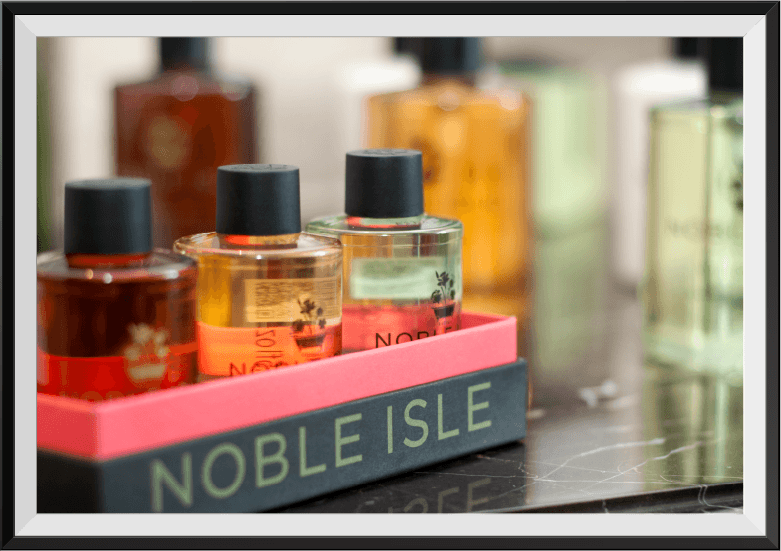 Q: Why did you set up Noble Isle?
I set up Noble Isle with 3 ex colleagues; between us all we had over 50 years experience in the Luxury Bath & Body industry. It was January 2011 and the country was preparing for the royal wedding of Kate Middleton and Prince William. Whether you were a royalist or not, everyone was looking forward to street parties, garden BBQ's and we all got an extra day off to celebrate. London was looking its best on the day; spring time in the city, green trees, the beautiful parks and gardens, old next to modern architecture, the carriages, the horses, the uniforms of the soldiers – it all came together to look so new and contemporary. There was a real resurgence of British pride and communities were united. What struck me most was the amazing history of the United Kingdom and how modern and timeless everything looked despite being so old and steeped in tradition. I was so proud to be part of the British Isles. All of this inspired us to create a truly British brand – a British company, making products in the UK, using British ingredients. I wanted to capture Britain in a Bottle.
Q: What does 'Noble Isle' mean?
'Noble Isle' was the first recorded term used for Great Britain in the 15th century. "This Nobill Isle, callit Gret Britanee", declared James III of Scots while negotiating the marriage of his son to Cecily of England in 1474. It is a strong and proud name and really captures the essence of the brand. My sister Claire, a Marketing expert, and I came up with the name one night whilst having dinner together in a Chinese Restaurant in Beaconsfield. As soon as I saw it written down – I knew it was right. The design route was clear with such a strong name.
Q: Why is Noble Isle different to other luxury bath & body brands?
Most importantly, we use British ingredients sourced from local celebrated producers within the British Isles. There is a really interesting provenance story behind each product. For years Britain has been a leader in sourcing and cooking seasonal, local food. We wanted to use the same concept for bath and body products – it adds depth to your story if you know the producer.
We are a truly British company. Many other British companies have been bought out by other businesses abroad but we make all our products in the British Isles – both our retail products and our hotel products. This is rare as many companies make their hotel products overseas for cost reasons. Noble Isle is a through and through British range.
Q: What is 'Britain in a Bottle'?
When we created Noble Isle we travelled the length and breadth of England, Ireland, Scotland and Wales to source authentic, quintessentially British ingredients that celebrate our rich cultural history. All of the products feature extracts sourced from some of our most celebrated local producers, including Rhubarb from England, Sea Oak from Ireland, Barley from Scotland and Beetroot from Wales.
This is a big year for Noble Isle! Not only are we celebrating our 5th anniversary, we are also launching our first new fragrance in five years with an exciting new British provenance story – soon to be revealed…
This year we are going to be sharing our provenance stories with you in more detail by bringing new exclusive interviews with the people behind the ingredients and celebrating our wonderful partnerships with exceptional hotels and retailers across the UK and the rest of the world. We would like to ask our loyal customers to tell us about any local ingredient producers in their area in order to inspire our next range. Please join us on our journey via our social media channels or email us at marketing@nobleisle.com
Wishing you all the best of happy and healthy 2017.
Katy Simpson
Founder & Director