April 25, 2017
INTERVIEW WITH OUR ENGLISH GRAPE EXTRACT FARMERS, CHARLES & RUTH SIMPSON FROM THE SIMPSONS WINE ESTATE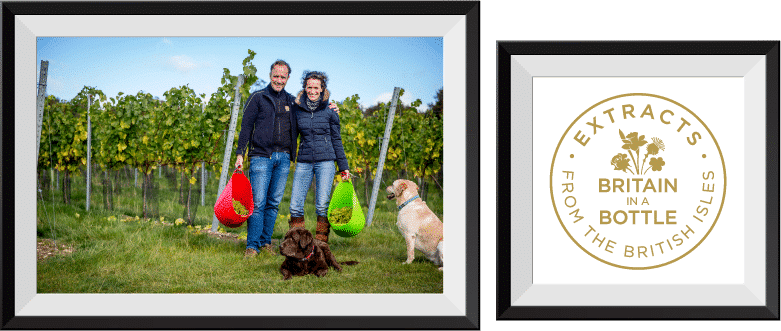 Q: What inspired you to create your own vineyard?
We moved to France 15 years ago to follow our dream of producing 'unexpectedly exceptional wine' at our stunning southern French property, Domaine de Sainte Rose (www.sainterose.com). We have built a thriving business, with customers around the world enjoying an impressive selection of top quality, award-winning wines made from 14 different grape varieties. Not content with resting on our laurels, in 2012 we decided to take on a new challenge closer to our British roots and bought 90 acres (30 hectares) of land, south of Canterbury in Barham, Kent to start Simpsons Wine Estate (www.simpsonswine.com). Similar to our aspirations in southern France we wanted to be part of an exciting new wine producing area and could immediately see the potential of our two vineyard sites, which are situated on south-facing, freedraining, chalky loam soils, identical to those found in Champagne.
Q: When did you start the business and how would you describe the brand at present?
We bought the land in Kent in 2012 and planted our first 10 hectare vineyard in 2014. A second 10 hectares were planted in 2016 and a final 10 hectares will be planted in May 2017. We have chosen to plant only the three Champagne grape varieties of Chardonnay, Pinot Noir and Pinot Meunier with a view to focussing on the production of high quality Method Traditional sparkling wine. In 2016 we created a state of the art winery in Barham, with the help of a Rural Development Programme for England (RDPE) Growth Programme grant and were delighted with the quality of our first harvest (from the 2014 vineyard) in October 2016. We are about to bottle the wines from that first harvest for their secondary, bottle fermentation (to create the bubbles!) and will then be allowing them to age for at least two years prior to release. You need to be patient in this business and with existing clients of our French wines already expressing interest in our English products, we are pre-selling wine from this first harvest even though it is not yet released.
Q: What is your favourite part of the wine making process?
Undoubtably the harvest is our favourite part of the process because it is such an exciting period. There is a lot of stress involved in the lead up to it and much weather-watching to ensure we pick at the right moment, but it is hugely rewarding to see the grapes that we have carefully nurtured over the growing season coming into the winery and there is much anticipation of what the quality of the juice will be like. As a team we have to work long hours, but there is a real sense of this being the culmination of one phase of work and the beginning of the next as we set to work making the wine.
Q: Can you tell us a interesting and quirky fact about your grapes?
Ordinarily one vine yields enough grapes to produce one bottle of sparkling wine a year! Its fun to look at it that way as you tend the vines.
Q: What is your favourite Noble Isle product?
Whisky & Water – because of the Scottish familial connection!
Q: What do you enjoying doing in your spare time outside of your business?
Spending time with our two gorgeous daughters, two dogs and two horses, preferably outdoors, as well as travelling further afield exploring different parts of the world! Our businesses allow us to operate between France and the UK, and we love the diversity of life and culture this affords.
Our Founder, Katy's favourite Noble Isle recipe using English Sparkling Wine, for you to try at home:
SALMON WITH ENGLISH SPARKLING WINE – Serves 6
Ingredients:
– 50gr Butter
– 3 x Shallots – finely chopped
– 6 x 160gr salmon steaks
– 400ml English sparkling wine
– 100ml double cream
– Maldon rock salt
– Black pepper
– Dill – roughly chopped
Preparation:
Melt the butter in a large frying pan, then add the chopped shallots and gently fry for 2 minutes until soft but not brown.
Pop the salmon steaks on top of shallots in a single layer and add the English sparkling wine and gently simmer for 6-8 minutes.
Remove salmon and keep warm.
Now heat up liquid to a boil and reduce by half. Lower heat, add cream and simmer for 5 minutes, season and add dill.
Place salmon on serving dish and pour over sauce.
Serve with Jersey new potatoes and green beans.
Enjoy!