March 20, 2023
A Simple Guide to Adopting an Eco-Friendly Lifestyle | Noble Isle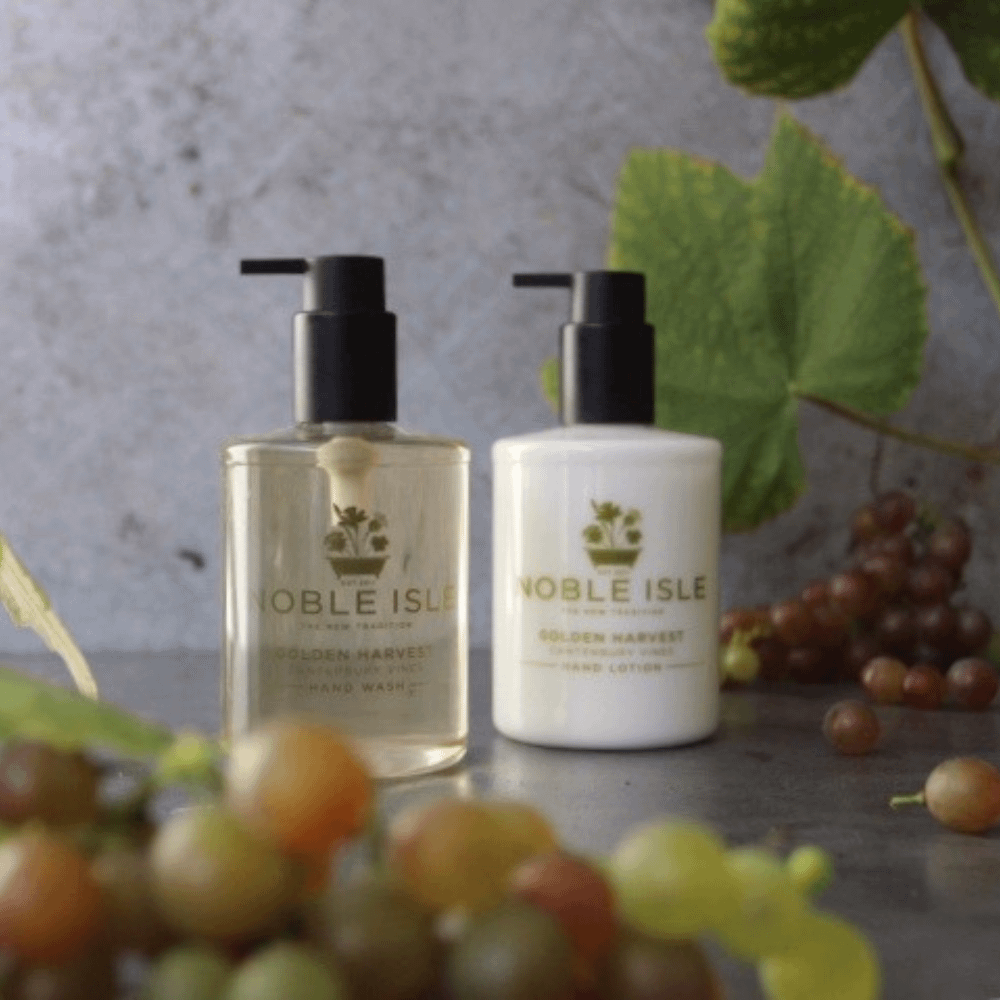 The 18th of March is Global Recycling Day, a day dedicated to sharing the importance of reducing waste and promoting recycling for the health of our planet. Sustainability is becoming increasingly front of mind, with more and more brands making claims about being eco-friendly and green. However, it can be difficult to know where to start and to determine which changes will have the biggest impact. We've put together a guide with easy eco swaps and tips to help you make more sustainable lifestyle choices.
All of our products have been formulated with sustainable ingredients, are cruelty-free and vegan-friendly, and have recyclable packaging – but we know we can do more. For us, being eco-friendly is a continuous process of looking at new ways to make everything, from our manufacturing and our products to our packaging, as sustainable as possible.
Easy ways to reduce waste in your daily life
You don't need lots of space to make your own compost. Bokashi Composters take up the same amount of space as a council food-recycling caddy but are smell and mess free and make compost quickly. You can find out more here.
Most local councils will collect and recycle food waste. Your local council's website will share a list of what recycling they can collect from the roadside.
How to recycle beauty products
John Lewis shops can recycle a wide range of cosmetics and beauty products that you can't recycle at home. You can find the details here.
When you drop off five clean, empty beauty products, John Lewis will offer you a £5 discount when you spend £20 or more on beauty.
How to recycle textiles and rags
Textiles and shoes that are stained or have holes can be tricky to recycle, but in most areas you'll find a rags recycling point where you can drop them off to be made into things such as home insulation. Primark also have a new scheme where you can donate shoes and textiles in any condition to be recycled, with all profits going to UNICEF – you can find out more here.
Eco-friendly alternatives to single-use plastics
Plastic takes about a thousand years to break down, and it's predicated that by 2050 there will be more plastic in the ocean than fish. Many of us have already made the switch to a re-usable water bottle and coffee cup, but other easy swaps include: beeswax wraps instead of clingfilm, switching your dish brush and cleaning cloths to natural alternatives such as wood, cotton or coconut fibre, investing in a reusable bamboo, silicone or stainless-steel straws, choosing biodegradable cotton buds and switching your toothbrush and floss to environmentally friendly alternatives.
Last year we launched refillable glass Hand Wash and Hand Sanitiser bottles and 1-litre refills. Not only are they more environmentally friendly but they also add a touch of luxury to the bathroom. You can shop our collection of glass bottles and refills here. 
How to shop sustainably for household items
The key to shopping sustainably for household items is to think local and seasonal. Do you have a local refill shop where you can take your own containers and buy only what you need?
Refill have a free on-the-go app where you can discover zero-waste shopping options, free drinking water, and takeaway food and hot drinks sold without the pointless packaging.
As well as offering doorstep deliveries of milk and oat milk in refillable glass bottles, Milk & More offer a range of zero-rated products including refillable glass bottles of cleaning products, pantry essentials, juice and dairy alternatives, all delivered in electric milk floats.
Switching to eco-friendly products
What to look for buying sustainable products
To make more sustainable choices, it's worth reading labels and doing some research online. Increasingly, brands will have a page on their website, like ours, where they lay out what sustainability means to them. Look for brands that are open and honest about the makers of their products, their supply chain and their packaging. All of our products are made in our own factory in Cheshire, our formulas are sustainable and all of our natural extracts are carefully sourced from local British suppliers.
It's also worth considering whether the products are cruelty-free? Are they locally made? And will the packaging be easy to recycle after use?
It can seem overwhelming, so we'd suggest starting small – for instance, by just switching your Hand Wash to a locally made, sustainable alternative.
Noble Isle's green product offer
We are a sustainable brand from our manufacturing to our packaging. Our Founder, Katy Simpson, and the team here at Noble Isle have made a pledge to continuously review our practices and to keep on making improvements, for the health of people and of our planet.
All of our formulations are sustainable, which for us means that they do no harm to the environment. We use high-quality natural ingredients and all of our products are vegan-friendly, cruelty-free and made in our own factory in Cheshire in the UK. Our packaging can be recycled and we use 50% recycled plastic in our bottles. We have also launched a range of refillable glass bottles (link) and we have completely removed plastic from our hotel accessories.
TrustPilot review:
"Delivery was prompt and personalized. Knowing the base of the driver made it a special experience. Noble isle is sustainable, and more importantly British, and I just love the spice products especially Lightning Oak."
How to properly dispose of old products
Most of our packaging can be easily recycled. Our bottles are PET (made using 50% recycled PET) and can be recycled in your curbside recycling. Our packaging is mostly made from unlaminated paper and card, which can also be recycled in your curbside recycling or can be torn up and composted – simply remove the ribbons first. You can keep the ribbons to use for gift wrapping, craft projects or even as plant-support ties. You can recycle pumps anywhere that offers cosmetics recycling – you can use this link to find your nearest drop-off point.
How to reduce your carbon footprint
You can use this carbon calculator to calculate your personal carbon footprint and see first hand what will make the biggest difference. Travelling by train and staying local for holidays (rather than flying) can have a huge impact, as can choosing seasonal and local food where possible, buying less but better from sustainable local businesses and buying second hand.
Working with local, sustainable suppliers for our natural extracts is a focus for us here at Noble Isle. All of our formations are sustainable, but being green is a journey and something we as a team continue to make a priority.
Support Environmentally Friendly Organisations
For our hotel amenities, we have partnered with Clean Conscience to repurpose hotel toiletries that would have otherwise have ended up in landfill, saving carbon as well as giving to charity.
We also work with a number of charities each year, prioritising those that share our values.
As a consumer, choosing to support environmentally friendly organisations can have a huge impact. As well as contributing to charities, it's also worth thinking about who you bank with, any investments you make, and the credentials of your energy supplier.
We have more eco initiatives in the pipeline, including extending our range of refillable glass bottles and 1-litre refills. For offers and to be the first to hear, you can sign up for our email here.
Click here to shop our range of eco-friendly glass bottles and 1-litre refills.