September 4, 2023
Autumn Cosiness | Discover Noble Isle's Top Fragrances for the Season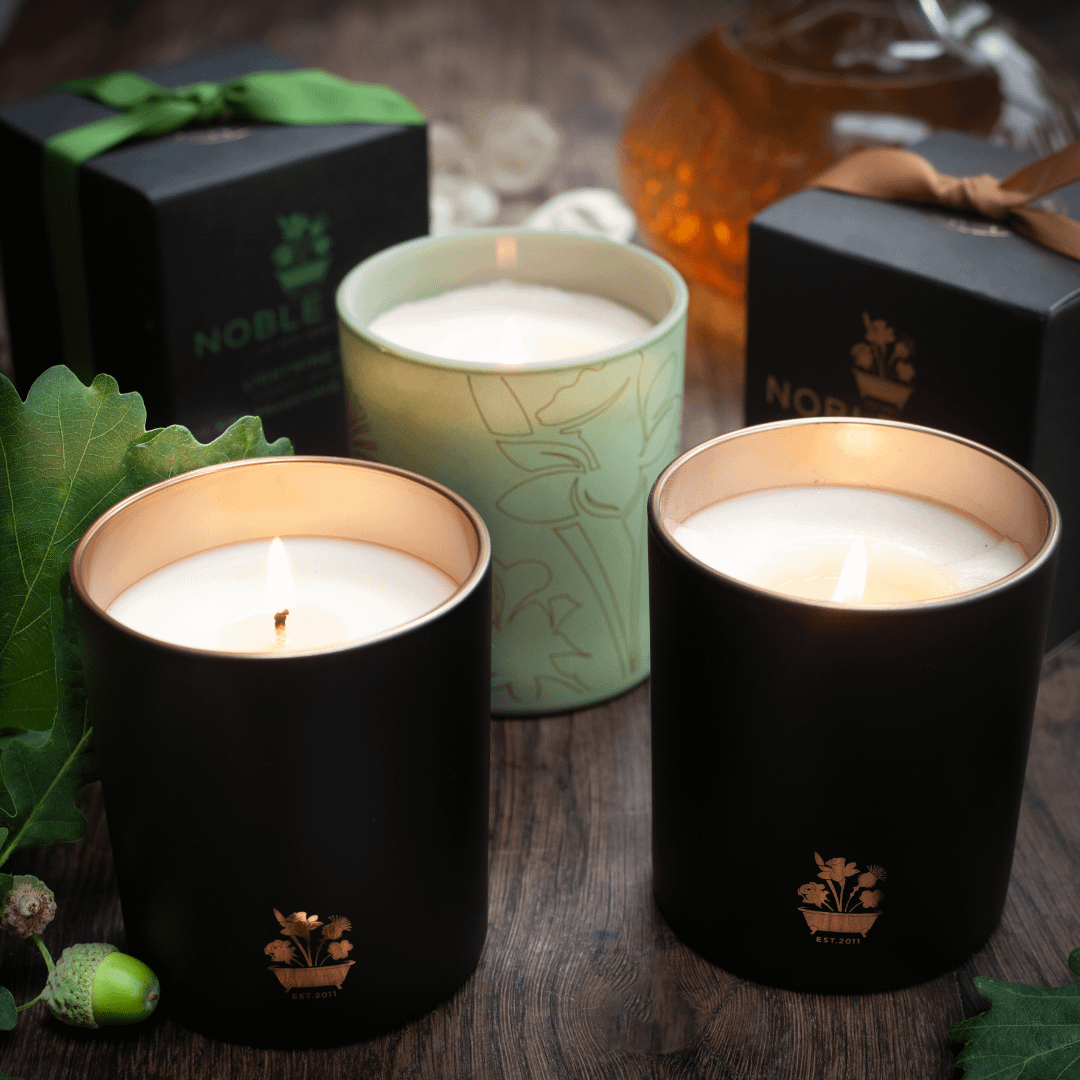 Autumn Cosiness: Experience the Season with Noble Isle's Fragrances
Welcoming Autumn with Noble Isle
As the leaves change and the air grows crisp, it's time to embrace the warm, inviting spirit of autumn. Noble Isle's range of luxurious fragrances encapsulates the season's essence, wrapping you in a cocoon of autumnal comfort. Let's explore their top fragrance collections for this beautiful season. 
Fireside Collection: A Warm Embrace
The Fireside Collection captures the comforting sensation of a cosy evening by a glowing hearth. Its rich, spicy notes echo the warmth and nostalgia of autumn, providing a luxurious sensory experience.
FRAGRANCE NOTES
TOP
Grapefruit, Pink Pepper
HEART
Black Pepper, Ginger
BASE
Oakmoss, Vanilla
Lightning Oak Collection: The Strength of Autumn
The Lightning Oak Collection celebrates the strength and resilience of the mighty Oak, with earthy undertones that embody the power and stability of the season. 
FRAGRANCE NOTES 
TOP 
Bergamot, Grapefruit 
HEART 
Cardamom, Clove Bud 
BASE 
Vetiver, Sandalwood 
Scots Pine Collection: The Crispness of Autumn
With the Scots Pine Collection, you'll experience the crisp, refreshing scent of a walk through a Pine forest, perfectly capturing the rejuvenating energy of autumn. 
FRAGRANCE NOTES  
TOP 
Pine, Elemi, Violet Leaf 
HEART 
Orange Blossom, Rose, Jasmine 
BASE 
Cedarwood, Oakmoss, Musk 
Whisky & Water Collection: A Toast to Tradition
Noble Isle's Whisky & Water Collection is a tribute to the time-honoured tradition of Whisky distillation. It features a blend of warm, woody notes, perfect for autumn's introspective moments. 
FRAGRANCE NOTES 
TOP 
Rose, Davana Blossom 
HEART 
Jasmine, Orange Blossom 
BASE 
Tonka Bean, Amber 
Wild Samphire Collection: A Touch of Coastal Freshness
The Wild Samphire Collection brings a dash of coastal freshness to your autumn experience, combining salty sea air with earthy Samphire to transport you to the British coastline. 
FRAGRANCE NOTES 
TOP 
Lemon, Juniper Berry 
HEART 
 Thyme, Rosemary, Jasmine 
BASE 
Amber, Musk 
Willow Song Collection: The Melody of Autumn
Last but not least, the Willow Song Collection carries the gentle, calming melody of a riverside Willow Tree, whispering the beautiful transition story of autumn. 
FRAGRANCE NOTES 
TOP 
Rose Petal, Ivy 
HEART 
Watermelon, Lily of the Valley 
BASE 
Cedarwood, Musk 
Seasonal Scents for Autumn
As you journey into the heart of autumn, let Noble Isle's fragrance collections accompany you, weaving a warm, comforting embrace around your everyday rituals. Embrace the season's beauty and warmth in its purest form – through the rich, evocative fragrances of Noble Isle.