April 22, 2023
Earth Day: How to Shop for Sustainable Bath and Body Products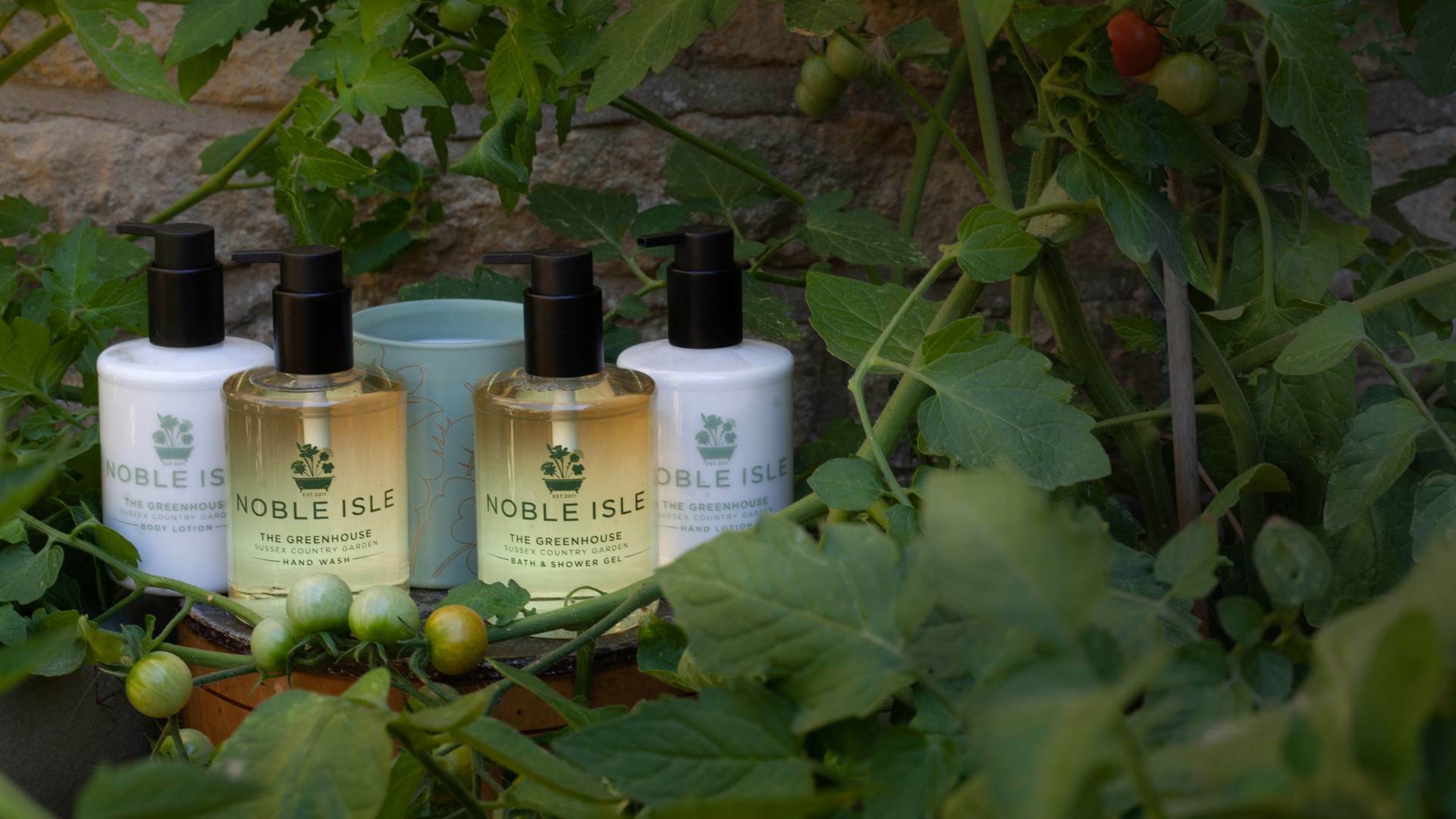 The importance of Earth Day
This Earth Day, we want you to feel inspired to take action. This year, Earth Day is celebrated on the 22nd of April. Over the years, since the campaign was launched in 1970, $7 billion of Green School grants have been awarded, 36 million volunteers have helped with clean-up initiatives, and hundreds of millions of trees have been planted.
This Earth Day, we want to empower you to shop more sustainably for your Bath, Body and Home-Fragrance products. "We're a small brand committed to making big green changes," explains our Founder, Katy Simpson. "Our aim is to continue to take steps, big and small, to deliver a more sustainable future."
In 2019, we redesigned all of our base formulations to be sustainable. A year later, we completely removed plastic from our hotel amenities. Last year, we changed our bottles to be made from 50% recycled plastic and launched our first collection of refillable 300ml glass bottles. We are striving to make everything we do as a business as sustainable as possible, from our manufacturing and our products to our packaging.
For Earth Day, we want to share a guide to choosing the best sustainable and eco-friendly bath and body products, for you and for the health of our planet. 
Sustainable and Natural Skincare Ingredients
The majority of bath and body products are made mostly from water. With our products, a little goes a long way. Something our customers feed back on time and time again is how long our products last and the value for money they provide.
"I came across the Noble Isle Wild Samphire Hand Sanitiser whilst on a weekend away and loved the smell so much I ordered my own. Smells expensive, but it's very good value."
Most Hand Washes and Shower Gels are formulated with Sodium Laureth Sulfate (SLES) and Sodium Lauryl Sulfate (SLS), which are chemical cleaning agents. They are inexpensive and can help to create a thick lather. They are nearly always made using Petroleum Jelly and Lauryl Alcohol, which are not sustainable. Here at Noble Isle, we have taken the time to create SLS- and SLES-free formulations for our Luxury Hand Washes, Bath & Shower Gels and Shampoos.
Palm Oil is also widely used in the cosmetics industry, but most Palm Oil production is unsustainable and is resulting in alarming rates of deforestation. It's estimated that Palm Oil alone has accounted for 5% of deforestation in the world's tropical areas.
At Noble Isle, our aim has always been to create 'Britain in a Bottle'. From the start, we have used British ingredients sourced from local celebrated producers here in the British Isles. For years, Britain has been known for our chefs and cooking, and for eating seasonal, local food. Our Founder, Katy Simpson, wanted to bring that same concept to Bath and Body products.
One of the things that is unique about Noble Isle, compared to other Bath and Body companies, is that our natural active ingredients are sourced by Katy personally, directly from the producers, rather than by lab technicians and scientists from big chemical companies located anywhere in the world. We also take pride in introducing you to our producers, rather than keeping our ingredients a secret. All of our natural extracts are locally sourced and created when each product is in season. Our Rhubarb comes from E. Oldroyd & Sons in Yorkshire and our extract is made when the forced Rhubarb is in season, in late January / early February. The Pears for our Perry Pear Shampoo & Conditioner are from heritage apple farmer Day's Cottage, near Stroud, in the Cotswolds, where they are picked in the early autumn to create our unique extract.
When shopping for eco-friendly bath and body products, as well as choosing products that are natural, locally sourced and locally made, it's also worth considering whether they are vegan and cruelty-free. All of our products are made in our own factory in the Cheshire countryside. Our whole range is not only SLS- and SLES-free, but it is also gluten-free, vegan-friendly and cruelty-free.
Refillable Options for a More Sustainable Future
Sadly, only around 18% of plastic thrown away in the UK is recycled. As a brand, we think that encouraging refills is vital to reduce the single-use plastic that is having a devastating impact on our health and on the health of our planet.
We are constantly evaluating what more we can do to make our range more environmentally friendly. Our bottles of luxury, vegan Hand Wash, Bath & Shower Gel, Hand Lotion or Body Lotion provide many applications. Our plastic bottles, which use 50% recycled plastic, are made from PET, which is one of the plastics that is easiest to recycle.
Last year, we introduced a range of 300ml glass bottles, which can be easily refilled from one of our 1-litre refill bottles. The glass bottles can be used time and time again and make a chic addition to your bathroom, wash room or kitchen.
Our refills are available from nobleisle.com.
More and more refill shops are now opening. You can use the refill.org app to find your nearest refill station.
Making the Switch to Sustainable Bath and Body Products
Small changes can make a big difference. Globally, statistics show that most people wash their hands at least five times a day, which is 1825 times a year. Imagine what a difference it would make if even just 10% of the UK population switched to using a refillable, sustainable Hand Wash?
As well as choosing refills of eco-friendly products, you can also save money and the planet by switching to reusable facecloths and cotton pads, plastic-free cotton buds, and bamboo loo paper and tissues (take a look at Naked Sprout, the UK's most sustainable tissues and toilet roll).
We're going to be launching more products in our refill range this year. For exclusive offers and to be the first to hear about new launches, you can sign up for our newsletter here.
To celebrate Earth Day, we're offering a special giveaway on our Instagram page – click here to join in and find out more.