April 28, 2023
Elevate Your Home with Noble Isle's Fine Fragrance Room Sprays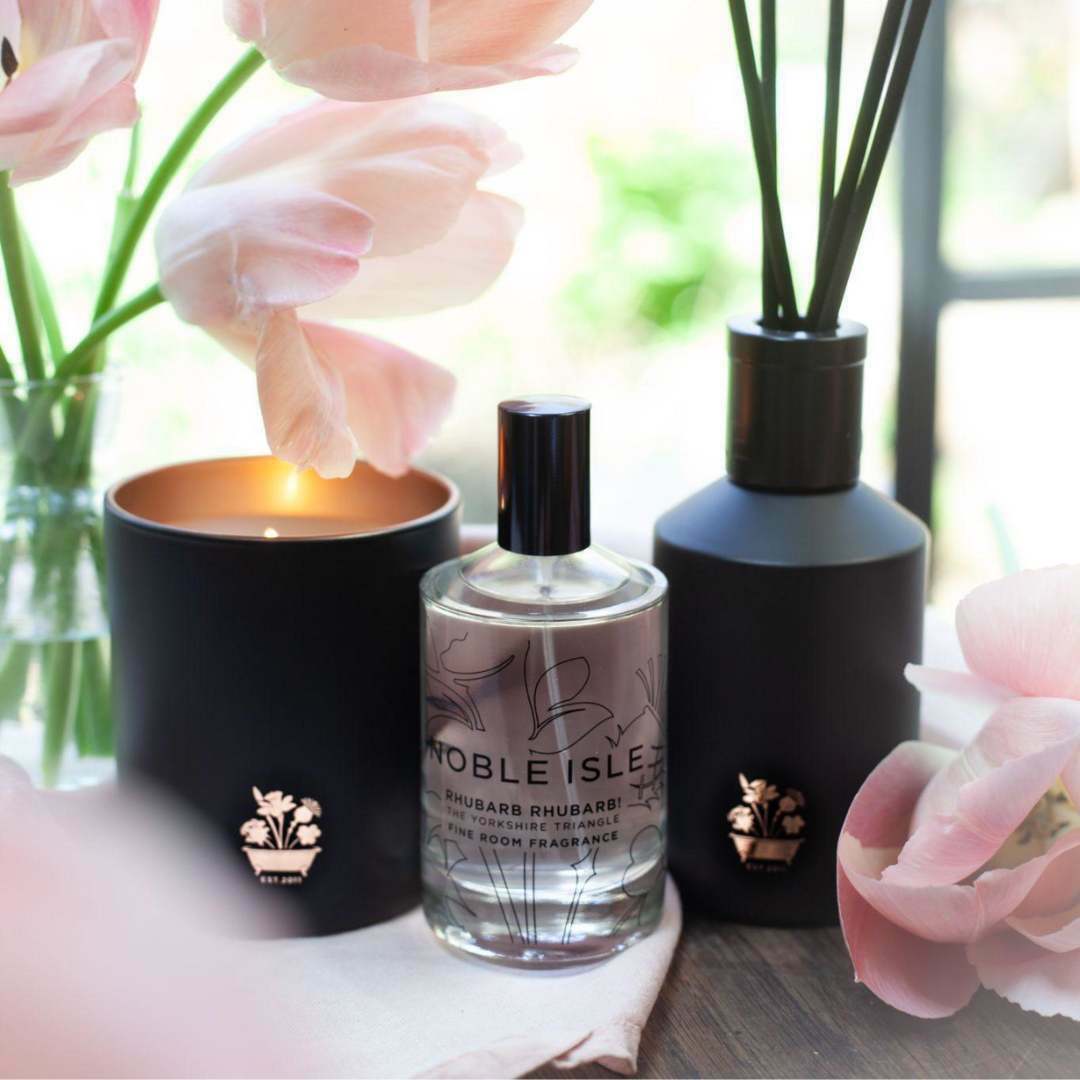 A New Chapter in Home Fragrance
We are excited to unveil our Luxury Fine Fragrance Room Sprays, an exquisite addition to Noble Isle's range of Luxury Home Fragrances. Made with genuine perfume, our Luxury Room Sprays will elevate your home with the captivating scents of Rhubarb Rhubarb!, The Greenhouse, and Golden Harvest, beautifully presented in a statement Noble Isle bottle perfect for styling your living spaces.
Luxurious Mist Spray for an Enchanting Ambiance
Noble Isle's Fine Fragrance Room Sprays produce a sumptuous mist spray, enveloping your home in an enchanting atmosphere. With just two to three spritzes, you can enliven any room with the exquisite aromas of our carefully crafted fragrances. Each 100ml bottle is designed to be a perfect companion to our Luxury Reed Diffusers or to stand elegantly on its own.
Discover the Alluring Fragrance Profiles
The Rhubarb Rhubarb! collection captures the essence of a perennial plant with a bittersweet, tart, and green fragrance. This bright and complex aroma combines crushed Tarragon and muddled Rosemary with the rich, aromatic notes of fresh bitter Rhubarb, resulting in an extraordinary and invigorating crisp scent. Our Rhubarb Rhubarb! fragrance is one of our best-sellers, featuring Forced Rhubarb from E Oldroyd & Son in the Yorkshire Triangle, a natural cleanser packed with Vitamin C and Calcium.
TOP NOTES: Rhubarb, Juniper Berry
HEART NOTES: Rosemary, Tarragon
BASE NOTES: Moss, Cedarwood
Inspired by fruits of the vine, the Golden Harvest collection is a glorious blend of mellow fruitfulness with notes of Violet Leaf, sun-ripened Grape, and green Apple. Enhanced with the gentle fizz of Juniper Berry, this fragrance releases a bouquet akin to a fine wine, stimulating the olfactory palette. Our Golden Harvest collection features English Grapes from Simpson's Wine Estate, Kent, providing powerful antioxidants that promote clean, bright, and healthy skin.
TOP NOTES: Juniper Berry, Green Apple, Watermelon
HEART NOTES: Violet Leaf, Rose, Jasmine
BASE NOTES: Oak Moss, Patchouli, Musk
The Greenhouse Collection evokes the warmth of a British greenhouse in the height of summer, combining Bergamot, Honeysuckle, and Jasmine with refreshing hints of Mint and Melon, and the unmistakably earthy scent of Tomato Leaf. Our Greenhouse collection features Sungold Tomatoes from Gravetye Manor, Sussex, known for their nutrient-rich and skin calming properties.
TOP NOTES: Tomato Leaf, Green Notes, Bergamot
HEART NOTES: Jasmine, Honeysuckle
BASE NOTES: Musk, Patchouli
Transform Your Home with Noble Isle's Fine Fragrance Room Sprays
With the launch of our Fine Fragrance Room Sprays, we invite you to indulge in the elegance and allure of Noble Isle's captivating scents. Expertly crafted with real perfume, our Luxury Room Sprays provide a luxurious and enchanting fragrance experience for your home. Embrace the charm of Rhubarb Rhubarb!, the mellow fruitfulness of Golden Harvest, or the warm botanical essence of The Greenhouse to create an inviting and mesmerising ambiance in any room.
A Perfect Addition to Your Home Fragrance Collection
Our Fine Fragrance Room Sprays are designed to complement your existing Luxury Reed Diffusers or stand proudly as standalone pieces, adding a touch of sophistication to your home décor. The beautiful, statement Noble Isle bottles are not only perfect for styling areas of your home but also make an exquisite gift for friends and loved ones.
Experience the Noble Isle Difference
At Noble Isle, we are dedicated to crafting unique, high-quality fragrances that transform your living spaces and create memorable experiences. Our Fine Fragrance Room Sprays are the embodiment of this dedication, and we are confident that you will cherish their enchanting scents as much as we do. Discover the world of Noble Isle and elevate your home with our luxurious Fine Fragrance Room Sprays.