May 22, 2023
Embrace Sustainability with Noble Isle's Luxury Reed Diffuser Refills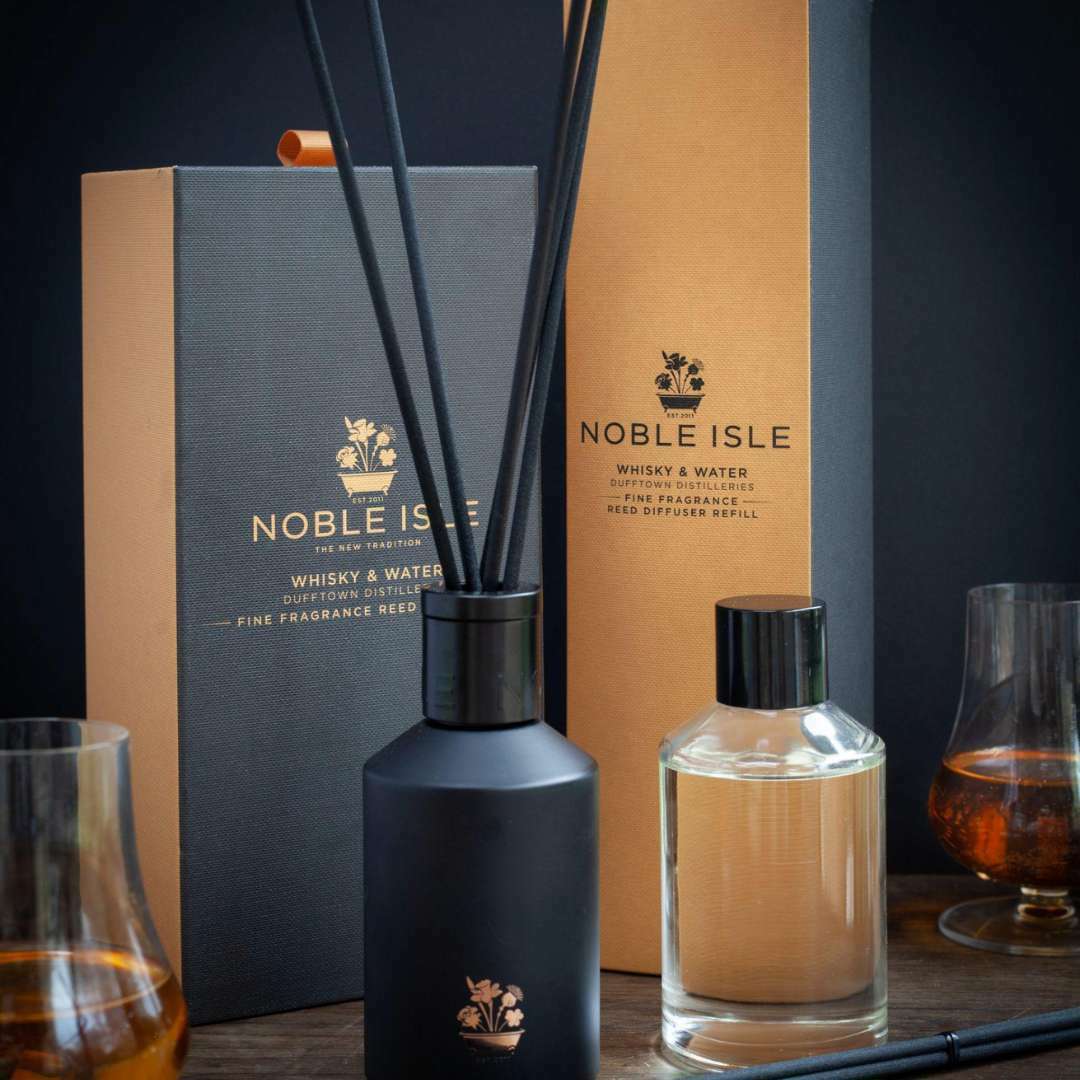 Our Commitment to Sustainability and Fine Fragrance
We are thrilled to unveil our Reed Diffuser Refills, the newest addition to our array of sustainable, fine fragrance products featuring genuine perfume. At Noble Isle, sustainability has always been a priority, and this latest expansion of our product line represents another stride towards minimising waste and assisting our customers in adopting more eco-friendly lifestyles.
Delight in Your Favourite Noble Isle Scents
Each refill contains 180ml of fragrance, as well as new Diffuser Silk Reeds, allowing you to indulge in your preferred Noble Isle scent for weeks. With four of our most beloved fragrances on offer – Golden Harvest, Rhubarb Rhubarb!, Willow Song, and Whisky & Water – there is a scent to complement every home and mood.
Experience the Beauty of Fragrance in Your Home
At Noble Isle, we appreciate the significance of fragrance in our lives and are devoted to crafting the finest fragrances that bring joy and elegance to every home. We believe that fragrance plays a crucial role in creating a comfortable and inviting home. An exquisite fragrance can alter a room's mood, instilling a sense of tranquillity or vigour, depending on the scent.
Enjoy Eco-Friendly Fragrance with Our Reed Diffuser Refills
Our Reed Diffuser Refills offer a superb way to experience our gorgeous fragrances in an eco-friendly and sustainable manner. By investing in a refillable Diffuser, you are not only minimising waste but also guaranteeing a long-lasting and premium fragrance experience. Our Reed Diffusers are ideal for any room in the home, from living spaces and kitchens to bedrooms and bathrooms.
Simple Steps to Care for Your Noble Isle Reed Diffuser
Our new Reed Diffuser Refills are not only convenient and sustainable but also incredibly easy to maintain. Follow these straightforward steps to maximise your Noble Isle Reed Diffuser experience:
Choose a location: Select a well-ventilated spot that is out of direct sunlight and away from heat sources. This will help ensure your fragrance endures for as long as possible.
Insert the Reeds: After topping up your Reed Diffuser, cautiously insert the new Diffuser Reeds into the opening. Ensure the reeds are evenly spaced.
Flip the Reeds: After the first hour, invert the reeds to saturate the dry ends with fragrance. Subsequently, flip the reeds every 2-3 days to maintain a consistent aroma.
Enjoy the fragrance: The fragrance will start to permeate the air instantly. As our Reed Diffusers are crafted with high-quality ingredients, you can savour a stunning and long-lasting fragrance for weeks.
Refill: Once the fragrance has evaporated, simply discard the old reeds and pour in a new refill.
Join Us on the Journey to Sustainable Living
We believe that sustainable living is a journey – one we are proud to embark upon. With our new Luxury Reed Diffuser Refills, we are eager to provide our customers with a handy and eco-friendly method to keep their homes smelling delightful. We hope that by taking this step towards sustainability, we can inspire others to follow suit.