February 22, 2017
MEET RHUBARB FARMER, JANET OLDROYD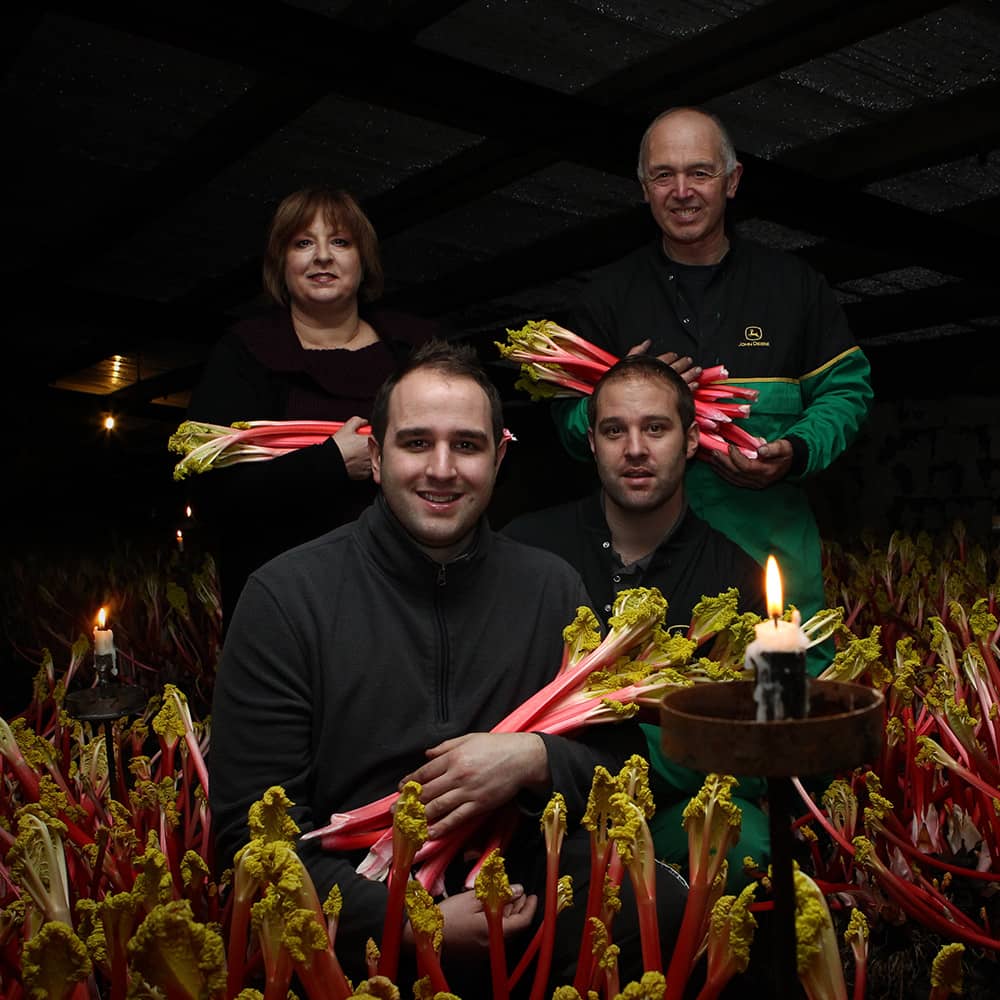 Q: What inspired you to start growing rhubarb?
I left my job as a medical scientist to start our family but once the boys were born my father wanted me to take charge of the new rhubarb propagation techniques he wanted to adapt. Being quite handy with a scalpel I decided it was a more appropriate tool than the knives others were using. Such very small pot plants needed the careful touch, and we were one of the few growers to make it work. It all led from there really. My father's enthusiasm and love for the crop was infectious, and what had laid dormant in me from my childhood took root (if you excuse the pun).
Q: When did you start your business and who has been involved from the beginning?
E.Oldroyd & Sons Ltd is a family business whose links with rhubarb began when my Great Grandfather (a Cambridgeshire strawberry grower) came to Yorkshire in 1930 and began growing rhubarb. My father clearly remembers the day his Grandfather took him behind that forbidden door where children were not allowed to pass. The sight before him took his breath away, such was the beauty of the growing crop. He instantly knew forcing rhubarb was what he wanted to do with his life.
Q: What do you like to do with your spare time when not working?
Farmers don't get much free time, but when I do I love long walks with my seven dogs or taking my horse out, so all outdoor related.
Q: What is your favourite part of your job and the growing process?
It is very fulfilling seeing the crop growing well in the warm dark sheds and it always makes me feel proud when visitors gasp in amazement when inside the forcing sheds. Meeting the public to get their feedback is a bonus.
Q: Can you share with our readers a secret cooking recipe using rhubarb?
Rhubarb is so very versatile in cooking and I simply cook mine in a pan on the hob in pure orange juice, they just go so well together. Rhubarb and Custard is a much loved dish but I like to update it into something special like rhubarb panacotta or rhubarb crème brulee which both are simply rhubarb and custard.
Q: Do you have any favourite Noble Isle products – not just the ones containing your extracts! 😉
Whisky and Water is a favourite.
Q: Can you tell us an interesting, quirky fact about rhubarb?
Rhubarb, originally called Rhabarbarum, is a native of Siberia and has been used as a medicine for thousands of years.
Our favourite Rhubarb Crème Brulée recipe for you to try at home:
Ingredients:
For the rhubarb
450g/1lb rhubarb stalks, trimmed, cut into pieces
1 tbsp clear honey 1 orange, juice only
For the crème brulée
400ml/14fl oz whole milk
150ml/5fl oz single cream
40g/1½oz caster sugar
4 free-range egg yolks
1 vanilla pod, split
100g/3½oz demerara or icing sugar for topping
Method
1. Preheat the oven to 200C/400F/Gas 6.
2. For the rhubarb, place the rhubarb pieces into a shallow baking dish. Squeeze over the orange juice and drizzle with honey.
3. Place into the oven and bake for 25 minutes, occasionally basting the fruit with the cooking juices.
4. Once the rhubarb is tender, spoon equal quantities into the bottom of four small heatproof dishes or ramekins and set aside.
5. For the crème brûlée, place the milk and cream into a pan over a medium heat. Bring to the boil then remove from the heat.
6. Place the sugar and egg yolks into a clean bowl and beat together until light and fluffy.
7. Gradually add the milk and cream mixture stirring well. Strain the custard back into the pan and add the vanilla pod. Stir over a very low heat until the custard thickens, then remove from the heat and remove the vanilla pod (you can rinse and dry it for use in other recipes).
8.Pour equal amounts of the custard over the rhubarb in the ramekins and leave to go completely cold.
9. Two or three hours before serving, sprinkle the top of each crème brûlée with the demerara sugar or icing sugar so they are each evenly and completely covered with a layer of sugar.
10. Place the dishes under a hot grill or heat with a cook's blowtorch until golden-brown and melted. Allow the tops to cool, then place in the fridge to chill until ready to serve. Enjoy!