October 19, 2022
How to Make Your Perfume Last Longer | Noble Isle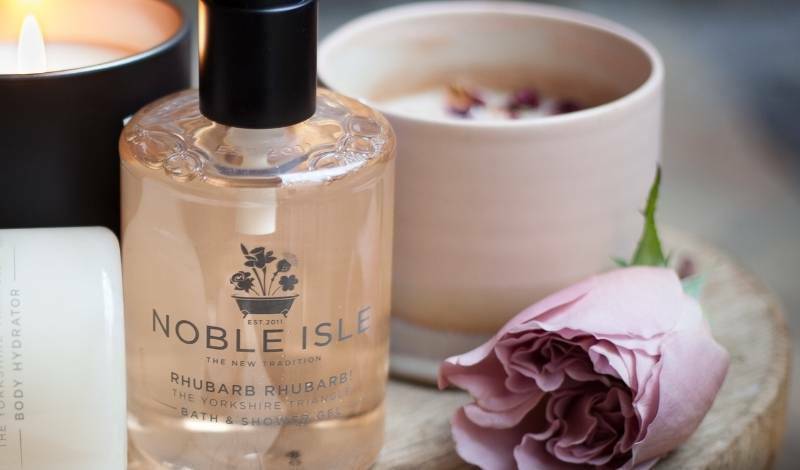 It takes time and passion to compose evocative perfumes. Over the past ten years we have created twelve fine fragrances, including our best-selling Rhubarb Rhubarb!, The Greenhouse, and Fireside scents. One of the most unique benefits of our brand is that our products contain aromatic and complex perfumes, with distinct, layered top, heart and base notes. Our fragrances last on the skin, and in a room, for long periods of time so one is reminded of chosen scent all day. With Noble Isle, you'll feel like you are enveloped in luxurious layers of fragrance from your morning shower to your evening routine. If you're wondering how to make the products' perfume last longer, here are some tips to help.
Before you hop into the shower in the morning, fill the room with your favourite scent. Our Rhubarb Rhubarb! Luxury Reed Diffuser is a bright and fresh fragrance, redolent of an early, dewy morning in spring – the perfect scent to start your day. Whatever perfume you choose to carry with you throughout the day, you can make it last a little longer by using that scent as a Reed Diffuser or by lighting a Candle in your home or office. The aroma will spread through your space and help to keep the perfume lingering for longer. If you choose to layer your scents, make sure that you choose an aroma that complements the scent you choose to wear throughout the day. Keep in mind, a scented Candle or Reed Diffuser with a strong, bold scent can overpower the subtle scent of another perfume. In addition to the obvious olfactory benefits, lighting a Candle when you're at your desk can help you feel calm and balanced.
A tip from our Founder: Using both candles and diffusers in hallways, kitchens and living rooms for extra impact when you are hosting a dinner party with friends.
Whether you choose to shower in the morning or if you prefer a long soak in the tub to start your day, we have a selection of fine fragrances in Luxury Shower Gels and Bubble Baths. When you use the same scent of Shower Gel as your scent of Candle, you'll be helping to keep your fragrance in your home for longer. The same goes for using the same scent of Bubble Bath, it's a great way to extend the life of the perfume on your skin. However, our Shower Gels and Bubble Baths are better at extending the life of your fragrance if you use them on your skin. Our fragrances are so unique that, when used, they fill the entire room with bouquet of evocative, rich, perfumes.
A tip from our Founder: When you are finished taking a bath, rather than emptying the tub immediately, leave the fragrant bubbly water in the tub and it will continue to fragrance the bathroom.
One of the key tricks to creating a long-lasting smell on your skin is using Body Lotion. After you've showered, pat your skin dry and apply the matching scented Body Lotion as your Bath & Shower Gel. Our Body Lotions, seep into the skin, which makes it smoother, moisturised, and infuses the scent into your body.
A tip from our Founder: Using Hand Lotion after you wash your hands, is a great way to extend your favourite fragrance. While rubbing into your hands, take a little lotion and rub on your pulse points – behind ears, neck and wrists. In the summer or if you are wearing a short sleeve top, take the hand lotion all the way up your arms.
If you're out and about and you want your fragrance to last longer, you can use the same scent of Hand Sanitiser or Hand Lotion in a 75ml travel size. Alternatively, you can use our Hand Washes at home. Our selection of Hand Sanitisers and Hand Washes will help to give you a mid-day boost of the fragrance on your hands for longer, meaning you'll enjoy the scent for the whole day.
A tip from our Founder: Taking a 75ml Luxury Travel Size in your car or bag so you can layer up your chosen fragrance throughout the day, plus keeping your hands hydrated and smooth.