December 7, 2022
How to Style your Home this Christmas | Noble Isle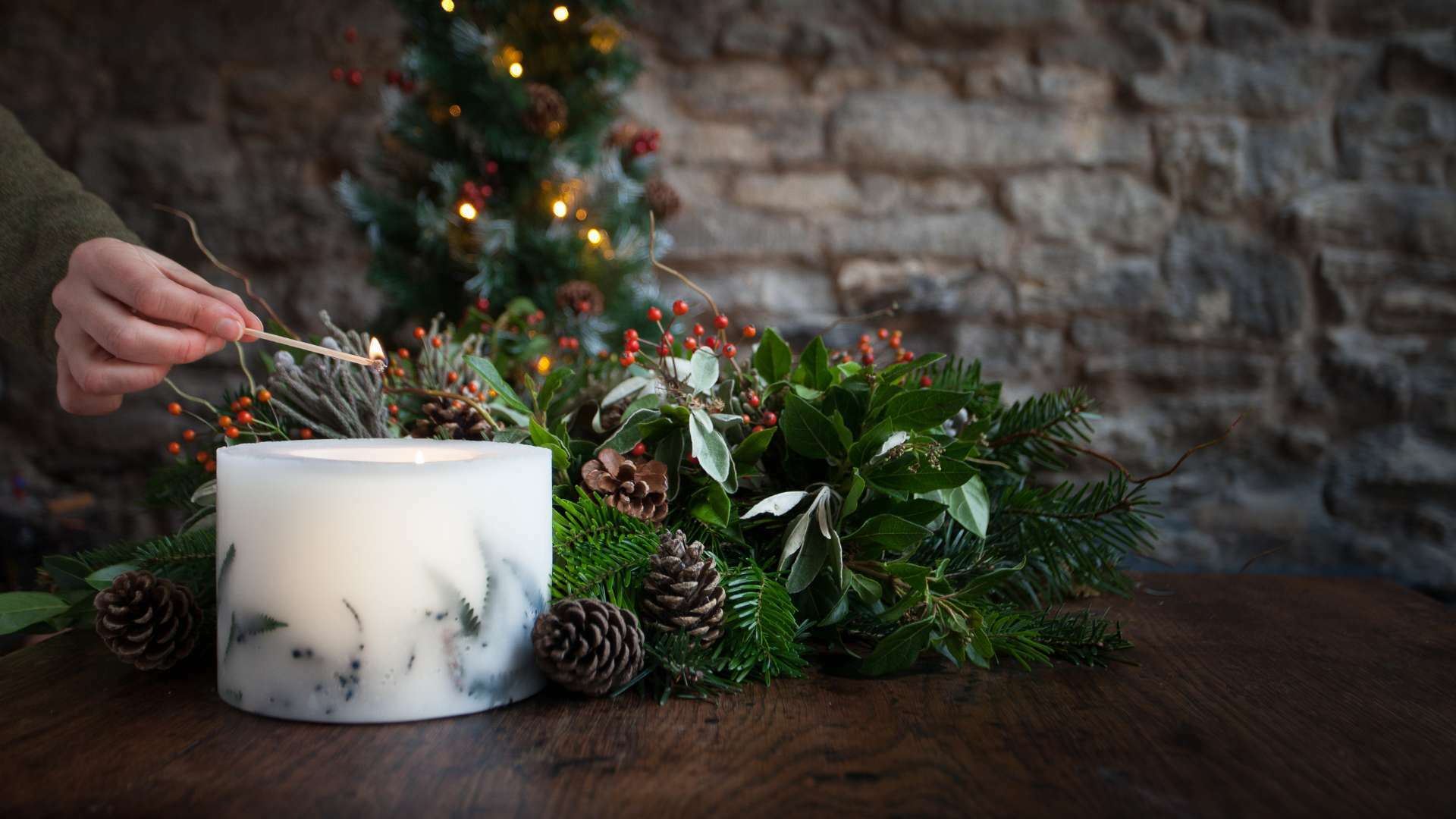 It's the most magical time of the year, a time to spend with loved ones and friends, celebrating the year behind us, and the looking to the year ahead. A time to bring out extra throws in the living room, to adorn your front door with a festive wreath, light candles and to fill the kitchen with the smell of mulled wine and Christmas baking.
The atmosphere of our living spaces can have a great influence on our mood and how we approach the seasons, explore ideas to style your home for Christmas, with sustainable brands and tips to perfect your festive interior with an eco-conscious touch.
Tree for Life, Not Just for Christmas
There's no better feeling than decorating a tree for the festive season and seeing it light up for the first time in your home, than the fresh scent of the pine branches in your home. However, it's no secret that Christmas trees aren't the most sustainable purchase.
You can invest in a long-lasting artificial tree, to use for years to come, but plastic produces its own well known problems and environmental issues. What's more, you may sacrifice the delight of the fragrant pines and the joy of having a real spruce or fir tree in your home.
In the last few years, rented Christmas trees have grown in popularity, with more fir, spruce, and pine farms offering a more sustainable option. Such as Cotswolds Fir in Primrose Vale near Cheltenham.
Rent the same tree each year, and return it for re-planting to grow until next December, watching it grow over the years from its tender care and love at Cotswolds Fir's. There are a number of farms across the British Isles offering rented, sustainable Christmas trees in various sizes that suit your style and home.
Enhance the Fragrance of your Christmas Tree
Complement the fresh, evergreen scent of your Christmas tree with a paired Luxury Candle that adds both aroma and atmosphere. The Noble Isle Pinewood Luxury Scented Candle is vegan and sustainably made in the UK, with invigorating notes of Pine, Elemi and Cypress, sappy notes of Cedarwood, Guaiac Wood and Fir, and a lingering woody earthiness of Patchouli, Vetiver and Musk.
Made with real perfume and with a burn time of up to forty-five hours, this delight for your home not only enhances the fresh scent of your Christmas tree, but provides atmosphere and tranquillity.
Incorporate Stylish, Fragranced Products that also Fights the Winter Cold
Carefully placed Hand Sanitisers can be multifaceted in your living room, providing style with their bottle design, but practically placed to be within easy access, can help fight off the winter cold. To fight seasonal illnesses, place a fragranced Hand Sanitiser in high- use rooms of your home as a reminder to clean your hands when you arrive home or during your busy day. A simple solution for effective and simple protection from germs.
Placed in the hallway, it allows any guest in your home to do the same, helping to protect you and your loved ones against winter colds or flus.
Noble Isle's lightly scented Luxury Hand Sanitiser Gels remove 99.9% of harmful germs and bacteria, leaving your hands feeling clean and fresh, it releases a bouquet of evocative scents. Our 75% Alcohol Hand Sanitisers are vegan, cruelty-free, and enriched with natural extracts.
What's more, Rhubarb Rhubarb! Hand Sanitiser is now available in a long-lasting glass bottle and 1-litre refill, for a greener home and a statement piece for any coffee table or entryway.
Statement Pieces that Create Atmosphere and Warmth
Our Handmade Botanical Candles are designed to be a statement piece in your home, with two scents of the season available, in both Fireside and Pinewood. Candles produce light and warmth as well as fragrance, wonderful for well-being during darker months.
For a more magical decor, explore new ways to decorate with festive wreaths. Similar to Christmas trees, fresh-flowered festive wreaths can be created with sustainable foliage, such as these wreaths from Bloom & Wild.
Further to your door decoration, adorn a kitchen table or desk with a sustainable Christmas wreath, placing a candle in the middle to fill the centre. For a truly spectacular centrepiece with fragrance.
Sustainable Throws for Cosy Evenings and Decor
As the nights grow colder, it's that time of year to pull out an extra throw and embrace the cosy and serene feeling of Winter. Style your home with extra throws and pillows to create a truly comforting atmosphere, while keeping toasty as the temperature drops.
British brand, Piglet in Bed, create sustainably made throws and pillows to style your home in an eco-conscious manner. Adorn your sofa with extra throws, so you'll always have one in reach while you unwind from the day.
In Winter, our hands are often exposed more to the cold, drying or damaging skin. When you relax with a night-in, it's useful to keep a moisturising Hand Lotion within reach to revitalise your hands in the cold weather.
Noble Isle has eight fine fragrance Luxury Hand Lotions available, all naturally enhanced with extracts sourced from across the British Isles. On a side table, keep a Hand Lotion of your favourite fragrance within reach. When you're warm and snug under your throws, add an extra level of relaxation with a quick hand massage that will help keep your skin moisturised and healthy.
Recycled Wrapping Paper and Eco-Friendly Christmas Crackers
While it's the most magical time of the year, there's no denying the waste that can be produced. This year, opt for recycled wrapping paper and eco-friendly Christmas crackers for a greener festive season.
Made in the UK with vegetable based ink and sustainable paper, British brand, Nancy & Betty, offer beautiful, adored designs that are eco-friendly. For styling, choose Christmas wrapping for your presents that makes you feel joy when you see them under your tree, awaiting you and your loved ones on Christmas morning. The simplest thing as carefully selected wrapping paper in your personal style can greatly enhance the decoration in your home.
For every box of Christmas crackers purchased during the festive season, Nancy & Better promises to plant a tree to further their commitment to being an environmentally friendly brand.
If you're looking to gift Noble Isle this Christmas, our hat box inspired gift boxes are sure to captivate under the tree or in a stocking. At Noble Isle, we're experts in gift giving and take true passion in creating exquisite designs. All orders come with optional gift wrapping, in packaging that is eco-friendly.
For the Bathroom, with Seasonal Fragrances
For our last tip, when styling your home for the festive season, think about every room in the home. Small touches such as changing your Hand Wash and paired Hand Lotion to a seasonal fragrance can truly invigorate your festive season.
Our Luxury Hand Care Sets come in duo sets with Luxury Hand Wash and matching Luxury Hand Lotion. For the festive season, our Whisky & Water collection is an ideal scent. A handsome and dramatic fragrance, with notes of Cedarwood, Amber, Davana Blossom and Vanilla, the aroma itself evokes the image of a dram of Whisky by the warmth of a fire.
Noble Isle sources natural extract of Malted Barley from the time honoured Balvenie Distillery in Dufftown, one of only a few distilleries still harvesting and malting their own barley to create an exclusive range of hand-crafted single malt Scottish Whiskies characterised by smooth, honeyed complexity.