March 6, 2023
Indulge Your Mum with These Luxurious Birthday Gifts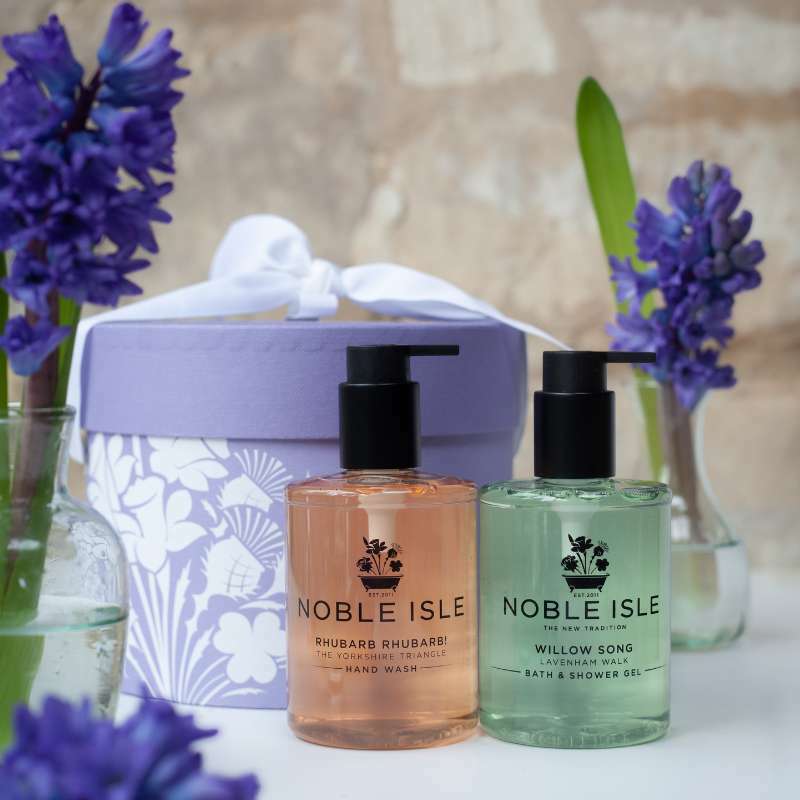 Are you looking for a luxurious birthday gift for your mum or mother figure? We've put together a guide to the best birthday gifts for mothers to help you with selecting a gift that will show her how much you care. Our customer services team are also on hand if you would like a personalised recommendation – you can email them here or try our Bespoke Gift Creator to create a personalised gift.
Our Founder, Katy Simpson, remembers hours spent during her childhood drawing fashion sketches and wrapping gifts creatively using an eclectic mix of ribbons and other things she would find around the house. "I always take great care when it comes to choosing just the right gift," explains Katy. "And when it comes to the gift wrapping, I really enjoy getting creative. I have a box of ribbons that I've collected over the years and a stash of unusual papers, coloured and printed tissue paper and boxes that I like to use. I love to find a gift that has an instant wow factor but also includes personal touches and details. I get so much joy from seeing someone unwrap a special and thoughtfully chosen gift. I think it was seeing someone's delight at being presented with a beautifully wrapped gift that encouraged me to spend so long experimenting with gifts, as a child."
"It's this sense of wonder, surprise and delight that I try to bring to the gifts I create at Noble Isle," says Katy. "My inspiration can come from anywhere – from a chocolate box, an exhibition I've visited or from fashion and home accessories. I work closely with our designer in Cornwall to bring the design to life and then with our trusted suppliers to make sure the details are right. I've worked with our ribbon supplier, a small family-run business, for almost twenty years!"
For Katy, the art of gift-giving is also about personalisation. "One thing I'm really proud of is the Bespoke Gift Creator on our website. It means that you can custom-build the perfect gift for your friend or loved one and the small team in our Cheshire factory will hand-pick and wrap it to order. I've personally trained this team so that when it comes to gift wrapping, everything is just so." All of our gifts include a complimentary gift wrap. When you order from nobleisle.com you can also choose a complimentary travel-sized product of your choice with every order.
Luxury Shower Gel Gift Sets
Here at Noble Isle, we are known for our vegan-friendly and cruelty-free Luxury Bath & Shower Gels, which are all formulated with fine fragrances. Each evocative scent has been expertly blended to transport you to a place or time as it reveals layers of exquisite aroma.
All of our vegan Bath & Shower Gels can be used in the shower for a quick, indulgently scented cleansing experience or as a luxurious bubble bath. Our formulations are gentle on the skin and produce a rich, foaming lather that leaves the skin cleansed and sumptuously scented.
Trustpilot Review:
"I have tried much cheaper Shower Gels, however none of them lasted nearly as long as Noble Isle ones. Therefore, they really are value for money as you need so little gel for an overall satisfying wash. Secondly, they are much kinder to the skin and do not leave the skin dry and irritated. Pleasant aromas."
If you are searching for a Luxury Shower Gel gift set as a birthday present, then take a look at these suggestions: 
Personalised Fragrance Hamper Shower Gel Gift Set
Use our Bespoke Gift Creator to select any four of our luxurious, vegan Bath & Shower Gels. There are ten to choose from including our unique interpretations of fruit and floral fragrances: bittersweet Rhubarb Rhubarb!, rose reimagined in Tea Rose, green florals in Willow Song or the fresh scent of Summer Rising.
Your choice of four cruelty-free, fine-fragrance Luxury Bath & Shower Gels will be wrapped in a keepsake black buckram box with a grosgrain ribbon tie.
Luxury Rhubarb Rhubarb! Shower Gel and Candle Duo
Rhubarb Rhubarb! has a bright and complex fragrance, with notes of crushed Tarragon and Rosemary complemented by bittersweet notes of fresh Rhubarb. Rhubarb Rhubarb! was the first Rhubarb scent to be created for the UK market and still continues to win hearts and achieve accolades. Treat her to this set and she'll be able to relax in a hot candlelit bath, laced with the decadent scent of Rhubarb Rhubarb!
The Trio Bespoke Gift Set
This is the perfect choice as a special gift for those who like to travel or as an introduction to Noble Isle. Choose any three Noble Isle fine-fragrance Bath & Shower Gels in travel-friendly 75ml bottles. The Trio will be delivered in a beautiful gift box finished with our signature grosgrain ribbon.
Trustpilot Review:
"Noble Isle is a beautiful range of fine British Shower Gels, Shampoos, Body Lotions etc. The products are 100% natural and sustainably sourced, vegan and cruelty free and the packaging recyclable. Considering the quality, prices are very reasonable. My own favourite is Willow Song, but I have tried some of the others and they are all lovely. Gift sets can be customised and are beautifully presented. What's not to love!" 
Our Founder, Katy Simpson, is on a mission to explore the length and breadth of the British Isles for inspiration for our luxury Body Care collection. We source original and authentic natural ingredients that are nutrient-rich, with properties that benefit the skin, including Pinot Noir Grapes from Kent, Beetroots from Wales and Barley from Scotland.
These naturally active ingredients are used to create our cruelty-free, vegan bath and body collection. Here are some of our best indulgent body care gifts for mothers: 
Golden Harvest Body Care Gift
Inspired by Grapes, the fruit of the vine, Golden Harvest is a blend of mellow fruitfulness, with notes of Violet Leaf, sun-ripened Grape, Green Apple and the gentle fizz of Juniper Berry. This indulgently packaged Gift Set contains our Golden Harvest Bubble Bath & Shower Gel to add some luxury to her everyday bathing routine and a Golden Harvest Body Hydrator that is light, easily absorbed and leaves behind a fine veil of moisture.
Tea Rose Luxury Bath & Body Oil and Body Cream
This indulgent duo is designed to leave the skin feeling soft, hydrated and delicately scented with the pure and charming scent of Tea Rose. With all of the grace and finesse of a London afternoon tea, the scent of Tea Rose is steeped in Black Tea Leaves and English Rose Petals and finished with refreshing notes of Jasmine, Bergamot and Clary Sage.
This luxurious Bath & Body Oil and Body Cream are both packaged in glass. The Bath & Body Oil is a rich blend of Grapeseed, Sweet Almond, Sesame Seed and Evening Primrose Oils that can be added to the bath or applied directly to the skin to keep it smooth, soft and supple.
Luxury Home fragrance gifts
Our Founder, Katy Simpson, worked closely with our perfumer and Sussex-based candlemaker to create a range of Luxury Scented Candles with exactly the right balance of wax, wick and fragrance. All of our Luxury Reed Fragrance Diffusers and Candles are housed in matt-black glass and finished with our logo, the crest of balms that celebrates the flora of the British Isles. The inside of our glass candle jars is rose gold, which accentuates and reflects the warmth of the flickering candle flame.
Willow Song Home Fragrance Gift Set
Pairing a matching Luxury Scented Candle and Reed Diffuser allows you to layer the scent to create an inviting and long-lasting aroma. If she loves fresh florals, then take a look at our Willow Song Home Fragrance Gift Set, which comes beautifully wrapped in one of our signature black hat boxes. Willow Song is reminiscent of green floaty florals, with Lily of the Valley, Rose and Ivy blending with mellow Cedarwood and Musk. This dreamy scent will transport her to the banks of a flowing river covered with Lily pads, with the branches of a Willow tree gently weeping into the water.
Luxury Botanical Candles in Pinewood and Fireside
Our large Botanical Candles, each weighing more than 1.5kg, make an impressive statement and memorable gift. Each candle is decorated with natural ingredients which are highlighted further when the candle is lit and glowing. Choose from decadent Fireside with its warming spices or fresh, clean Pinewood with its refreshing sappy scent.
Whisky & Water Home Fragrance Gift Set
Modern, dramatic and somewhat addictive, this is our best-selling fragrance for good reason. If she likes warm, spicy scents, then she'll be delighted with this beautifully packaged gift set containing our Whisky & Water Fine Fragrance Candle and Reed Diffuser. With notes of warm Vanilla and grounding Cedarwood, this sophisticated fragrance was inspired by a fine oak-aged single malt Whisky.
Click here to discover our collection of indulgent gifts for mums. We ship internationally and you can enjoy complimentary UK shipping on orders over £49. Gift wrapping is complimentary and you can also choose a complimentary travel-sized product with every order.