March 8, 2019
Noble Isle Shop The Nest At No 9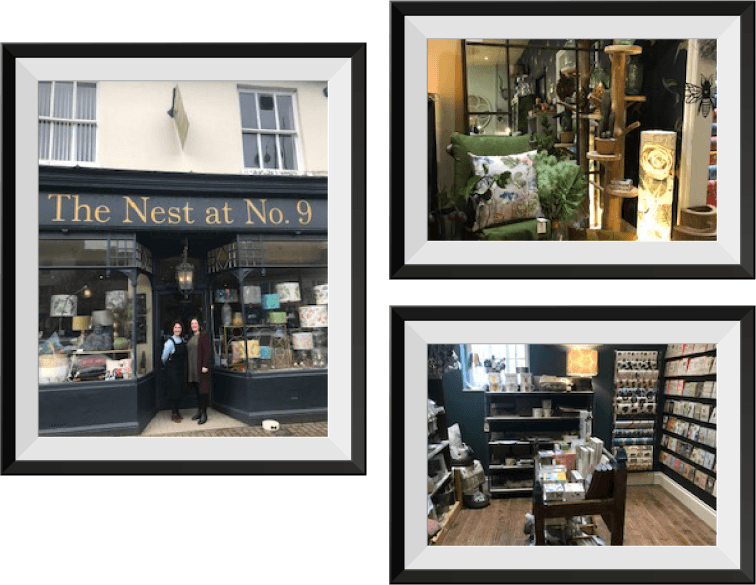 By now you will have heard on the news about the challenges of the British High Street and the difficult Christmas some areas in the country had. There has been a growing trend of consumers shopping from their arm chairs and turning to online shopping instead. But would you want the British High Street to suffer and see shops close? We certainly wouldn't! There is something very special and incredibly British about wandering round the serenely, idyllic towns across the UK searching for that extra special gift and catching up over cups of coffee with friends. It is a great "day out" with friends and family and the magic of that can never be replaced. At Noble Isle we work with many outstanding boutique retailers around the country and we wanted to share their stories with you and encourage you to #ShopSmall.
Today's interview is with Sandra and Claire from The Nest At No 9, a beautiful vintage and contemporary shop in Olney.
Can you tell our readers a little bit about yourself and your business?
The Nest At No 9 is both a vintage and contemporary shop which opened in the market town of Olney on Friday 13th May 2011.
Based in the former Woolwich building society premises on the main high street. The shop offers customers a combination of specially sourced one-off pieces and new lines from cutting edge designers.
With over 60 years retail experience between them Sandra Hearn and Claire Gooch travel each month to fairs and trade shows across the country and abroad to source individual and interesting pieces. Working tirelessly to ensure that whenever you visit the shop you will find an ever changing selection of gifts and home furnishings.
What makes your business extra special?
New stock is delivered daily and we try to offer exclusive stock within our area. We work closely with over 100 designers to ensure we get new pieces and constantly change the look and feel of the shop. We are keen to offer great value but also huge delight when customers see the mix of product we have to offer. We set the store up in a way that we knew we would want shop. We are a business but our buzz also comes from the reaction and positive feedback we get back each day.
Do you enjoy the customer interaction?
We are very fortunate that we have a mix of loyal local customers who from the day we opened supported us and made us a real part of the community. Along with the many visitors who travel from far and wide to enjoy the restaurants, museum, fashion and gift shops it has made Olney a destination worth coming too. We still enjoy the crowds arriving for major town events. Most popular of course is the Pancake race which started in the town in 1445. Women of Olney recreate the race every Shrove Tuesday running from the market square to the local church. The other annual event is the Christmas launch late night shopping event. The Christmas street lights are lit and all traders open for shopping in the evening with fizz on tap and Christmas gifts and decorations. Then to welcome in peak shopping opportunities in December, the roads are closed in the town for Dickens Sunday. All the shop keepers dress in suitable Dickens outfits and the market square has craft stalls and a children's carousal.
Where do you see your business going in the next few years?
We believe that whilst customers love to shop in many different ways they still also want to enjoy time visiting shops that delight and excite them. Nothing can beat picking up product, feeling it and getting excited about who or where you are buying it for. We get wonderful feedback informing us that the shop is an experience of great customer service combined with an abundance of stock. We give a warm welcome by making sure the shop looks inviting, smells amazing and has warm soothing music playing whilst customers parade our wares. We constantly review the assortment and look for fresh designers. The shop should look different every time you visit us.
What's the nicest thing about owning your store?
We both have different taste which is so helpful when we go buying product for the shop. It makes for an interesting mix of styles. We have passion when talking to customers about where and why we have sourced stock and they sense our excitement about items arriving.
Owning the shop means we can do retail the way we think customers enjoy and appreciate. We love being in the shop so that reflects in how it feels when customers come to visit us and the team of wonderful ladies who work with us.
We also love working with like-minded suppliers. Noble Isle is a great example of just that. An English company making wonderful luxury product at affordable prices to small retail independents and hotels. Working with the retails to get the offer just right.
What is the funniest thing that has ever happened in store?
On a late-night shopping evening event one of us took a headache pill to ease a bad head only to find it was our dogs heart tablet!! No fear the vet reassured us nothing bad would happen and that we would sleep well that night.
Anything else you would like to share with our readers?
Opening our own shop was just a pipe dream when we first met as friends over 30 years ago! 8 years on we count ourselves very lucky to enjoy what we do everyday.