November 8, 2023
Noble Isle's Christmas Gift Guide for Her | Treat the Women in Your Life to Luxurious and Thoughtful Presents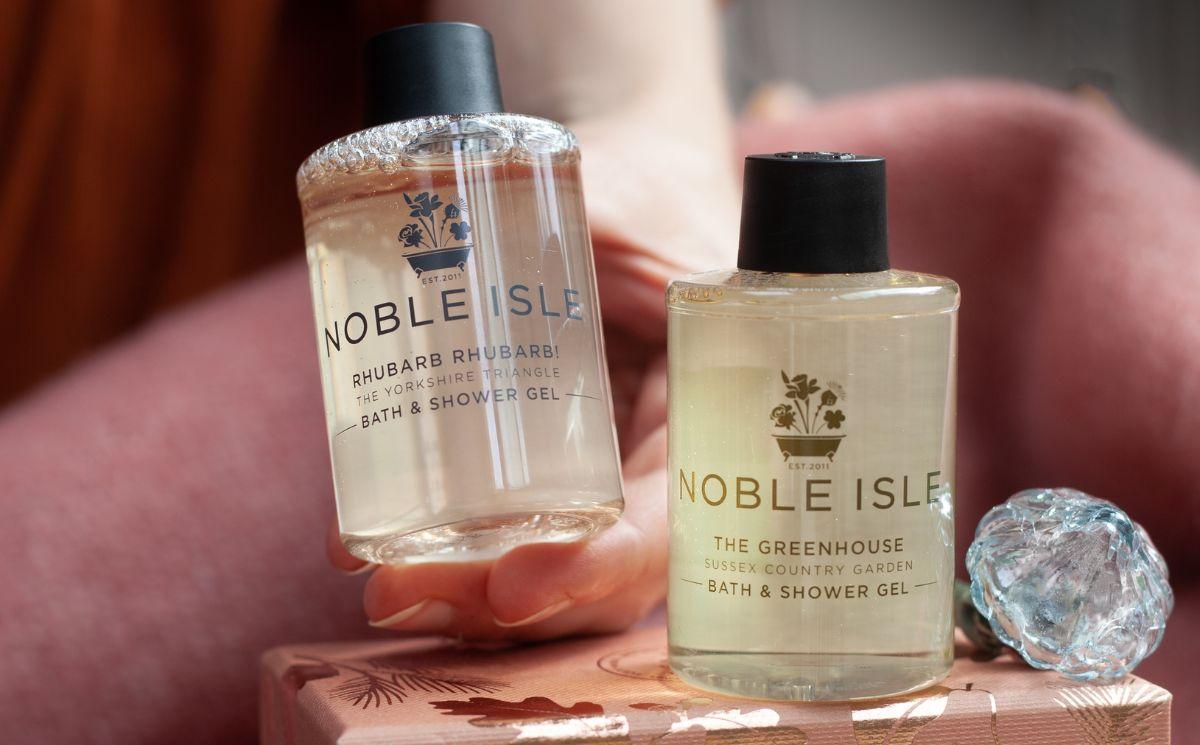 The holiday season invites us to celebrate the special women in our lives. What better way to honour their grace, elegance, and timeless charm than with a gift wrapped in British luxury? At Noble Isle, we've curated an unforgettable Christmas gift guide for her designed to captivate her senses and elevate her everyday rituals.
Celebrate Her with Our Selection of Fine Fragrances
The perfect gift is an experience, a moment locked in time, made unforgettable by the perfect scent. This is why we've chosen our most enchanting fragrance collections to feature in this guide. From the invigorating freshness of Summer Rising to the comforting depth of Rhubarb Rhubarb!, each fragrance is a story waiting to unfold, a character waiting to be met.
Golden Harvest: A symphony of Juniper Berry, Green Apple, and Watermelon that evolves into a floral heart and settles into an earthy base of Oak Moss, Patchouli, and Musk.

Rhubarb Rhubarb!: A spirited blend of Rhubarb and Juniper Berry, balanced by herbaceous mid-tones and anchored by Moss and Cedarwood.

Willow Song: Whispering of tranquil gardens and misty waterways, this scent merges Rose Petal and Ivy with Watermelon and Lily of the Valley, ending in a woody embrace.

Summer Rising: The epitome of sunny days; Orange Blossom and Tangerine open up this scent, leading to a heart of Nutmeg and Cut Grass, grounded in Oakmoss and Musk.

Tea Rose: A refined blend opening with Bergamot and Green Leaves, deepening into a heart of Black Tea, Rose, and Jasmine, and concluding with Clary Sage and Musk.
Exquisitely Curated Gift Sets for Her
Elevate Her Bath Ritual with Bathe by Candlelight Gift Sets
Submerge her senses in the luxurious symphony of Noble Isle with our Bathe by Candlelight Gift Sets. Indulge in the heady aura of Willow Song, the sweet charm of Rhubarb Rhubarb!, or the classic beauty of Tea Rose. Each set comes with a Bath & Shower Gel and Single-Wick Candle, elegantly packaged and ready to gift.
Christmas Gift GUIDE for Her
To wrap up, as the winter chill settles in and you find solace in a cup of hot tea or the warm glow of a Noble Isle Candle, remember: the most memorable gifts are those that nourish the soul. With our specially curated holiday selections, you're not just giving a gift; you're giving an experience wrapped in British luxury. Cheers to a season rich in timeless elegance and unforgettable moments.