November 2, 2023
Noble Isle's Christmas Gift Guide for Him | Luxurious Presents to Spoil the Men in Your Life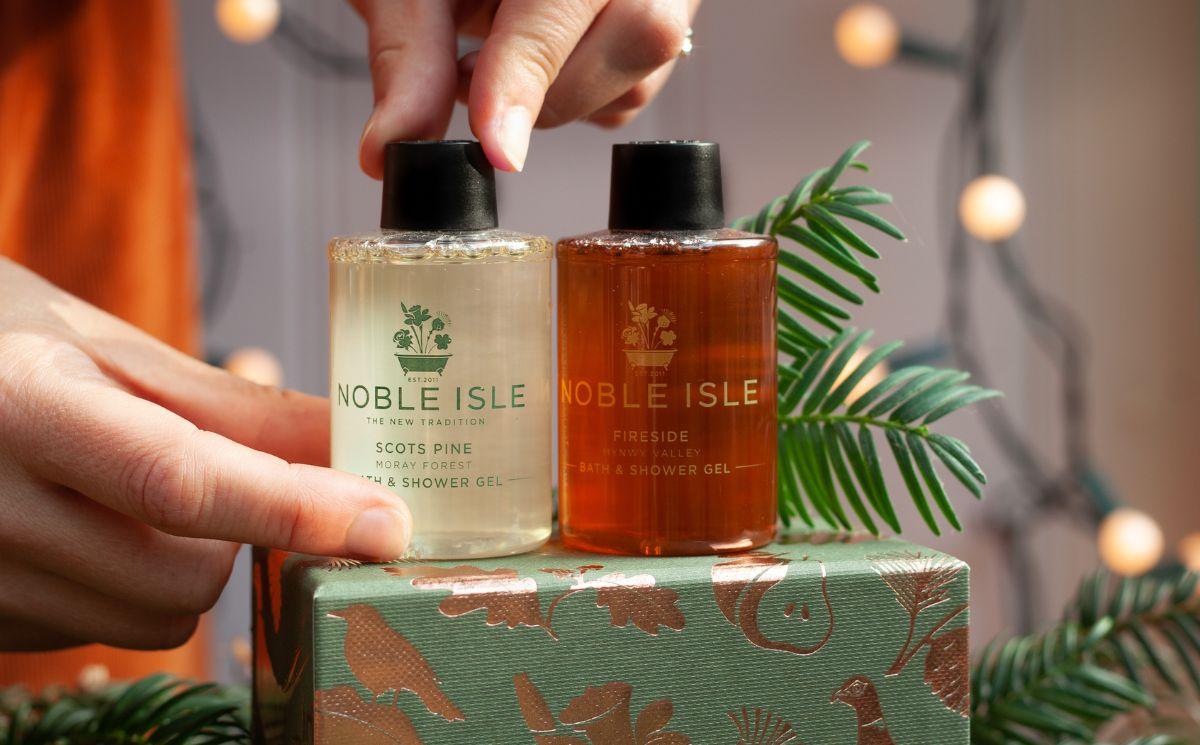 Choosing the perfect Christmas gift for the men in your life doesn't have to be challenging. With Noble Isle, you can bestow the luxury of fine British fragrances and sophisticated skincare, elegantly wrapped in sustainable packaging. This Christmas gift guide for him highlights four fragrance collections specifically tailored to tantalise the senses of modern men.
Fireside: Embrace the Warmth
If he loves the comforting scent of a burning fireplace, then Fireside is the perfect choice.
Fragrance Notes:
Top: Grapefruit, Pink Pepper
Heart: Black Pepper, Ginger
Base: Oakmoss, Vanilla
Indulge him with the Bathe By Candlelight Gift Set in Fireside (£55), a sensual blend of shower gel and candle that sets the perfect atmosphere.
Whisky & Water: A Masculine Classic
For the whisky aficionado, this collection captures the essence of a vintage whisky lounge.
Fragrance Notes:
Top: Rose, Davana Blossom
Heart: Jasmine, Orange Blossom
Base: Tonka Bean, Amber
Our Bathe By Candlelight Gift Set in Whisky & Water (£55) adds a touch of sophistication to his grooming routine.
Pinewood: An Alpine Journey
Take him on an olfactory journey through crisp pine forests and Scottish landscapes.
Fragrance Notes:
Top: Pine, Cypress, Elemi
Heart: Cedarwood, Gaiac Wood, Fir
Base: Patchouli, Vetiver, Musk
The Forest Bathing Limited-Edition Gift Set (£55) makes for a refreshing surprise under the Christmas tree
Lightning Oak: The Modern Sophisticate
Bright and zesty top notes meet a spicy heart, perfect for the man who enjoys the finer things in life.
Fragrance Notes:
Top: Bergamot, Grapefruit
Heart: Cardamom, Clove Bud
Base: Vetiver, Sandalwood
Elevate his day with the Bathe By Candlelight Gift Set in Lightning Oak (£55), a blend of revitalising shower gel and luxury scented candle.
Festive Gift Sets: Curated for the Perfect Gift-Giving Experience
This season, we've meticulously curated new Festive Gift Sets designed to take the guesswork out of gift-giving, and to ensure a luxurious experience for the recipient.
Each set is elegantly packaged, embodying the luxury and sophistication that Noble Isle is renowned for. A truly thoughtful gift, these sets are the epitome of festive indulgence.
Christmas Gift Guide for Him
This Christmas, go beyond the typical gift fare and give him something he'll truly appreciate: the gift of fine fragrance and luxurious grooming from Noble Isle. Whether it's the spicy allure of Fireside or the crisp freshness of Pinewood, you're sure to find a scent that captures his essence perfectly.