November 4, 2023
Noble Isle's Ultimate Christmas Gift Guide | The Quintessential Selection of Luxury for Everyone on Your List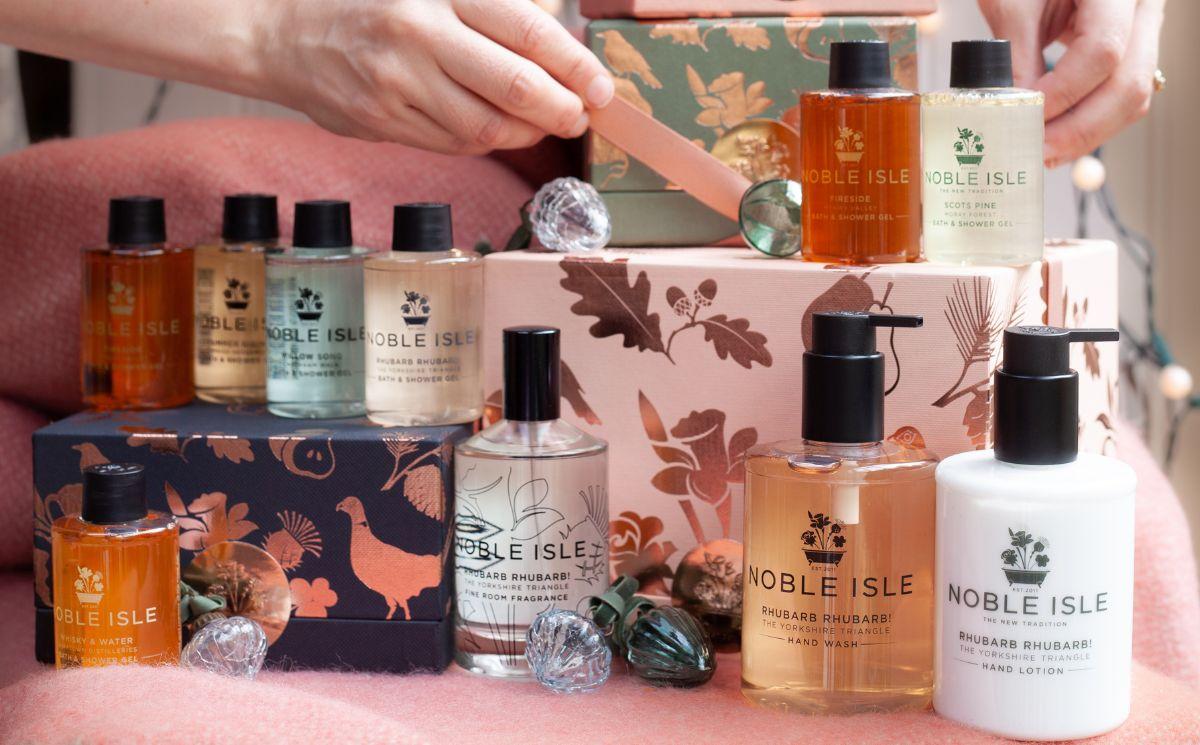 When it comes to the art of refined living, Noble Isle is a curator of the British Isles' finest fragrances and sensations. With the Christmas season upon us, the gifting options should be nothing short of exquisite, capturing the essence of British elegance and luxury. In this ultimate Christmas gift guide, allow us to illuminate the myriad of ways you can present a truly exceptional experience to your loved ones.
New Festive Gift Sets: Curated for the Perfect Gift-Giving Experience
Our Festive Gift Sets are designed to provide an unparalleled gifting experience. Each set is a celebration of British olfactory heritage, and at the same time, a nod to modern elegance.
Meadow Strolls Festive Gift Set (£15)
For the one who cherishes tranquil moments, this set delivers a countryside escapade in the form of Rhubarb Rhubarb! and The Greenhouse fragrances.
Woodland Walk Festive Gift Set (£15)
Ideal for those who appreciates the robust, earthy scents of a forest path. This set features our Scots Pine and Fireside, creating a rich sensory journey.
Great British Wanderer Gift Set (£28)
A symphony of our most iconic fragrances, this set includes five miniature-sized scents, capturing the essence of British landscapes.
Botanical Saunter Gift Set (£55)
For the lover of fragrant grandeur, this set promises a nature's most lavish offerings with Rhubarb Rhubarb!.
Impeccable Hand Care Gift Sets: The Ultimate Show of Thoughtfulness

In a world where the simple act of hand washing has become a ritual of care, why not elevate this daily habit into a luxury experience? Choose from an array of exquisite Hand Care Gift Sets, each retailing at £37, to infuse the essence of sophistication into a fundamental act.
Available in Golden Harvest, Rhubarb Rhubarb!, Scots Pine, Tea Rose, The Greenhouse, Whisky & Water, and Wild Samphire.
Decadent Body Care: The Pinnacle of Daily Luxury

Imagine turning an everyday shower into an event of opulence. Our Body Care Gift Sets, available at £43, transform mundane routines into exceptional experiences. Each set is a dedicated narrative in olfaction, be it the uplifting scent of Summer Rising or the fiery embrace of Fireside.
Available in Fireside, Golden Harvest, Rhubarb Rhubarb!, Scots Pine, Summer Rising, and The Greenhouse.
Bathe by Candlelight: A Festival for the Senses

Transport your bathroom into a sanctuary of heavenly scents and romantic lighting. These £55 sets offer a luxurious Bath & Shower Gel paired with a corresponding scented Candle, perfect for those cosy nights in.
Available in Fireside, Lightning Oak, Rhubarb Rhubarb!, Tea Rose, The Greenhouse, Whisky & Water, and Willow Song.
Pinewood Collection: A Forest Fantasia

Explore our newly expanded Pinewood Collection, where we've captured the rich aroma of the forest in various forms: Botanical Candle, Single-Wick Candle, limited-edition Bath & Shower Gel, and Fine Fragrance Reed Diffuser.
Noble Isle's Ultimate Christmas Gift Guide
As the holiday season dawns, gifting is not just an act but an expression, a poetic language where the choice of fragrance speaks volumes. At Noble Isle, we've meticulously crafted each gift set to epitomise British luxury and elegance, ensuring that every choice you make from this guide is more than a gift; it's a memory, a sensation, an emblem of care and class. May your holiday season be as exceptional as the gifts you give and receive—best wishes from all of us at Noble Isle.