March 4, 2019
Noble Small Shop Minchin & May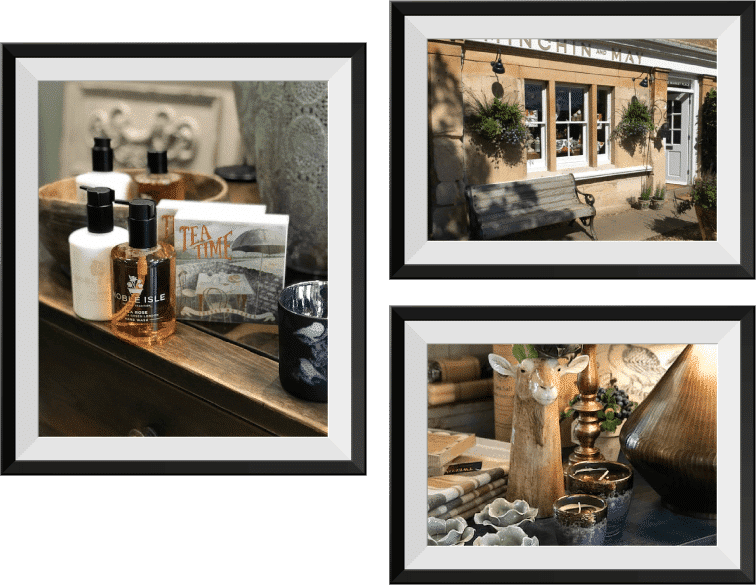 By now you will have heard on the news about the challenges of the British High Street and the difficult Christmas some areas in the country had. There has been a growing trend of consumers shopping from their arm chairs and turning to online shopping instead. But would you want the British High Street to suffer and see shops close? We certainly wouldn't! There is something very special and incredibly British about wandering round the serenely, idyllic towns across the UK searching for that extra special gift and catching up over cups of coffee with friends. It is a great "day out" with friends and family and the magic of that can never be replaced. At Noble Isle we work with many outstanding boutique retailers around the country and we wanted to share their stories with you and encourage you to #ShopSmall.
Today's interview is with Sally and Julie who own Minchin & May a beautiful store set in the heart of the historical village, Woburn in Bedfordshire.
Can you tell our readers a little bit about yourself and your business?
Minchin and May, a small independent, opened back in May 2014 – can't quite believe that. It's a proper family affair with sisters Julie & Sally at the helm and real backup & support from husbands Robert & Mel. And we have Stanley the Cockapoo who makes the occasional appearance.
We were looking to set up the sort of store we would be tempted into ourselves and in a great location and visitor destination. The Georgian village of Woburn on the Beds/Bucks border is where we are, in the former town hall clerk's house set over two floors.
What makes your business extra special?
We offer a warm welcome, some great customer service and an individual carefully curated selection of products, both homewares & gift.
We definitely go for style over trends. You can't accuse us of being minimalist or bland – we max it out with colour and interest. We're generally not keen on labels but you could say we're a little quirky & eclectic and aim to offer something different from the mainstream.
And not surprisingly the shop is a reflection of our own homes and our personalities.
Do you enjoy the customer interaction?
Customer service all the way we think brings people back and we get some great recommendations and referrals.
We get so many comments as well on how great the shop smells as you step inside which could be something to do with our Noble Isle!
Where do you see your business going in the next few years?
Retail is a challenging place but there's really no substitute for mooching around an attractively merchandised store with a friendly welcome so we think there will always be room for bricks & mortar shops though we have no plans to open any more – one is plenty for us older shopkeepers!
What's the nicest thing about owning your store?
We've always loved our homes and we can really indulge our passion for all things interior.
Funny business!
The more peculiar questions/comments we get asked…
Are you a Chinese takeaway?
You are definitely a solicitors! No really you must be!
Do you sell birdcages? I thought you were a pet shop.
Have you been open long?
What colour are the walls?
Is Stanley for sale? He could be!