September 30, 2022
The Most Popular Luxury Candles for Men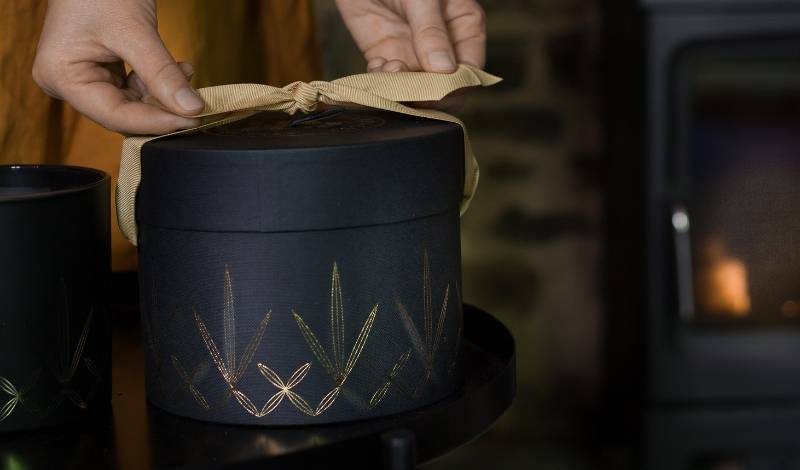 A luxurious scented candle creates a warm and inviting ambience in a room. Fragrance has the power to transform a space and transport you to a special time, or evoke a special memory. As the seasons change and the nights get longer, and more of us are working from home, a scented candle is an easy way to update your home or to give as a memorable gift. Here at Noble Isle, we've noticed a rise in the popularity of our scented candles for men. We have even discovered that there is a term for men's candles – 'mandle'. We've put together a guide to choosing the best men's scented candles. Each of our candles are made in England and finished by hand with a fine balance of wax, wick and scent. This guide includes ideas for men's birthday gifts, anniversary gifts, new home gifts, Christmas gifts and more.
Why Should I Buy a Luxury Candle?
A scented candle can provide the perfect finishing touch to your home decoration. Each of our men's scented candles have a luxurious matt black glass which is finished with our Noble Isle Crest of Balms in rose gold. Our founder Katy Simpson, worked closely with our British designer to create packaging that is sophisticated, understated and elegant, designed as a modern luxury to stand the test of time. We are the preferred partner for Small Luxury Hotels of The World and you will find our luxurious Scented Candles in some of the finest boutique hotels in the British Isles and beyond.
Candle light has been shown to soothe the senses and create a relaxing atmosphere. Lighting a candle before bed or at mealtimes (even breakfast) brings a sense of calm. The soft hue and flickering quality of candle light is flattering and has a long history of being used for reflection, mediation or to create a romantic mood.
What's special about our men's candle fragrances is that they are 'fine fragrances' which have been created with a top, heart and base notes to take you on a journey, revealing layers of sumptuous scent. Why not choose one of our top rated scented candles for men as your signature home scent? Each of our Noble Isle Luxury Single Wick Candles burns for 35-45 hours or for continuous scent choose one of our scented Reed Diffusers.
Once the scented candle has finished there are so many ways you can repurpose the jar. It can be used as a pen pot, brush pot, vase, plant pot or to store cufflinks, fire lighters, dog treats, keys or loose change.
Whisky & Water Single Wick Candle: Honeyed Woods and Spice
Our woody, spicy and aromatic, Whisky and Water Candle is our best-selling men's scented candle for good reason. It has a distinctive, warm and inviting scent that leaves you wanting more. It was inspired by relaxing in a comfortable leather chair, in a warm, cosy room by a roaring fire at dusk. It has hints of the finest Whisky, with the aromatic richness of Vanilla, Cedarwood and Amber.
From just two ingredients, barley and water, emerge the finest whiskies in the world – smooth, spicy and spellbinding. A fine whisky can never be hurried and it was this sense of history, warmth, ritual, respect and indulgence that we wanted to capture in our Whisky & Water Candle and Whisky & Water Bath and Body Collection.
For our Whisky & Water Bath and Body Collection, which includes our best-selling men's vegan Shower Gel, we source a natural extract of malted barley from the time honoured Balvenie Distillery in Dufftown, Scotland. It is one of only a tiny handful of distilleries that is still harvesting and malting its own barley. Barley is high in linoleum acid, a traditional calmant for dry skin. We use this soothing Barley extract in our Whisky & Water Bath & Body Collection which includes a Bath and Shower Gel and Hand Lotion.
Whisky & Water is the perfect scent for autumn and winter evenings and our Whisky & Water Candle is the ultimate gift for whisky-lovers and connoisseurs.
Our Whisky & Water candle contains a perfectly balanced blend of natural and paraffin waxes. It is vegan, SLS-free, gluten-free, and cruelty-free.
Pinewood Botanical Candle
Our fresh and woody, the Pinewood Botanical Candle is a feast for the senses. This statement candle makes a striking display or centrepiece. Its pristine white wax is embedded with Pine Cones and Fern and creates a warm and inviting glow from within when lit. It burns for an impressive 75 hours, with a scent created to transport you on an enchanting journey through Scotland's ancient Moray forest. It's fresh, evergreen scent combines uplifting notes of Elm and Cypress, sappy Cedarwood, Guaiac Wood and Fir; and the lingering woody earthiness of Patchouli, Vetiver and Musk.
The Scots Pine, is the only true native pine of the British Isles and was crowned as the national tree of Scotland in 2014. The evergreen Scots Pine, a long held symbol of hope, strength and vitality – remains saturated in green, even in the depths of winter, and is known for its classically conical shape and invigorating fresh scent.
As with all our products, our Pinewood Botanical Candle is vegan, SLS-free, gluten-free, and cruelty-free.
The Pinewood Botanical Candle is part of our Scots Pine Collection which utilises extracts of Scots Pine and Heather from the responsibly managed pinewood forest of Pluscarden, in the northern Scottish province of Moray. Scots Pine extract is a traditional remedy that has been used in soaps, salves and bath salts for its cleansing and the antimicrobial properties of its resin. Scots Pine is available as a Bath & Shower Gel, Hand Wash, Shampoo, Conditioner and Luxury Single Wick Candle.
Fireside Glow Three Wick Candle: Warm and Woody
This statement candle, housed in a large matt black flagon with rose gold foil detailing, has a scent that will instantly transport you to sitting by a cosy fire on a cold winter's day. Its fine fragrance has sparkling top notes of Grapefruit and spicy Pink Pepper, which give way to heart notes of warm and smoky Black Pepper and aromatic Ginger. The scent is grounded by base notes of comforting and woody Cinnamon, Oakmoss and Vanilla.
It has an impressive burn time of 120 hours and as you would expect from our products it is vegan, SLS-free, gluten-free and cruelty-free.
Our Fireside Glow Three Wick Candle is finished by hand in the English countryside and has a carefully crafted blend of wax, wick and fragrance to create the ultimate fragrant centrepiece. All of our candle wicks are lead-free.
Created to effortlessly transform your space with scent for a cosy, comforting night in, our vegan Fireside Collection is also available in a matching Single Wick Candle, Bath & Shower Gel and Body Lotion. Fireside Bath & Shower Gel and Body Lotion contain a natural Beetroot extract – a blend of red, yellow and white organic Beetroot from Mynwy Valley in Wales which is naturally high in Vitamins, Proteins, Minerals and the powerful Antioxidant Betacyanin.
The mighty Oak is a symbol of endurance and courage, and was our inspiration for this enduring and handsome fragrance which balances smoky Vetiver with modern notes of bitter Citrus and fresh Spices.
Lightning Oak is a distinguished, masculine fragrance. Fragrance can take you back to a moment, memory or place. It can relax, invigorate or soothe you. The scent of this Luxury, Vegan Candle evokes the comfort of the mighty oak – one of English's most powerful natural emblems.
All of our packaging can be recycled, but we've found that people often re-use the jars of our luxuriously packaged and wrapped candles. Its elegant packaging makes this sustainable candle the perfect gift for any occasion including a housewarming, birthday, Christmas or Father's Day gift.
Each of our candles are hand-finished in the English countryside and as well as being vegan and easy to recycle, they are also SLS-free, gluten-free and cruelty-free.
Our Lightning Oak fine fragrance is also available as a Hair and Body Wash which contains a natural extract of English Oak (Quercus robur) bark which is rich in naturally active ingredients including tannins. Oak Bark has a long history of use for its remarkable antiseptic and skin-toning properties.
Choosing the right scented candle can do so much more than fragrance a room. It casts a beautifully soft relaxing light that soothes the senses. Having a signature scent for your home can express your style and personality. Choosing a candle with a fine fragrance takes fragrancing your home to the next level, as the scent evolves to reveal subtle and sumptuous depths as the fragrance oil is warmed by the candle's flame.