October 26, 2021
UK FORAGING TIPS FOR AUTUMN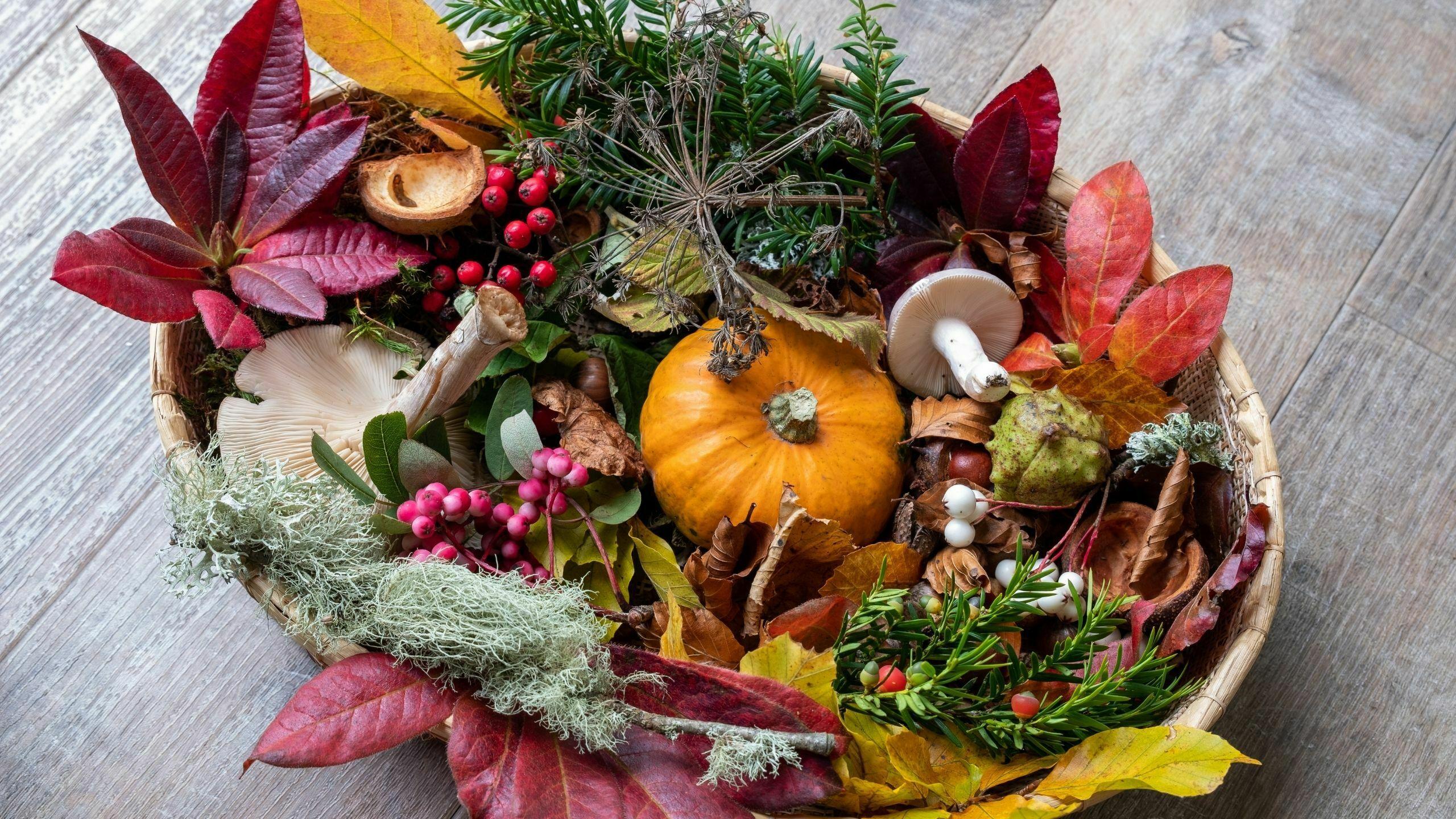 Foraging can be a wonderful way to experience your natural surroundings. Autumn is the season of berries and nuts – and also traditionally the time when harvest crops would have been pickled and preserved to enjoy throughout the winter. 
Before you start, take a look at the Woodland Trust's guidelines for responsible foraging here. It's important to know what you're picking, seek permission if you are on privately owned land, leave plenty behind and take only what you will consume personally. 
Rosehips (Rosa canina)
Look out for bright red rosehips in the hedgerows and at the edge of woodlands throughout the autumn. Just snipping off the hips will make it less likely you'll get pricked by thorns. 
Rosehips are high in vitamin C and have a long history of being used as a syrup, cordial or jelly to help ward off winter colds. Try this simple recipe for rosehip syrup which is delicious drizzled over porridge, yoghurt or pancakes.
Sloes (Prunus spinosa)
Think of sloes, and the warming satisfaction of aromatic sloe gin come to mind. It's easier than you think to make your own if you can track down a source of sloe berries to gather. Sloes are the fruit of blackthorn, which is often found along hedgerows and produces an abundance of frothy white blossom each spring. It's recommended that you pick sloes after the first frost, which makes the skins easier to split, but you can mimic the effect by putting them in the freezer at home. Try this recipe from Countryfile Magazine for Sloe Gin and a Sloe Gin Spritz.
Sweet Chestnuts (Castanea sativa)
From mid-October onwards keep you eye out for an established sweet chestnut tree and harvest some of the fallen nuts from around its base. Sweet chestnuts should be baked, roasted or boiled before being eaten – score the skin with a cross before cooking to make sure the nuts don't explode. Here BBC Good Food shares a roundup of chestnut recipes including puddings, stuffing, stews and salads. 
Pine (Pinus species)
Pine needles can be gathered and infused in hot water to make a refreshing tea that's high in vitamins A and C. It can often be easier to access the needles from a younger tree. Pine can sometimes be mistaken for yew so be sure you have pine needles before creating your infusion. Pine cones can also be gathered for crafts or for decorating the house for autumn. Some also believe that pine cones help to deter spiders.
The Scots Pine has a long history of being used in salves, soaps and bath salts due to the cleansing and antimicrobial qualities of its resin. It was also the inspiration for our Scots Pine collection, which includes Hand Wash, Hand Lotion, Bath & Shower Gel, Body Lotion, Shampoo, Conditioner and a Candle – you can discover more about the collection here.
Autumn Leaves
Now is the prefect time to gather pretty fallen autumn leaves. Simply thread them on to a string to make a seasonal garland or take a look at this blog from the Woodland Trust for ten ideas for Autumn Leaf Crafts for kids with everything from leaf rubbing to superhero masks and wreaths.