October 28, 2012
WIN THE LIGHTNING OAK COLLECTION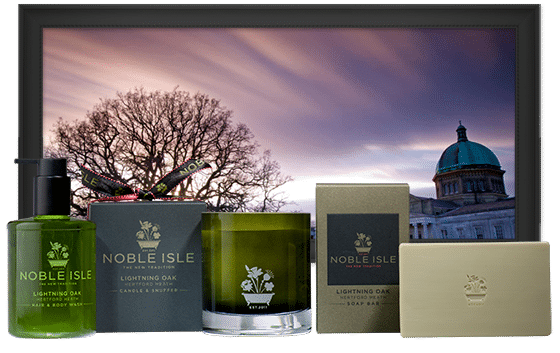 Enter our November competition for the opportunity to take home our Lightning Oak Collection, including Hair & Body Wash, Luxury Scented Candle and Candle & Snuffer. Find the answers on our bespoke interactive map of the British Isles that has been created to unfold the story of our extracts provenance.
Symbol of endurance and courage – and strapping virtues such as strength, honour and resistance – the mighty oak is one of England's most powerful natural emblems, and the undisputed monarch of the greenwood. Towering of trunk and twisted of twig, the oak stands stoically on many an English village green, watching silently as the storms and seasons and the currents of time come and go, living for as long as 1,000 years.
Unlike its straight-laced cousins overseas, the eccentric English oak grows with endless tangles and twists, and collects gnarls and knuckles along its branches with each year that passes. While weathering life's storms, folk through the ages have sought strength under the oak's canopy of rustling boughs, in the soothing knowledge that they are but a dot in the passing of its lifetime.
All you have to do is answer the following question:
HOW LONG CAN AN OAK TREE LIVE FOR?
For your chance to win, all you need to do is the following:
• Like us on Facebook & submit your answer via the competition tab by clicking here
• Or Follow @nobleisle on Twitter and submit your answers with the following #lightningoak
The competition closes on Friday 30 November, 2012.
We will announce the winner 3 days later.