November 30, 2020
7 Ways to Give Your Empty Candle Jar New Life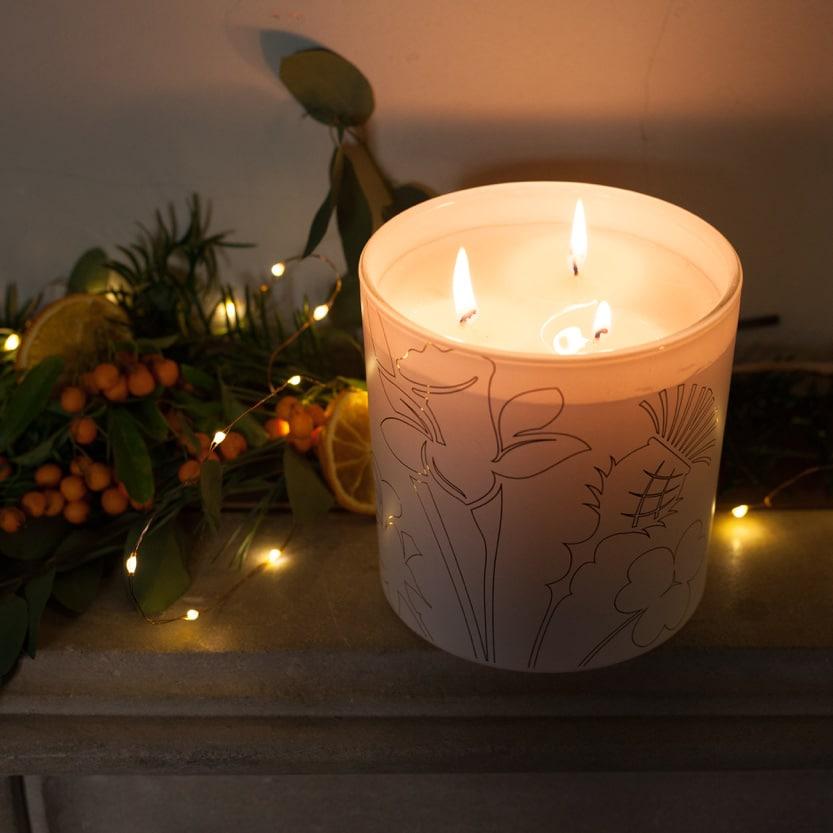 As the evenings grow darker, it's time to close the curtains or draw down the blinds and shut out the cold world outside. And what more effective way to create an atmosphere of warmth and comfort inside than lighting a scented candle or two?
Here are some inventive ways to re-use your empty Noble Isle candle jars after you've enjoyed their aroma and glow.
Go green
Each jar is 90mm x 80mm, making them the perfect size to display a posy of flowers or a select few stems from a larger bunch. The jars also make great plant pots, with the matt black exterior and gold interior providing the perfect foil for a frill of bright green leaves or a dramatic base for an elegant cactus. Place a layer of gravel at the bottom before you add the soil to help with drainage or use a smaller pot resting on a layer of gravel within the candle jar. Because there is no drainage hole, you need be sparing when you top up with water.
Get festive
You can make a fabulous festive table decoration by filling your candle jar with stems of berried holly, dogwood or rosehips, trails of ivy, twigs of evergreens such as yew or fir, hazel with catkins or dried grasses. Spray some of the elements with gold paint to complement the gold interior and add an extra sparkle. A mix of candles and jars filled with seasonal foliage will give your table a sophisticated festive shine.
Home office
Your empty candle jar can become the perfect desk tidy for pens, pencils, scissors and all the rest of your office paraphernalia – or a holder for paper clips, rubber bands or staples.
Sweets and snacks
Having a jar of wrapped sweets to offer around over the holiday season is always a winner – and our empty candle jars make the perfect container. They also look very elegant on the table, filled with a forest of breadsticks or as a sugar bowl at tea or coffee time.
A thing of beauty
Fed up of rummaging around for make-up brushes and eye pencils? Our empty candle jars are just the right size for all your beauty extras to be easily visible and readily at hand. Or use them to store hair accessories and other bits and pieces that clutter surfaces and then seem to vanish overnight. The understated combination of matt black and gold is guaranteed to look good with any décor.
Counting pennies
Many of us find small denominations of loose change burdensome and annoying. So why not have an empty candle jar into which you can drop 1p and 2p pieces? Many supermarkets have machines that allow you to donate loose change to charity without having to sort it beforehand.
Pet paradise
We asked some of our customers for their ideas. One kept an empty candle jar by the door to put keys in and another used one as a container for all the annoying bits and pieces that need to be sorted at some point but not now, like receipts and vouchers.
Our favourite, though, was the person who used an empty candle jar to store treats to reward her much-loved pet for good behaviour.
You can discover our range of candles here.