March 30, 2020
British Movies – The Ultimate Guide to The Best of British Film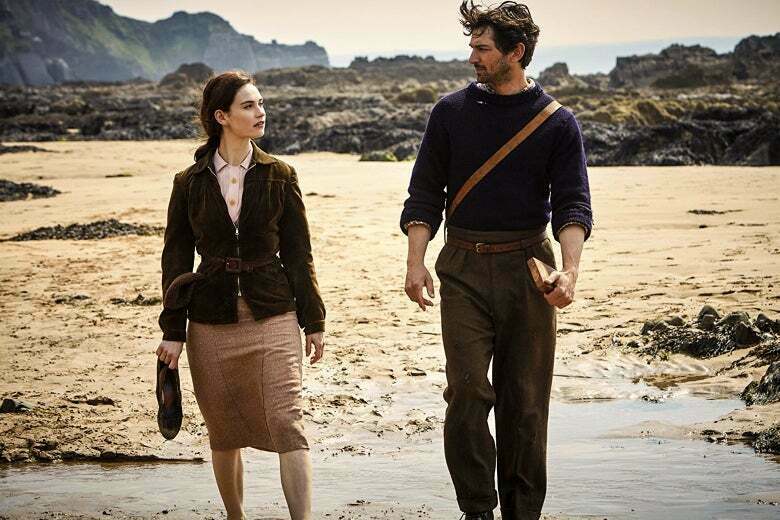 What better way to explore the beauty of the British Isles than through the comfort of your own home? We've highlighted some of our favourite British movies set in iconic locations around the British Isles for you. Sit back, relax and enjoy the show!
THE DIG (2021)
One of our British movies of 2021 so far. The Dig tells the story of the 1939 excavation of Sutton Hoo. Starring Carey Mulligan and Ralph Fiennes, the film explore the uncovery of an incredible archeological find from the Dark Ages. Inspired by true events and the a John Preston novel.
The Guernsey Literary and Potato Peel Pie Society (2018)
In the aftermath of World War II, a writer forms an unexpected bond with the residents of Guernsey Island when she decides to write a book about their experiences during the war. Set in the idyllic island of Guernsey, the scenic shots will take your breath away. Available to view on Amazon Prime and Netflix.
Fisherman's Friends (2019)
Ten fishermen from Cornwall are signed by Universal Records and achieve a top ten hit with their debut album of Sea Shanties. It is the ultimate feel good film with funny lines and multiple heart-warming scenes. Available to view on Amazon Prime and Netflix.
Notting Hill (1999)
No doubt, you've heard about theisinfamous movie before, nonetheless it is the perfect romantic comedy. Can a beautiful and internationally famous American actress find happiness with a frumpy British bookstore clerk? She can – at least for a while, it seems – in Notting Hill. Available to view on Amazon Prime and Netflix.
Calendar Girls (2003)
Calendar Girls i sset in Yorkshire. The very British movie is based on the true story of a group of women who pose nude for a charity calendar. Many scenes were shot in and around Kettlewell, a village in North Yorkshire, and more were filmed in places like Coniston, Settle, Malham, Skipton, and even London. Available to view on Amazon Prime.
The Theory of Everything(2014)
The Theory of Everything tells the story of physicist Stephen Hawking's life in a romantic drama set at Cambridge University in the 1960s. He falls in love with another student there, and scenes of their budding relationship are filmed at locations in and around the university. These include St John's College, Queen's Green, The New Court lawn, and Kitchen Bridge. The film goes on to tell of their marriage and is filmed throughout the UK. Available to view on Netflix.
The Duchess (2018)
Filmed against the beautiful backdrop of Chatsworth House and one of the prettiest cities in England, Bath, The Duchess is a wonderful period drama. Georgiana Spencer became Duchess of Devonshire on her marriage to the Duke in 1774, at the height of the Georgian period, a period of fashion, decadence, and political change. Available to view on Amazon Prime and Netflix.
Made of Honor (2008)
Made of Honor set between Scotland, America, Oxfordshire and Buckinghamshire is a light-hearted comedy between two platonic friends, Tom and Hannah. He's a serial dater, while she wants marriage but hasn't found Mr. Right. Just as Tom is starting to think that he is relationship material after all, Hannah gets engaged. When she asks Tom to be her "maid" of honor, he reluctantly agrees just so he can attempt to stop the wedding and woo her. Available to view on Netflix.
About Time (2013)
About Time is a British romantic comedy-drama set between London and Cornwall. When Tim Lake is 21, his father tells him a secret: The men in their family can travel through time. Although he can't change history, Tim resolves to improve his life by getting a girlfriend. He meets Mary, falls in love and finally wins her heart via time-travel and a little cunning. However, as his unusual life progresses, Tim finds that his special ability can't shield him and those he loves from the problems of ordinary life. Available to view on Netflix.
The Holiday (2006)
The Holiday set between Los Angeles and the picturesque Cotswolds. Two girls from different countries swap homes for the holidays to get away from their relationship issues. However, their lives change unexpectedly when they meet and fall in love with two local guys from Los Angeles and the Cotswolds respectively. Available to view on Amazon Prime and Netflix.
Pride & Prejudice (2005)
Pride & Prejudice set in in rural England in the early 19th century, based on the romantic novel by Jane Eyre. Filmed in some of the most iconic locations in the UK including, Chatsworth House, Lyme Park, Lacock Village and Lady Catherine's Rosings Park. Available to view on Netflix.
Skyfall (2012)
We couldn't have a list of British movies without a Bond movie. Set in Turkey, China, Macau, Japan, England and Scotland, it is an international tour. Did you know the famous Skyfall estate is set in Scotland? Available to view on Amazon Prime.
That's our British movie round-up complete, we will be adding to this list as we fall in love with more films. In the meantime we invite you to explore our bath, body and home fragrance collections, which are also inspired by iconic locations around the British Isles – View Collections