October 16, 2023
Candlelit Halloween | Enhance Your Home with the Warm Glow of Noble Isle Candles and Fragrances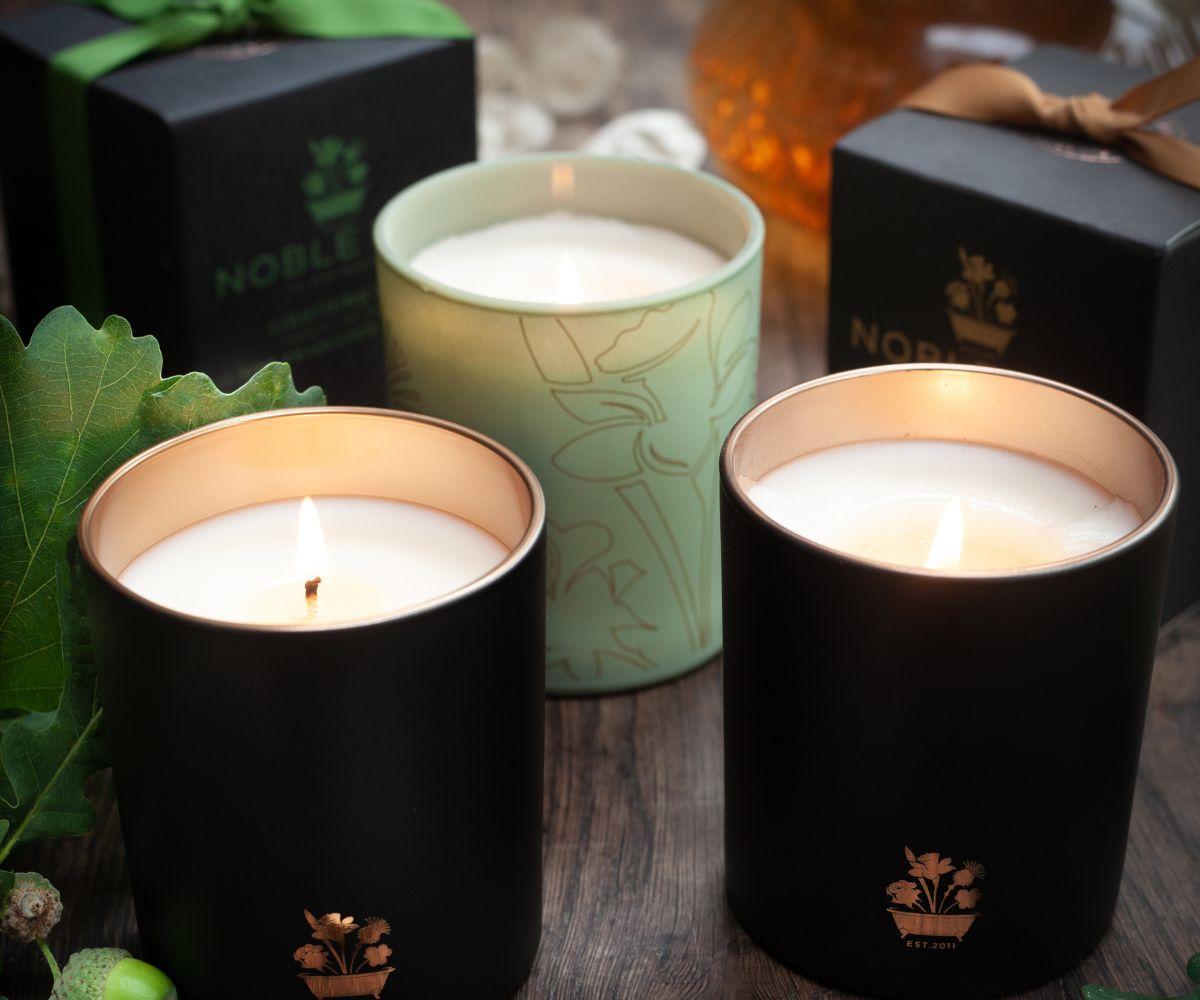 Candlelit Halloween: Enhance Your Home with the Warm Glow of Noble Isle Candles and Fragrances
Halloween brings with it the chance to create an atmosphere that's delightfully spooky, yet undeniably cosy. By illuminating your home with Noble Isle's luxury range of Candles and fragrances, you can create an ambience that's equal seasonal and inviting. Discover how Noble Isle's selection can enhance your Halloween.
Noble Isle Candle Range
Our range of luxury and vegan Candles offers a variety of scents, each with its unique allure. Whether you prefer a rich, fiery scent or a fresh, woody aroma, there's something to suit every preference.
Fireside Luxury Scented Candle
The Fireside Luxury Scented Candle captures the warmth of a crackling fire, combining smoky woods with spices for a scent that is quintessentially autumnal. Light this Candle for a cosy Halloween atmosphere.
Whisky & Water Luxury Scented Candle
For a twist on traditional Halloween fragrances, consider the Whisky & Water Luxury Scented Candle. This unique scent features extract of Malted Barley for a rich, aged Whisky aroma, creating a fragrance that's intriguingly complex.
Pinewood Luxury Scented Candle
Imbue your space with the fresh, earthy scent of a forest walk with the Pinewood Luxury Scented Candle. The invigorating pine fragrance is perfect for a Halloween night, connecting you to nature's wonders.
Large Luxury Botanical Candle
Add a touch of grandeur to your Halloween setup with the Fireside Large Luxury Botanical Candle. Its larger size ensures the warm, inviting aroma of smoky woods and spices permeates throughout your home, lasting long into the night.
Specialty Candles with Fine Fragrance
For those who seek to add an extra level of sophistication, our Deluxe Fireside Glow Luxury Scented Candles and the Dram of Whisky Luxury Scented Candles offer a true statement piece with their three-wick and hand painted glass finish. Both provide an intriguing mix of classic and unusual fragrance notes that will undoubtedly enhance your Halloween atmosphere.
Luxury Candles with Fine Fragrance
With Noble Isle's range of luxury Candles, creating a warm, inviting Halloween ambience has never been easier. Whether you're planning a festive party or a quiet night in, a candlelit Halloween with Noble Isle is sure to leave a lasting impression. Enjoy the soft glow and enchanting fragrances that only Noble Isle Candles can provide.