July 16, 2020
Feelgood Gift Ideas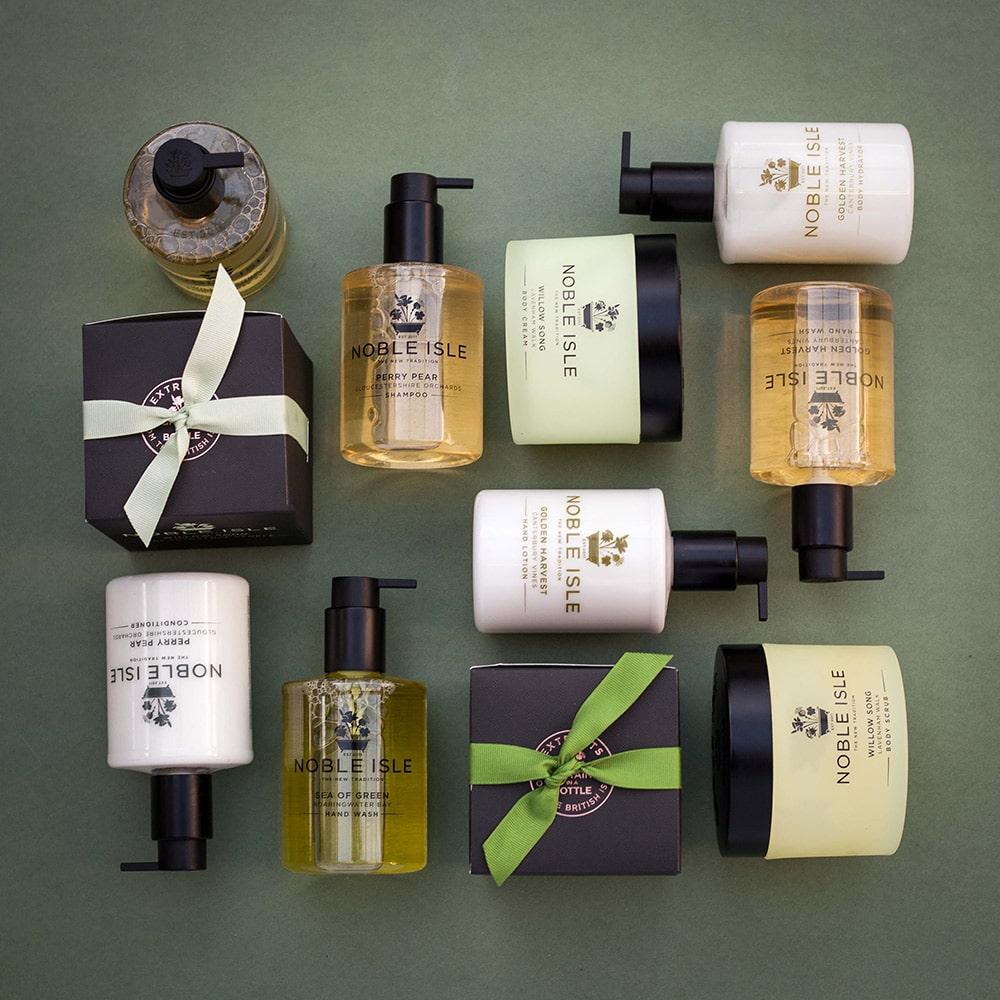 For many of us, the world is opening up again and we are able to take our first tentative steps towards the 'new normal'. There seems no better time to acknowledge the value we place on family and friends and to celebrate our hopes for the future with a feelgood gift. Maybe you want to send a belated message to mark the birthday, anniversary or other significant moment you missed? Or perhaps you just want to say thank you to someone for being there – remotely, of course – during the past few months? Or maybe travel and shielding restrictions still prevent a face-to-face encounter but you wish to send a positive message of hope to come? Here is our pick of feelgood gifts for this extraordinary time.
Noble Isle Wrapped Roses
2020's unprecedentedly sunny spring and early summer has brought an abundance of roses to English gardens – and our Wrapped Roses gift set distils their glorious fragrance to bring the wonder of the outdoors right into your home. Our Tea Rose Chelsea Green London collection blends English rose petals with refreshing notes of jasmine and sage, tempered by the smokiness of black tea. This set contains a handsomely wrapped, limited-edition fragrant Tea Rose candle and a bottle of our sumptuous Tea Rose Bubble Bath & Shower Gel for a bath to remember.
The Real Flower Company Florist's Choice Bouquet
The Real Flower Company are sustainable flower farmers specialising in growing gloriously fragrant scented English roses just as nature intended, nurtured from root to stem on their South Downs farm. It's The Real Flower Company that supplies the rose petals that scent our Tea Rose Chelsea Green London collection (named for their London outlet in Chelsea Green) and we love the stylish hand-tied arrangements their florists create – both in their London shops and at their Hampshire headquarters. Their Florist's Choice Bouquet combines the best of each day's freshly picked herbs, flowers and foliage in a unique arrangement, while their Fresh From The Farm English Flower Box contains a selection of seasonal flowers and foliage for the recipient to arrange at home.
Noble Isle Orchard & Hedgerow Luxury Hard Soap Bars
Hand-washing is going to remain important for some time to come, so our Orchard & Hedgerow gift set of luxury soaps could not be a more appropriate present. The set features soaps from our Summer Rising and Perry Pear collections, which together evoke the beginning and end of summer. Summer Rising combines extracts of elderflower and gooseberry from the Lost Gardens of Heligan in Cornwall with notes of orange blossom, moss and cut grass. Perry Pear contains extracts of fruit from the Gloucestershire Orchards, with notes of jasmine and geranium. Our mission at Noble Isle has always been to showcase natural ingredients that we can source near to home, and with three 50g bars of Perry Pear and two 30g bars of Summer Rising, this gift set brings the freshness of some of the most beautiful areas of Britain direct to your door.
Jing Tea Explorer Sets
Tea is the great British comfort drink – but most of us could probably devote more attention to transforming an everyday habit into a super-satisfying ritual. Jing Tea was founded to bring its customers a delicious and fulfilling tea-drinking experience through sourcing the best teas from sustainable growers around the world. Their Tea Explorer Sets present curations of usual and flavourful single-origin teas for you to try at home – whether Black Tea, Classic Tea, Rare Tea, Green Tea or Herbal Infusions. It is Jing Tea that supplies the magical leaves that scent our Tea Rose collection.
Noble Isle A Trio of Lotions
Given the new emphasis on frequent hand-washing, many of us are suffering from dry and damaged skin. Our Trio of Lotions gift set contains 75ml bottles of our Tea Rose, Willow Song and Golden Harvest lotions that are small enough to fit easily into a handbag to keep your hands hydrated while you are on the move. Our Willow Song collection contains extracts of anti-bacterial willow bark from Lavenham Walk in Suffolk while our Golden Harvest is built on extracts from powerfully anti-oxidant grapes from the Kent vineyards.
Simpsons Wine
Located on the sunny, sheltered slopes of the North Downs in Kent, the Simpsons' Wine Estate produces a small range of English still and sparkling wines with distinctive notes born from their particular terroir. Wines can be ordered by the half-case – as well as in mixed cases to enable the recipient to sample the range of the vineyard's produce. It is Simpsons that supply the Chardonnay, Pinot Meunier and Pinot Noir grapes that give our Golden Harvest collection is mellow, fruitful aroma.
You can find all our gift sets here. Or if you are familiar with our range, you can make your own Bespoke Gifts by combining your favourite products in one of our elegant gift boxes.