September 21, 2022
Giving Back This Christmas with Noble Isle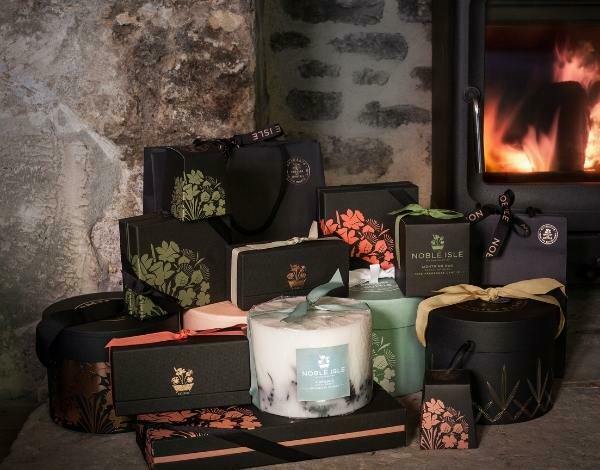 With the festive season upon us once again, it's time to start thinking of ways to give back. The winter months can be a difficult time for many people, and as such, charities and organisations often struggle to raise the funds they need to continue their work into the new year. Those who are volunteering to give up their time and energy could use all the help they can get. Considering this, we have put together our ways that we plan to give back this Christmas season with Noble Isle, and the things you can do to contribute. With our focus on sustainability and eco-friendly bath and shower products, Noble Isle is an excellent partner when it comes to charitable endeavours. December is a month filled with giving and love, so naturally it's the perfect time to start thinking about how you can support others during this season. Read on to find out more about how you can make a difference with Noble Isle.
Our Sustainability Mission
At Noble Isle, we are passionate about sustainability in all areas of our business. Our ethical, green, and philanthropic ideals stretch back to our founding in 2012. We are proud to say that we have never, and will never, test our vegan products on animals. Additionally, our company focuses on formulating our products using only sustainable ingredients, which are paraben-free and SLS-free. The natural extracts are sourced solely from the UK and are completely cruelty-free. We have a long-running sustainability mission that is at the centre of everything we do. From our core values and our guiding principles to the ways we conduct business and the products we create; sustainability is at the heart of our company.
Cruelty-Free and Vegan Products
As well as being cruelty-free, Noble Isle products are also suitable for vegans. This is important for those who are strict about what they put on their bodies and avoid products that contain animal-derived ingredients. You can find vegan and cruelty-free products in a wide range of Noble Isle bath and body products as well as our fragrance line. At Noble Isle, we want to make Christmas gifting for you and your vegan or plant-based friends as simple as possible. We're proud to be sustainable and cruelty-free, but this Christmas season, we want to take it to the next level. We want to create Christmas gift sets that will benefit you and the environment. Whether you're searching for luxury gift sets for your Secret Santa, or travel-sized gifts for stocking stuffers, we've got several options for you to choose from.
Noble Isle have partnered with Clean Conscience, a charity focused on creating a positive environmental change to the hospitality industry. Each year, millions of single-use plastic bath and shower products are wasted, and with the acceleration of global warming, Noble Isle understands the importance of contributing to such a cause. By repurposing toiletries that might otherwise end in a landfill, we at Noble Isle have the responsibility to lead by example and minimise the contribution to single-use plastic pollution. While our hard soaps are sent abroad to help others generate an income, the liquid product is used for CareKits which provide those in desperate need of toiletries. The plastic from all the products is incinerated to generate energy, an economically and ecologically sound alternative to landfill dumping. What's more, individuals with a variety of learning and physical disabilities can help to volunteer towards the cause. Sadly, there are many people around the world who don't get to experience the joy that comes with Christmas. By partnering with Clean Conscience, we hope to bring some much-needed relief to those in need.
Sustainable Christmas Gift Sets
This Christmas, explore our entire collection of luxury gift sets that include completely vegan, cruelty-free, SLS-free, paraben-free, and naturally derived products. Our collections range from travel-sized shower gels fit for the stocking stuffers or gift sets tailored for him or for her. Whichever way you choose to gift your loved ones, you'll be able to give back to those in need this Christmas.
For the men who crave the rich, masculine scent of a stiff glass of whisky to end the day, our Whisky and Water Gift Set features a Bath and Shower Gel, and a Single Wick Candle in this smoky, spicy fragrance.
For those who appreciate a more delicate and floral scent, the Rhubarb! Rhubarb! Duo contains the Shower Gel and Single Wick Candle, the perfect, luxurious addition to your shower routine.
Conveniently sized for your next holiday, our extensive collection of travel-sized products includes our Moisturisers, Hand Sanitisers, and Shower Gels with several different scents. Our Bestseller Bath and Shower Gel Gift Set contains some of your favourite fragrances, including Rhubarb! Rhubarb!, Whisky and Water, and Fireside, perfect for him or for her.
By creating a luxury personalised gift for your friends or family, you have the power to select the fragrances you think they'd love best. Our Bespoke Gifting Range is the ideal present for selecting the perfect scent for your environmentally mindful friend.
There's nothing more rewarding than giving back during the holidays, and you now have the perfect opportunity to do so with supporting Noble Isle's charitable efforts. They might seem like small acts, but these charities are big on impact. From helping individuals internationally to aiding local centres in need, and protecting our community, Noble Isle take pride in giving back, and encourage you to think more mindfully when Christmas shopping this season.