October 10, 2012
HER MAJESTY THE QUEEN RECEIVES NOBLE ISLE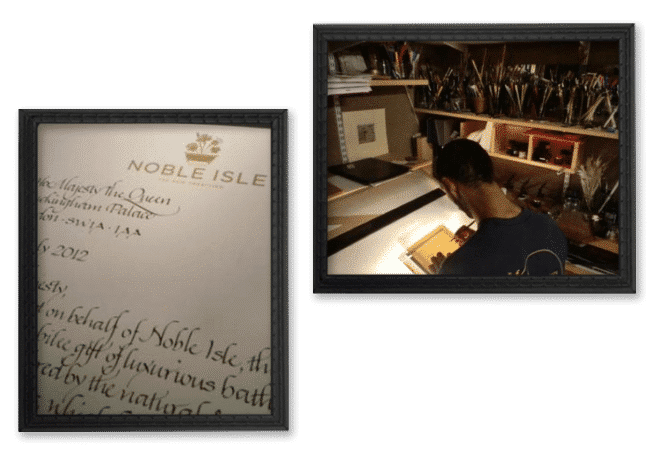 Now that the Queen is back in residence at Buckingham Palace and has hopefully had time to regroup after what must have been her most jubilant year on record, we wanted to deliver a humble gift of Noble Isle products.
We knew it had to be delivered in an appropriately regal fashion and so enlisted the help of world renowned calligrapher Paul Antonio to hand write a letter to Her Majesty. Paul is a true master of his craft and his unique style is recognised by many a discerning eye throughout the world. For the Noble Isle letter he chose to write in a style based on an Italian renaissance script called Cancalleresca Corsiva, the same script Elizabeth I fell in love with and is recognised by its continuous figure '8' overlapping. Paul chose to use a more formalised version of this script which is upright rather than tilted.
The Queen received a selection of products with extracts sourced from around the British Isles, including our Scottish Whisky & Water Hand Wash and Lotion, Welsh Fireside Bath & Shower Gel and Candle & Snuffer, English Willow Song Bath & Shower Gel and Body Cream and Irish Sea of Green Hand Wash and Lotion.