May 17, 2023
Luxurious Hotel Inspired Scents: Turn your Home into a five-star Hotel through Fragrance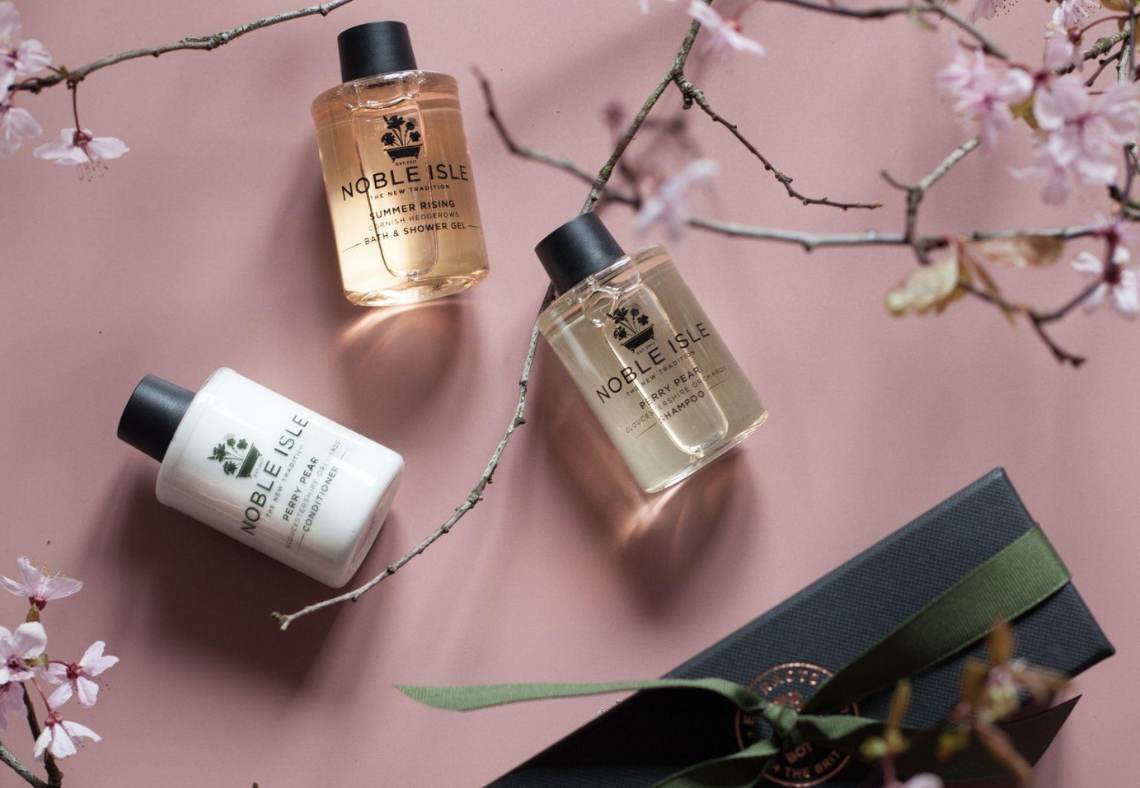 Luxurious Hotel Inspired Scents: Turn your Home into a five-star Hotel through Fragrance
Luxurious Hotel Inspired Scents
Back in 2012, we started our journey at Noble Isle by partnering with some of the most luxury and iconic hotels in the United Kingdom and this is still a core part of our business today. You can find your favourite fragrances in some of the most prestigious hotels in the United Kingdom; The Savoy, Fingal Edinburgh, Chewton Glen, The Crazy Bear and The Grand Hotel in Brighton.
When you walk through the doors of your five-star hotel, ready for your night of relaxation, you'll be greeted by the hotel's stand out signature scent that creates a memorable experience before you've even checked into your room.
The rich, multi-layered fragrances that become synonymous with five-star hotels around the globe can be brought into the home to give your abode that same feeling of luxury, relaxation and escape.
Whether your preference is citrus, spicy, floral or woody scents, we share insider tips on how to make your home into a boutique hotel that will have your family and friends feeling fresh and invigorated.
Fragrance Designed for the Room
Each of our luxury hotel partners have their preferred fragrances, some have an affinity for the tart, bittersweet notes of Rhubarb Rhubarb! while others might choose to use the flora aromas of Willow Song to set a different tone. 
The fragrances that each hotel chooses differs between the rooms they are scenting as well as personal preference. Bedrooms and penthouse suites with views along the River Thames may denote a different fragrance to those used in their downstairs lobby. 
It's important to use these same principles in the home when creating your own five-star hotel. 
A downstairs washroom is used by guests whereas your own bathroom is your personal sanctuary. We suggest choosing pairing an uplifting fragrance such as the Rhubarb Rhubarb! Hand Wash and Hand Lotion in your downstairs washroom and a more personal fragrance to you, in your own bathroom. 
All of our fragrances are designed to be unisex however some lend themselves to being more masculine and others more feminine. Consider trying our Luxury Willow Song Bath & Shower Gel alongside our Fireside Bath & Shower Gel as a charming his and hers duo in your shower, or to effortlessly transition your fragrance from day to night.
In the same way that each room in our home serves a unique purpose, this is the same for fragrance. The perfect scent doesn't have to come from one vessel, such as a Luxury Scented Candle. The best and most enticing forms of fragrance are when they come through a variety of mediums; such as Scented Candles, Reed Diffusers and Room Sprays. You will see this practice across a variety of five-star hotels from using giant Reed Diffusers in the Hotel Lobbies to having gentle wafts of their signature scent through Room Atomisers in your suite.
At Noble Isle, we have twelve quintessentially British fragrances available in a variety of products. The uplifting, fruity, florals of Golden Harvest are available in a Luxury Scented Candle, Fine Fragrance Reed Diffuser and Fine Fragrance Room Spray. 
Fine Fragrance Reed Diffusers are the ideal product to have in an entrance hall or on your landing as they keep the room feeling fresh and vibrant and require little upkeep. Whereas one of our Luxury Triple-Wick Candles makes the perfect centrepiece for your coffee table – the perfect balance of fragrance and ambiance with the soft glow of the wick in the evenings.
Our new Fine Fragrance Room Sprays are created with real perfume and just a few light spritzes in your bedroom makes the ideal turndown service.
How to Maintain that Five-Star Hotel Feel
We spend a lot of time designing the perfect home and often these design features or the initial vision we had, gets lost in the daily-grind of life. Five-star Hotels are the perfect escape as they effortlessly combine those feelings of escape and relaxation with designer interiors. We often leave wanting to bring some of their design tips into our own home and now you can, through fragrance.
Scent your entrance hall with fragrant Reed Diffusers or Room Sprays to make an impact as soon as you walk through the door
Utilise space and different fragrance vessels to create levels of layered fragrance
Use different fragrances for different rooms to alternate between sanctuaries and communal spaces
Think about the ambiance you are trying to create and match your fragrance to the feeling
Incorporating luxurious hotel-inspired scents into your home is a fantastic way to create an atmosphere of opulence, relaxation, and sophistication. By carefully selecting fragrances tailored to each room's purpose and ambiance, you can effortlessly turn your home into a five-star retreat that will impress your family and friends alike.
Remember to layer fragrances using various mediums such as Scented Candles, Reed Diffusers, and Room Sprays, and regularly refresh your scents to maintain that exquisite hotel feel. By embracing these tips, you can transform your home into an inviting sanctuary that exudes the same charm and allure as the world's finest hotels.