November 11, 2019
Meet the Producer: Sarah Hudson and the Story of our Beetroot Extract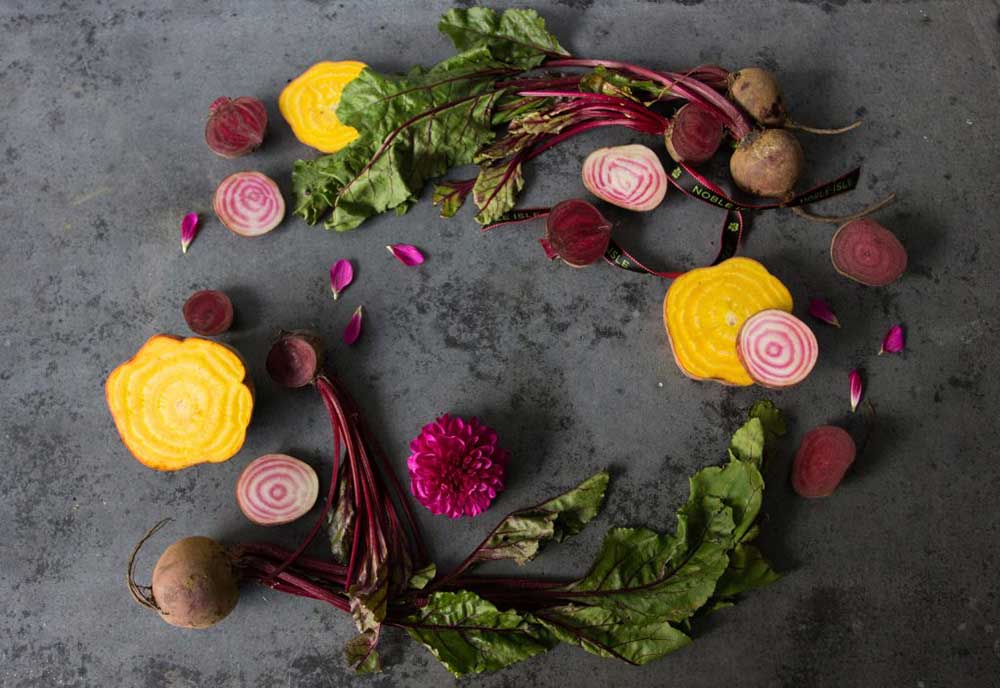 Our founder Katy Simpson is passionate about food and cooking – and, nine years ago she came across the The Bell in Skenfrith, a former 17th century coaching inn, in Monmouthshire. A gem in the British Isles, Monmouthshire is known for its rolling green hills and babbling streams and is nestled in the south-east of Wales. At the time it was unusual for a restaurant or pub to have its own kitchen garden, most vegetables were standardised and generic, so Katy was mesmerised when she was served a plate of delicious heritage yellow, green and purple tomatoes during her visit. Katy was intrigued to find out more and went on to research beetroot and to create the unique beetroot extract, using three types of beetroot from The Bell's organic garden, for our Fireside collection.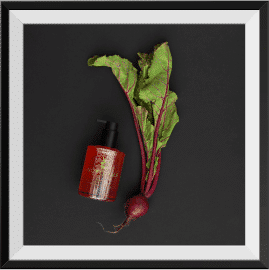 We caught up with Sarah Hudson, the own of The Bell in Skenfrith to find out more:
How long have you been growing heritage vegetables in the kitchen garden at The Bell and what prompted you to start growing your own?
We have been growing vegetables, fruit, herbs and flowers in our kitchen garden for nearly 20 years. We have always championed locally sourced,seasonal and sustainable food and what better way to achieve this than to grow as much of it as you can – we certainly have plenty of space. There's nothing better than seeing Joseph Colman, our Head Chef, inthe Kitchen Garden with his cutting knife and basket! We also have great working relationships with a number of trusted local growers and suppliers.
What's special about the growing conditions at the Bell in the Monnow Valley?
It's the richness of the soil here which is perfect for growing all sorts of vegetables, fruits and herbs. Importantly, with very little traffic here there is no pollution so the air is fresh and clean. We probably have a larger percentage of rainfall than the rest of the UK and the seasons are always very defined all of which makes for good growing conditions.
What do you love about beetroot?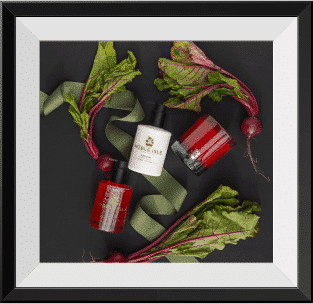 We love the fact that there are many different heritage beetroots available in a variety of wonderful colours, all packed with vitamins, minerals and antioxidants – although only red beets have the cancer-fighting compound betacyanin. It is also low in fat and so versatile that it can appear on a menu as a starter, a main or even a pudding dish. Many sports people drink it as a health juice. Beetroot is thoroughly good for you, tastes delicious and always a popular menu choice with our guests.
The bespoke extract we create for our warming Fireside Bath & Body collection uses a blend of organic red, yellow and white beetroots freshly picked from The Bell's kitchen garden in the Monnow Valley. Beetroot is naturally rich in vitamins and minerals and as Sarah mentioned red beetroots also contain betacyanin which is a powerful anti-oxidant.
Katy's inspiration for the fine fragrance used in the Fireside collection, which includes a warming Bath and Shower Gel, Luxury Body Lotion and a new Scented Candle, also comes from this former coaching inn in the Welsh foothills with it's flickering fire, inviting leather chairs and oak beams. Fireside is a woody, oriental scent with notes warming notes of cinnamon, cypress oil and vanilla to help you create the perfect comforting atmosphere for a cosy night in.
You can shop our Fireside collection here and read our guide to the Monnow Valley in Wales here.