December 11, 2019
Our Christmas Gift Guide – Part One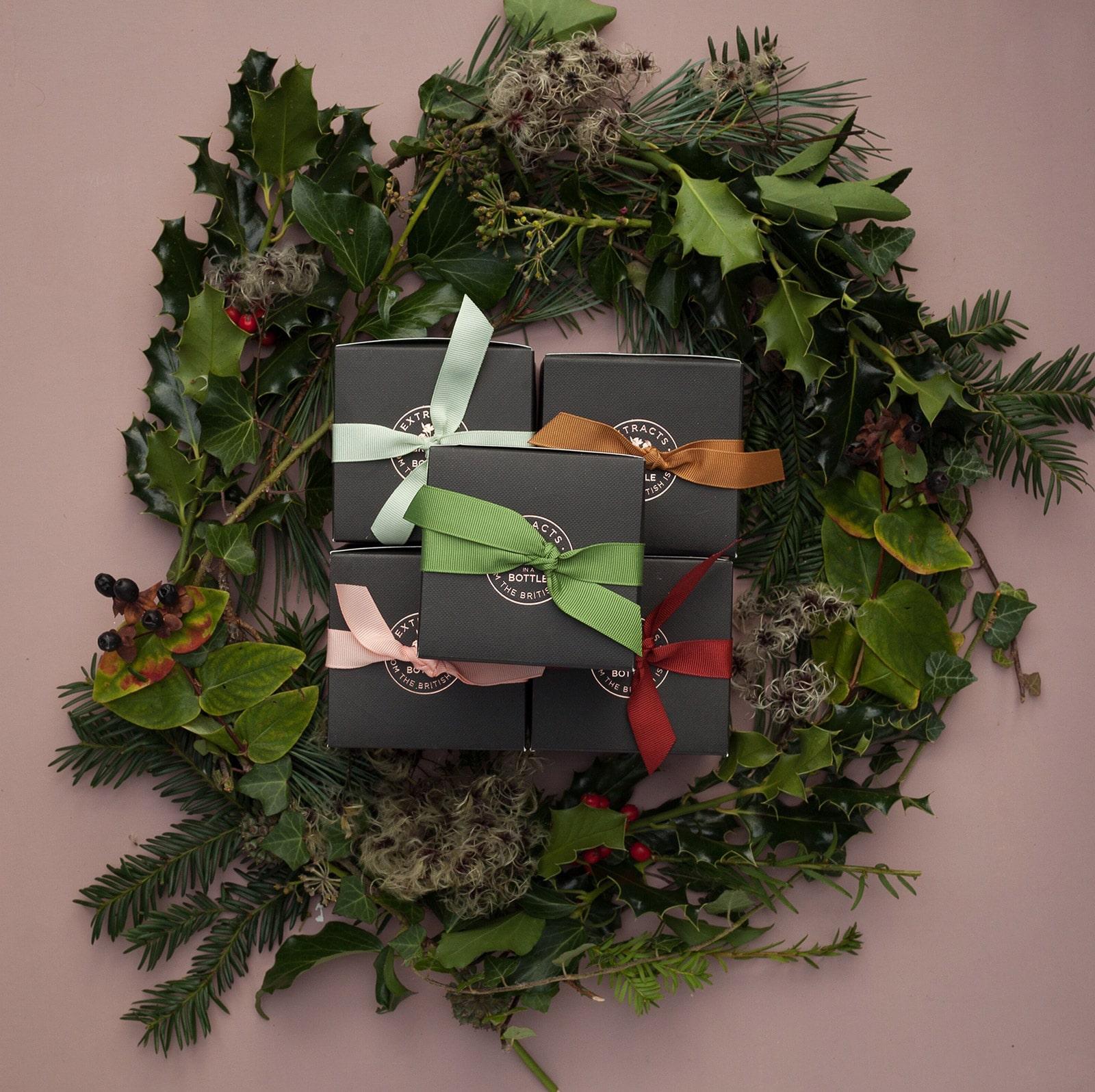 Welcome to part one of our Christmas Gift Guide. This year we've focused on gift pairings, drawing inspiration from the British provenance of our unique extracts.
For the wine enthusiast
The antioxidant English grape extract in our Golden Harvest collection is created using a blend of three grape varieties – Chardonnay, Pinot Meunier and Pinot Noir – from the vines of Simpsons' Wine Estate in Kent. These are the same three grape varieties used to create English Sparkling Wine. We'd recommend pairing our NEW Gold Harvest Scented Reed Diffuser with a bottle of Simpsons' Chalklands Classic Cuvée to create a gift that's sure to please the wine enthusiast. Simpsons' Chalklands Classic Cuvée is an elegant English sparkling wine with an enticing nose of caramelised pear, floral millefeuille pastry and vibrant citrus notes.
For the foodie
At this time of year, our Fireside collection really comes into its own. It has a sensual, spicy scent that evokes evenings curled up in a leather chair beside a roaring fire in a cosy English inn. For a friend or loved one who likes spices, why not treat them to a luxurious Fireside candle and a subscription from The Spicery? With subscriptions from The Spicery, you pay upfront for your chosen number of months and a box of the freshest spices, ground and blended to order, together with recipe cards to create delicious dishes from around the world, are delivered direct to their door.
For someone who enjoys life's luxuries
Our Rhubarb Rhubarb! range is a Noble Isle treasure that always seems to delight with its addictive bittersweet scent and naturally cleansing extract of rhubarb from the Yorkshire rhubarb triangle. Create your own rhubarb collection by teaming a Rhubarb Rhubarb Luxury Bath & Shower Gel and Luxury Body Hydrator with a beautifully packaged tin of Fortnum & Mason Rhubarb, Raspberry & Nettle Leaf Infusion and a jar of their Raspberry & Rhubarb Preserve. If you're shopping in Fortnum & Mason this Christmas, you can find Noble Isle in the Bath & Body department.
For the nature lover
Sea of Green Luxury Hand Wash and Hand Lotion has been uniquely formulated with sea oak and samphire extract from Roaringwater Bay in Ireland. Sea oak is a type of kelp that's known for its soothing properties and both sea oak and samphire are naturally rich in vitamins. For the nature lover, why not pair the Noble Isle Sea of Green Luxury Hand Wash and Hand Lotion with a copy of The Forager Handbook by Miles Irving? Described as 'the definitive guide to foraging in the UK' by the Wall Street Journal, Irving's guide is filled with information, tips and recipes to help you to gather and produce the best of British wild food.
For those who love the countryside
Nigel Slater is one of Britain's best-loved cookery writers. In Tender II, A Cook's Guide to the Fruit Garden he shares more than 300 recipe ideas and stories from the fruit gardens of the British Isles. This beautiful hardback book would make the perfect gift combined with our Rhubarb Rhubarb Luxury Candle or a set of Perry Pear Luxury Soap Bars, made with an exclusive perry pear extract from Gloucestershire's orchards – rich in antioxidants, vitamin C and copper.
For more gift ideas you can shop our range of luxury gift sets here or why not create your own bespoke gift set in one of our keepsake black hat boxes – click here to find out more.