September 29, 2022
The Best Men's Shower Gel Fragrances | Noble Isle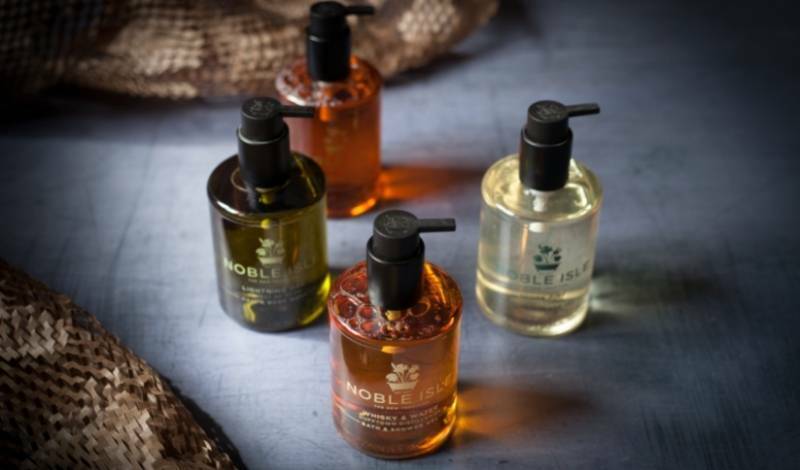 How To Choose The Right Scent
At Noble Isle, we really understand fragrances. Since our foundation more than ten years ago, we have been working to develop evolved scents that not only create atmosphere, but enhance your mood, with an afterlife that lingers in both the senses and the memory.
Great fragrances can be sensual and enchanting, and all of our Bath & Body products are designed to linger on the skin. With a mix of top that hit as soon as the bottle is opened, heart notes that are strong and dynamic, and base notes that linger and endure. Scents can also be a powerful expression of atmosphere, giving yourself and your home a feeling of comfort, wellbeing, and familiarity. A favourite scent can become a personal signature evocative of memories, a certain person or time, and conjure up warm feelings or a specific image.
Our range of men's shower gels, men's bath products, and men's haircare are all designed to be uplifting, fragrant and captivating. To help you discover your signature Noble Isle scent, we've compiled a list of our most popular fragrances for men.
Fresh Scents: Evoking the Outdoors and Nature
Fresh fragrances are clean and crisp, while being energetic and effervescent, with green notes that elicit feelings of the fresh outdoors, citrus to invigorate and aqua to provoke images of mountain streams and open lakes.
Our Scots Pine Collection, using natural extracts of Scots Pine and Heather, is made sustainably with the health of the planet in mind. With a fresh evergreen scent inspired by Scotland's ancient forests, it is the ideal choice from our range of men's shower gels to suit those desiring a fresh scent.
Our handy Scots Pine Travel Trio, with Bath & Shower Gel, Hair Shampoo and Hair Conditioner, means you can easily transport that scent away from home, whether travelling to a city break or relaxing nature getaway. The Handmade and Vegan Pinewood Botanical Candle will infuse the home with this signature scent, evoking happy memories of the great outdoors through the darker winter months.
For a more earthy, fresh scent, The Greenhouse Collection summons up the feeling of its namesake, opening the doors to your own greenhouse on a hot summer's day, or walking through an English garden. With notes of Tomato Leaf, Jasmine and Honeysuckle, it is a desirable fresh scent with an undercurrent of earth and midsummer.
Spicy Scents: For an Unforgettable Fragrance
Spicy fragrances are bold and provocative, with rich notes that inspire intimate evenings by the fireside, confidence and adventurousness, with both opulence and comfort. A luxurious scent that, like all our men's shower products, are vegan and cruelty-free. 
Noble Isle's archetypal spicy fragrance is our Whisky & Water Collection, a smooth, handsome scent with notes of Vanilla and Cedarwood enriched by extract of Barley from Dufftown Distilleries. Whisky & Water is an unfailingly popular men's Bath & Shower Gel, with just a small amount providing a rich foam that fills the bathroom with the scent of warmth and pleasure. Or our Whisky & Water Hand Wash and Hand Lotion Gift Set is the perfect addition to any bathroom, for a lasting impression and a statement piece in our 50% recycled plastic British Whisky keg design bottles.
Woody Scents: for a Relaxed Aromatic Self and Home
Woody fragrances are earthy and grounded, with mossy, smoky notes that provoke walks through the native woodlands that once covered most of the British Isles, campfire or fireside gatherings, or the smell of well-tilled earth.
Built around an extract derived from English Oak bark, our Lightning Oak Collection is a quintessentially handsome fragrance, delivering a traditionally woody, smoky scent with base notes of Vetiver and Sandalwood blended with more modern top notes of Grapefruit and Bergamot. Vegan, cruelty-free and produced like all our ranges to a sustainable formulation, Lightning Oak is the must-have men's shower product.
Discover your signature scent with one of our Fragrance Samples, such as our Men's Bath and Shower Kit, with four redolent scents in full size 250ml bottles, featuring Whisky & Water Bath & Shower Gel, Fireside Bath & Shower Gel, Lightning Oak Hair & Body Wash, and Perry Pear Shampoo. Or, select four fine fragrances in a bespoke gift set, The Quartet, in 30ml bottles, perfect to discover what is truly you in our fragrance range.
All Noble Isle products are vegan, cruelty-free, with a commitment to sustainability. All of our bottles are made with 50% recycled plastics, and are fully recyclable once used, meaning no virgin plastics are produced with your purchase.
And our new range of refillable luxury hand wash in 300ml glass bottles designed in our signature British Whisky keg bottle designs makes it easy to make green-conscious choices with your men's bath & body products.