January 1, 2023
Thoughtful Father's Day Gifts for the Dads who Have Everything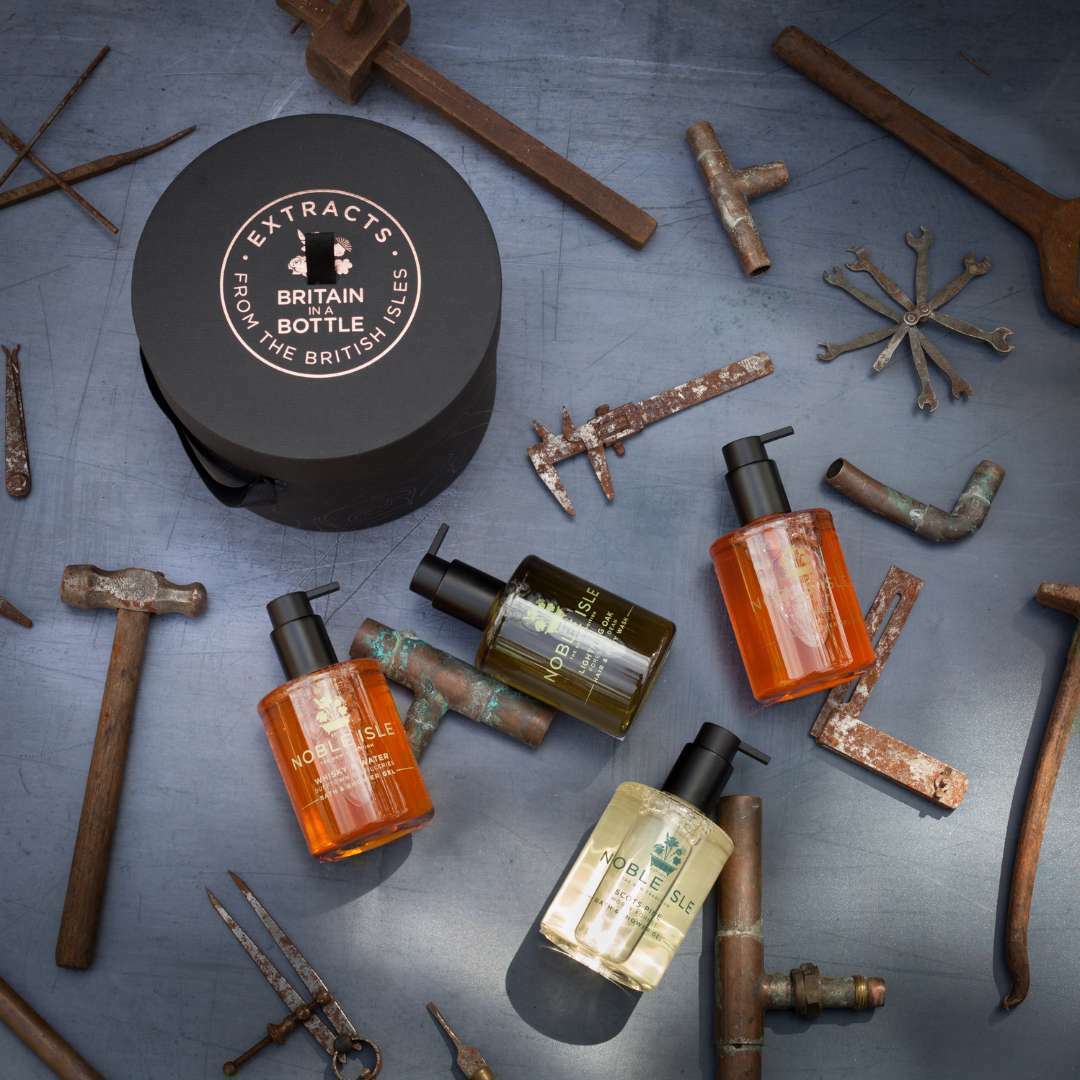 The Man Who Has Everything
It's the time of year when we all want to spoil our father's and show them how much we appreciate them. The media is filled with ideas of what to 'buy the man who has everything'. But what actually is that? We can never have too many socks, or personalised mugs and bars of Toblerone, can we? 
The best Father's Day Gifts are those that are able to embody appreciation, love and memories in one thoughtful gift. But how do we find this one awe-inspiring, showstopping, nostalgia tickling gift? The answer: fragrance.
Fragrance has the ability to transport us back to a memory, place or moment in time that is so difficult to recreate via other means. 
At Noble Isle, we use specialists in olfaction to create luxury fragrances that are able to transport the user straight back to their hiking days in the Scottish Highlands, evenings drinking single-malt with friends in London Bars or holding your tiny, hand as you make strides across the Cornish beaches as he teaches you about the greatest wonders of the world.
How to select the Perfect Luxury Father's Day Gift
At Noble Isle, we really understand fragrance. Since our foundation more than ten years ago, we have been working to develop evolved scents that not only create atmosphere, but enhance your mood, with an afterlife that lingers in both the senses and the memory.
We offer twelve quintessentially British fragrances in a variety of products. Each fragrance is created with real perfume or cologne, exactly what you would find in an aftershave.
You may already know exactly the product and fragrance that your father loves. He may already have a signature scent such as our renowned Whisky & Water or original Fireside. 
Great fragrances can be sensual and enchanting, and all of our Bath & Body products are designed to linger on the skin. With a mix of top notes that hit as soon as the bottle is opened, heart notes that are strong and dynamic, and base notes that linger and endure. Scents can also be a powerful expression of atmosphere, giving yourself and your home a feeling of comfort, wellbeing, and familiarity.
Our range of men's shower gels, men's bath products, men's home products and men's haircare are all designed to be uplifting, fragrant and captivating. 
Take Your Dad on a Journey this Father's Day
All of the Noble Isle products are based around a particular place of interest in the British Isles. Each of our products are created using natural ingredients and extracts sourced from celebrated producers in the British Isles. We use Barley from the Dufftown Distillery in Scotland for our Whisky & Water collection, Beetroot from the Mynwy Valley in Wales for Fireside and Extract of Scots Pine and Heather from the Moray Forest in Scotland for the Scots Pine collection.
Think about not only the fragrance that your father may like but the place and the journey you want to take him on. If you went on a wholesome family holiday to Cornwall as a young child then maybe our Summer Rising collection, from the Cornish Hedgerows will be the perfect gift.
Or like John, the Whisky & Water fragrance never stops reminding him of Singapore Fifty years ago, 'When I first washed my hands with Whisky & Water it took me straight back to Singapore. Whenever I use Whisky & Water it takes me straight back to walking along the Ayer Rhaja Road in 1971.'
Selecting the Ideal Fragrance This Father's Day
Fresh fragrances are clean and crisp, while being energetic and effervescent, with green notes that elicit feelings of the fresh outdoors, citrus to invigorate and aqua to provoke images of mountain streams and open lakes.
For a more earthy, fresh scent, The Greenhouse Collection summons up the feeling of its namesake, opening the doors to your own greenhouse on a hot summer's day, or walking through an English garden. With notes of Tomato Leaf, Jasmine and Honeysuckle, it is a desirable fresh scent with an undercurrent of earth and midsummer.
Spicy fragrances are bold and provocative, with rich notes that inspire intimate evenings by the fireside, confidence and adventurousness, with both opulence and comfort. A luxurious scent that, like all our men's shower products, are vegan and cruelty-free. 
Woody fragrances are earthy and grounded, with mossy, smoky notes that provoke walks through the native woodlands that once covered most of the British Isles, campfire or fireside gatherings, or the smell of well-tilled earth.
Built around an extract derived from English Oak bark, our Lightning Oak Collection is a quintessentially handsome fragrance, delivering a traditionally woody, smoky scent with base notes of Vetiver and Sandalwood blended with more modern top notes of Grapefruit and Bergamot. 
Make Memories with Your Dad this Father's Day
Think about the memories you've created with your father that you wish you could capture in time, hold onto and cherish forever. Perhaps it's those crisp, winter mornings crunching through leaves and frost, sharing a glass of Whisky by a roaring fire and putting the world to rights or the adventurer inside both of you – days spent hiking, running or playing sport in the fresh, invigorating country air.
Each of our fragrances comes in a variety of products so you can gift your father a Bath & Shower Gel set to allow him to unwind, a Luxury Scented Candle for his office, or a Haircare Set for self-care. For the most thoughtful gift this Father's Day, it has to be fragrance.