January 4, 2023
Which Shower Gel is Best for Your Skin Type | Noble Isle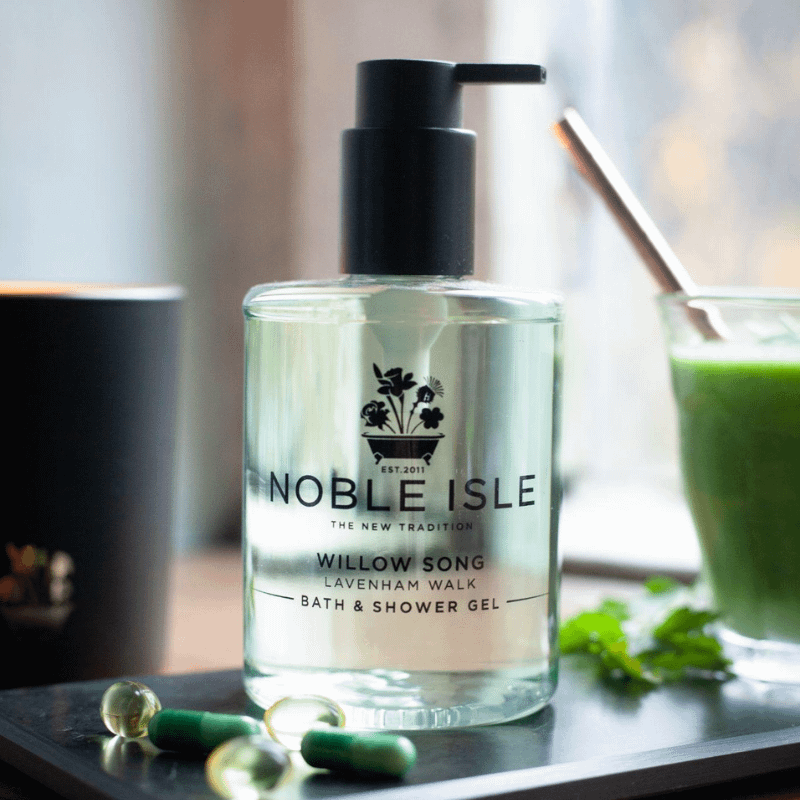 We are often asked which is the right Shower Gel for a particular skin type – perhaps you have dry skin, sensitive skin or skin that is prone to congestion. We now have more than four thousand reviews on Trustpilot with an average rating of 4.9 out of 5 stars and have created a range of Bath & Shower Gels which we are truly proud of. Not only are our Bath & Shower Gels sustainably formulated, they are also vegan, gluten-free, paraben-free, SLS-free and cruelty-free. What's more, they are a pleasure to use and have great benefits for a variety of different skin types. Here, we guide you through how to choose the right Shower Gel for you and your skin.
If your skin is prone to dryness or is feeling dry and dehydrated from the drop in temperature, then look for a kind and natural Body Wash or Shower Gel that will gently cleanse your skin without stripping it of its natural oils. All of our sustainable and vegan Bath & Shower Gels have a mild but richly foaming lather. They are also free from SLS and SLES, which many people find leave their skin feeling dry and itchy.
Rachel F left a Trustpilot review to explain: "Rhubarb Rhubarb Bath & Shower gel is probably the nicest I've ever tried and the only product that doesn't dry out my skin. I'm hooked, and will be a repeat customer from now on! The service I've received so far has been fantastic too – what a brilliant company!"
Shower Gels for Oily or Congested Skin
For skin that is oily or prone to breakouts, look for a Shower Gel or Body Wash that will gently cleanse your skin and rinse away easily. All of our Bath & Shower Gels wash away easily without leaving behind any oily residue.
Scots Pine Bath & Shower Gel contains a uniquely created extract of Scots Pine. Traditionally employed in soaps, salves and bath salts, Scots Pine is known for the cleansing, antimicrobial properties of the resin. We source our Scots Pine extract from the sustainably managed ancient woodland forest of Pluscarden in the northern Scottish province of Moray.
Shower Gels for Balanced or Normal Skin
If you have normal skin then help maintain its natural healthy balance by choosing a natural Shower Gel that doesn't compromise on performance.
Our Golden Harvest Bubble Bath & Shower Gel gently cleanses the skin while bringing a little luxury to your everyday bathing routine. Similar to a fine wine, Golden Harvest Bubble Bath & Shower Gel has a bouquet of fine fragrance to stimulate the olfactory palette. We have also added an extract of English Grapes from Simpson's Wine Estate on Kent's North Downs. Grapes are one of the most powerful anti-oxidants in the plant world, and can help to promote clean, bright, healthy skin.
A Trustpilot verified customer explains: "I love the brand especially, Golden Harvest. The smell is amazing and both Body Lotion and Shower Gel leave my skin very soft. I will definitely buy the product again."
Shower Gels for Mature Skin
Mature skin can be prone to dryness and benefits from a kind and soothing Shower Gel or Body Wash. The natural, vegan and cruelty-free formulations of all of our Bath & Shower Gels are very gentle on the skin but still create a luxurious, rich lather which is easy to rinse away.
Our Tea Rose Bubble Bath & Shower Gel is enriched with an extract of English Rose. Rose contains precious natural oils that can help lock in the skin's moisture and promote smooth skin. The scent of Rose is also utilised in aromatherapy for its calming and uplifting properties.
Shower Gels for Combination Skin
Sometimes skin can be dry in some places – knees, the backs of arms and neck are especially prone to dryness – but still oily and congested on places like the back. If you have combination skin it can feel impossible to try and find the right Body Wash or Shower Gel but a gentle, natural formulation that is easily rinsed away will work to gently cleanse and care for your skin.
Loaded with natural antioxidants, Rhubarb extract is known for its natural cleansing properties. We use a natural extract of Rhubarb from Yorkshire in our best-selling Rhubarb Rhubarb! Bath & Shower Gel. It's a gentle, natural formulation, ideal for combination skin types, which is also SLS and paraben-free. All of our Bath & Shower Gels are also vegan and cruelty-free and locally made in our Cheshire factory.
We're often asked to recommend the best Men's vegan Bath & Shower Gels. Warm and woody, Whisky & Water or sensually spiced Fireside are always popular. Fresh and invigorating Scots Pine is a favourite for men who enjoy clean and refreshing fragrances.
If you are short on time or prefer to keep your grooming routine streamlined then take a look at Lightning Luxury Hair & Body Wash. Made in England, we've added and extract of nutrient-rich and sustainably sourced Oak, from the Forest of Dean. This multi-tasking Hair & Body Wash gently cleanses both your hair and body. It produces a rich foam that rinses away easily, leaving your hair clean, bright and shiny. Its gentle enough to use every day and can also be used on colour-treated hair.
Follow with a Body Cream, Lotion or Hydrator
Help your fragrance last longer, and leave the skin smooth and supple by following with a Body Moisturiser. Dry skin will benefit from a rich, hydrating Body Cream such as our Tea Rose or Willow Song Body Cream. These velvety Body Creams are lavishly enriched with nourishing Shea Butter and Wheatgerm Oil. For a lighter veil of hydration try one of our Luxury Body Lotions which come in a generous 250ml pump bottle. They've been expertly formulated to be easily absorbed, leaving behind a fine veil of moisture.
Click here to discover our range of Luxury Bath & Shower Gels. Order now and we'll include a complimentary travel-sized product of your choice. Shipping is also completely free when you spend £49 or more.