January 16, 2023
Your Summer Travel Essentials from Noble Isle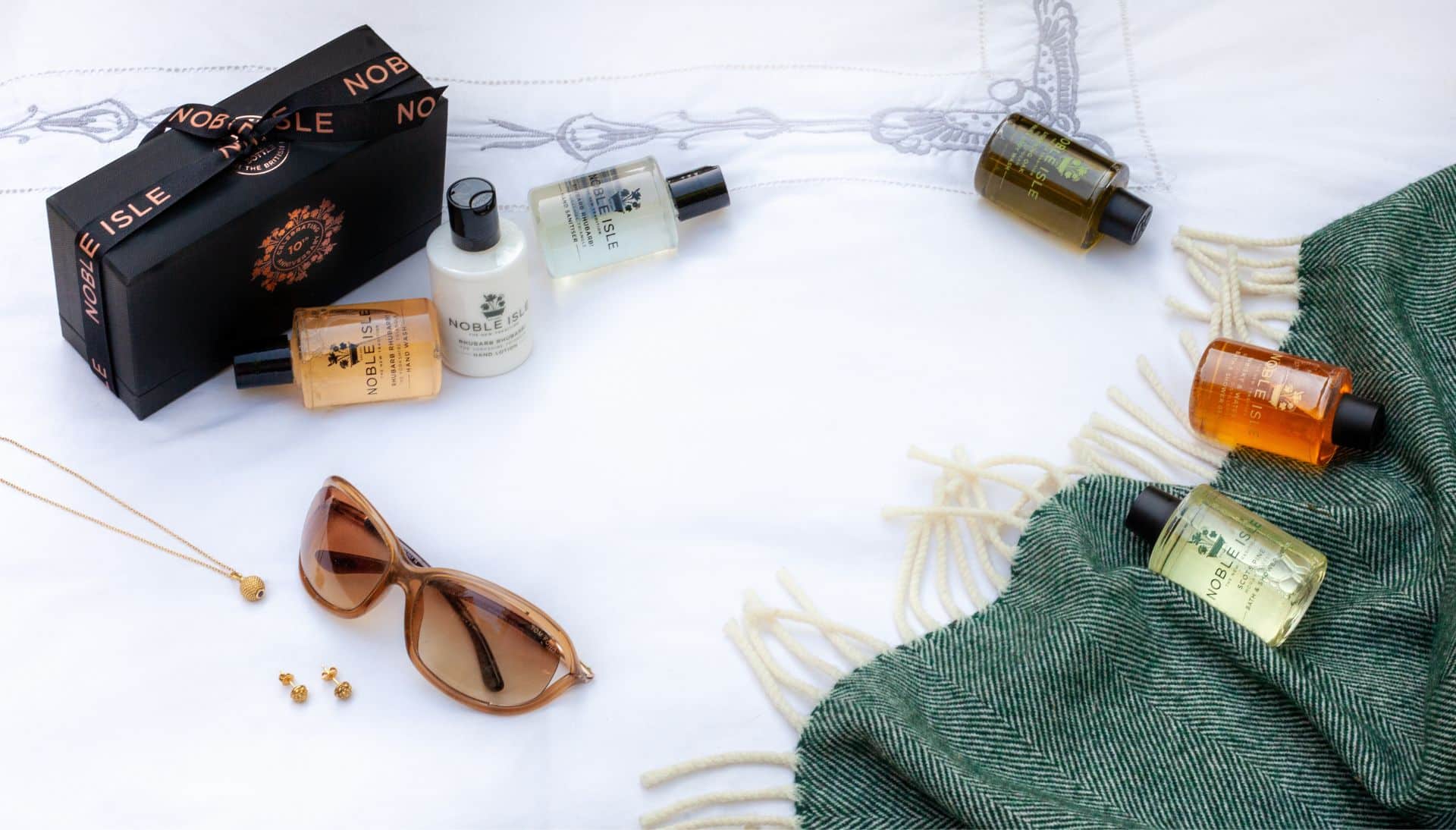 The ultimate guide to your summer travel essentials. The only thing most of us detest about travelling to the world's top summer destinations is packing. Crystal-clear waters lapping at sun-drenched shores, cool evenings of reading on the balcony with a refreshing drink in hand – we have the perfect fragrances to ensure your summer holiday is one to remember and that the laborious process of packing doesn't get in the way.
How to choose the perfect holiday fragrance
Fragrance is extremely personal and has the power to transport you back to a moment, person or place in time. Holidays are memorable and special times, often we use them as a time to give our minds and bodies a chance to recharge and spend quality time with family and friends.
If you're using your holiday to do a lot of outdoor activities, we recommend a fresh, green fragrance such as Scots Pine or The Greenhouse to keep the memories of being immersed in nature alive even when you return home.
For more beach-driven excursions, the clean notes of Tangerine, Orange Blossom and Cut Grass in Summer Rising will remind you of those summer memories all year round.
For City breaks, evenings in cocktail bars and coveted five-star restaurants around al corners of the globe, the handsome notes of Amber, Davana Blossom and Vanilla will add an extra layer of sophistication.
For holidays where hand luggage is the only option, capsule packing is essential. We've all heard of capsule wardrobes, but it is the same thought process when it comes to your skin and beauty regime. Think of fragrances that can easily take you from day-to-night and products that complement your skin regardless of the change in temperature and environment.
The Luxury Warm & Spicy Bath & Shower Gel Trio contains the zesty, bittersweet Rhubarb Rhubarb! for reinvigorating morning showers and warming sensual Fireside to take you into the evenings.
What size travel products should I take?
Always check the travel regulations with your airline before packing. Most airlines allow liquids up to 100ml to be carried in your hand luggage. At Noble Isle, we have 30ml, 50ml and 75ml of our signature fragrances in travel miniature sizes. The 75ml Bath & Shower Gel is about perfect for one person for a week.
Which products should I take?
At Noble Isle we have our Luxury Shampoo, Conditioner and Bath & Shower Gels all available in travel sizes. All of our sustainable and vegan Bath & Shower Gels have a mild but richly foaming lather. They are also free from SLS and SLES, so are suitable for people with sensitive skin. Our Luxury Shampoo and Conditioners are also free from parabens, SLS and SLES. The Luxury Perry Pear Conditioner contains Wheat Proteins to help protect the hair and scalp and Glycerin which softens and gently moisturises – perfect to reinvigorate your hair after early morning pool swims!
Holiday miniatures that don't compromise on ethics
At Noble Isle we don't think that luxury should compromise on ethics. Our selection of luxury travel miniatures are created with the same values in mind as our main collection. Each product is vegan friendly, cruelty-free and made with natural extracts and ingredients. Our packaging is all recyclable and the plastic bottles are created with 50% recycled plastic.